Online Education Programs Again Among Nation's Best
Once again, the University of Texas at Arlington College of Education tops the charts in U.S. News & World Report's "Best Online Programs" list.
U.S. News & World Report has recognized four online master's programs offered by The University of Texas at Arlington as being among the nation's best, highlighting UTA's strengths in online education and its support for military-connected families.
Among the magazine's annual Best Online Programs list, two UTA College of Education programs earned top 100 rankings: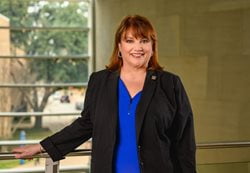 "At the forefront of our mission is helping our students develop skills for success as educators, leaders and researchers," said Teresa Taber Doughty, dean of the College of Education. "Our faculty are talented scholars and experienced practitioners who bring their insights to every class to inform their teaching and student learning."
The college is recognized as one
of Texas' best for training and equipping tomorrow's educators and education policy leaders. A survey by the Texas Education Agency found 100% of UTA's College of Education graduates felt "well prepared" or "sufficiently prepared" by their teacher preparation program. Additionally, the College of Education's overall graduate program has been reco
gnized as top tier.
For its analysis of distance education options for active-duty military members and veterans, U.S. News & World Report looked at how universities provided online programs that were affordable, accessible and reputable. The University enjoys a national reputation for its support of military-connected students and has been ranked as the nation's top four-year institution for veterans and their families by Military Timesfor the last two years in a row.
U.S. News & World Report publishes its standings annually and has earned a reputation as the leading provider of ranking information through its "Best" series, which includes lists for college programs, undergraduate and graduate schools and more. The rankings are calculated through a scoring system from statistical and peer reputation surveys that analyze engagement, services and technologies; expert opinion from academic officials; faculty credentials; and training and student excellence.
Full story on the UTA News website: https://www.uta.edu/news/news-releases/2022/01/28/usnwr-online-1-22.