NFS grant to explore assistive technologies
A clinical linguist in the College of Education is part of a unique research team at UTA that has been awarded a $404,000 National Science Foundation grant studying ways assistive technologies can better support people with disabilities.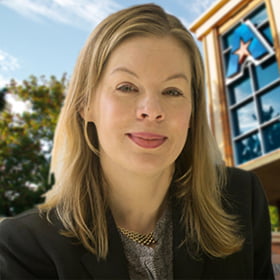 Dr. Jodi Tommerdahl, associate professor of learning sciences, is collaborating with faculty in computer science and engineering, civil engineering, and nursing to mentor students to design assistive research technologies to better support people with communication disabilities.
"My expertise lies in the realm of atypical language, so I will work with students to understand the needs of adults who have lost language due to brain injuries as well as children who have not developed typical language due to difficulties such as specific language impairment," said Tommerdahl, who is working as senior personnel on the project.
The study incorporates faculty and undergraduate student researchers from across the campus, with Dr. Ishfaq Ahmad, professor of computer science and engineering, serving as the principal investigator and Dr. Kathryn Daniel serving as the co-principal investigator.
"We are all very excited about Dr. Ahmed's project," said Tommerdahl, who teaches courses related to UTA's M.Ed. in Mind, Brain, and Education. "I have a long history of working on multidisciplinary projects and It is exciting to work with a variety of UTA faculty, considering that engineers and computer scientists are well placed to build tools that faculty like me, from the field of Speech and Language Pathology can imagine, but not build. "This is a chance for our strengths to come together to develop exciting and cutting-edge tools."
The study concludes in February 2025.