UTA, Ericsson training workforce in data science
UTA, Ericsson develop program to accelerate and build culture of data sciences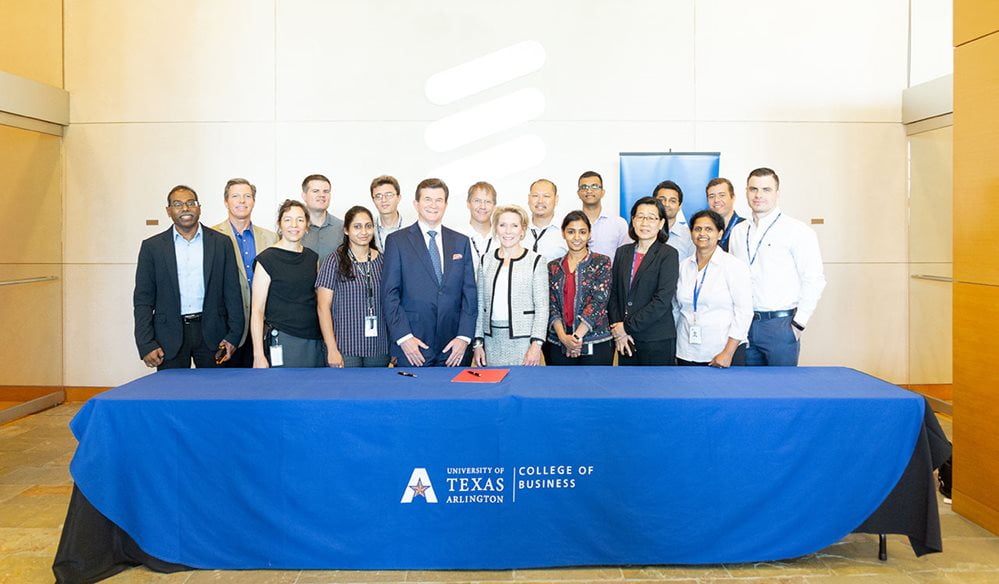 The University of Texas at Arlington is partnering with the multinational networking and telecommunications company Ericsson to offer employees the education needed to earn a business analytics certification.
Radha Mahapatra, professor and chair of the Department of Information Systems and Operations Management in the UTA College of Business, said the four-course program will help employees at Ericsson, a Swedish company whose North American headquarters are in Plano, incorporate data analytics into business decisions.
"This specialized certification program is for employees who don't have the time to devote to an entire 36-hour master's degree program but need the required knowledge and skill to understand and analyze data at work," Mahapatra said. "From these courses, the employees will learn how to derive data-driven decisions."
The UTA Graduate Assembly approved the program, which meets the requirements of the Texas Higher Education Coordinating Board, Mahapatra said. It is one of the first collaborations the College of Business has undertaken with a company.
Credit for the four-course program can go toward a future Master of Science degree. The certificate program covers topics on advanced statistical methods, data mining, data science and advanced analytics using artificial intelligence and machine learning techniques.
The new certification coursework starts this fall at Ericsson's Plano campus.
"There is a big shortage of workforce-ready employees, and this answers that need," Mahapatra said. "Businesses are hiring people who have data skills. This certification provides those employees with the needed workforce tools to help them and the business now. We're trying to bridge that gap."
Amy McCune, head of managed services for Ericsson North America, said: "To be truly successful innovators requires investing in our people to improve their domain expertise. Investing in our own talent first allows us to improve our data science capabilities more quickly since they already understand not only our business, but our customers as well. That is why Ericsson has jointly created this program with UTA."
The certification is customized to use Ericsson-specific use cases and data. Studying their own data sets and use cases will provide these highly skilled employees with real-world applied knowledge, leading to a richer educational experience, according to Ericsson.
Harry Dombroski, dean of the College of Business, said he believes UTA's collaboration with Ericsson will be the first of many agreements with enterprise firms.
"Leading companies such as Ericsson are always looking for ways to reinvest in their current employees to increase productivity and responsiveness," he said. "The College of Business is extremely appreciative of the opportunity afforded us to work with one of the world's leading networking and communication firms to develop this unique solution."