Connecting to the UTA community
Activity Fair Day introduces Mavericks to more than 300 student organizations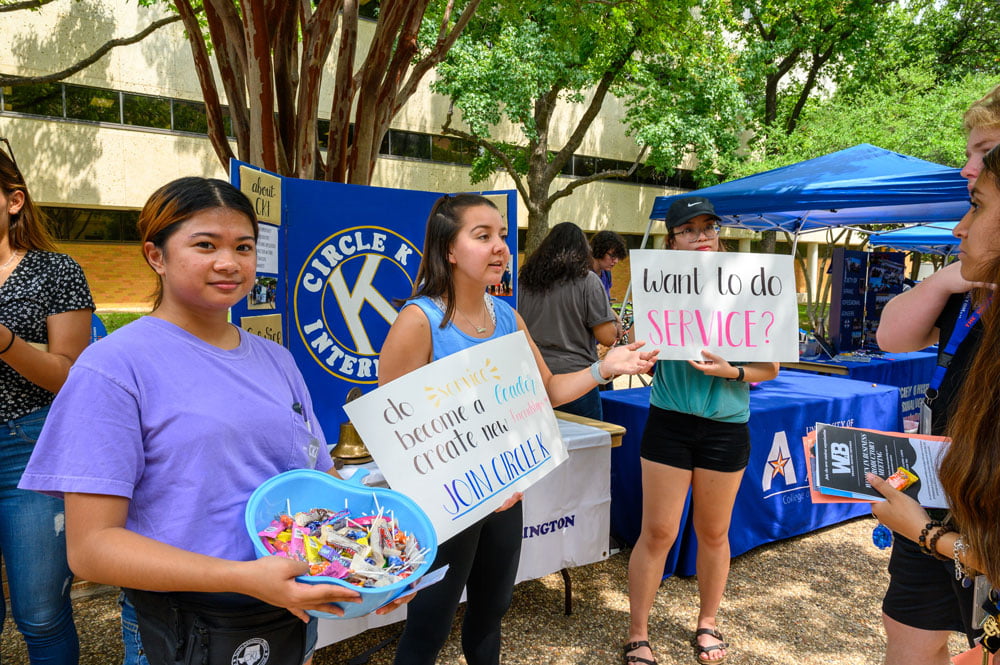 Aries Ivy of the Climbing Mavericks sport club is proud of his accomplishments at The University of Texas at Arlington, both inside and outside the classroom.
The industrial engineering major is now the Climbing Mavericks' president and wants to get other students involved in rock climbing.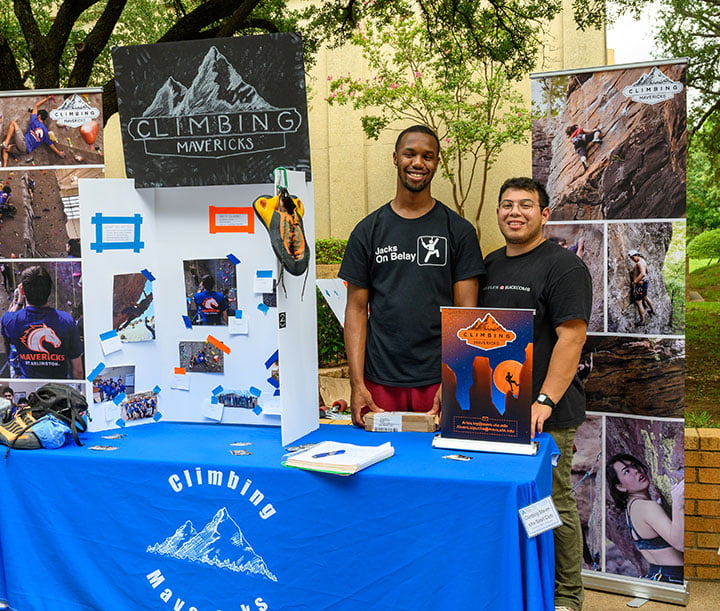 "Being a part of a student organization has helped me stay in shape and do things I thought I'd never do," Ivy said. "It's also given me the opportunity to travel to places I've never seen, like our outdoor trips to New Mexico and Colorado."
The Climbing Mavericks were among more than 300 student organizations participating in the fall 2019 Activity Fair Day, one of the 40-plus events over 18 days that compose Maverick Stampede, UTA's annual kickoff to the new academic year. Student organizations, academic departments, campus resources and community agencies lined the University Center mall to showcase their services, interests and involvement opportunities.
"Activity Fair Day continues to be the signature experience where student organizations and groups are the focus of the event," said Seth Ressl, senior director of involvement and engagement. "The event provides the cornerstone experience for students to see, learn about and interact with the largest concentration of student organizations our campus sees annually."
The event serves as an opportunity for students to meet face-to-face with a wide variety of extracurricular groups for a fulfilling college experience.
With their loud music, peppy excitement and blue and orange striped overalls, the UTA Wranglers were hard to miss. They dub themselves the "super fans" of UTA and are usually seen at UTA volleyball and basketball games.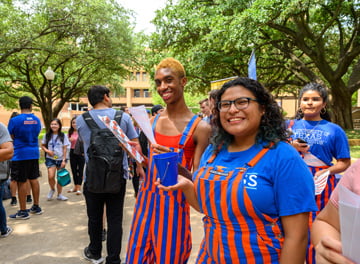 "We're here to wrangle in new members," said Hannah Schoen, a pre-nursing student and member of the UTA Wranglers spirit group. "Students should get involved on campus because it really connects you to the community. It's a great way to get out of the classroom and do something different."
With hundreds of options, there is something to capture any student's interest, from organizations centered on hobbies like the Bass Fishing Club to academic groups such as the Society of Kinesiology Scholars to UTA's fraternity and sorority chapters.
Olga Carrillo, a junior criminal justice major, wasn't necessarily interested in joining a sorority, but was looking to find a group to belong to on campus.
"I'm a first-generation college student, so coming to UTA I obviously wanted the education," said Carrillo, now a member of Kappa Delta Chi. "I also wanted help navigating the college experience and wanted to learn how to network. Then I fell in love with my sisters, Greek life and the community service aspects."
For some students, the prospect of making meaningful connections drove them to join an organization.
"I love to sing and I love being a part of this diverse group," said sophomore Rachel Meredith of the RISE A Capella group. "Singing is so personal and we are a family. We work hard and make sure we're there for each other on campus and off campus."