Autocross race back at UTA
Student-built race cars to compete at UTA's 19th annual Texas Autocross Weekend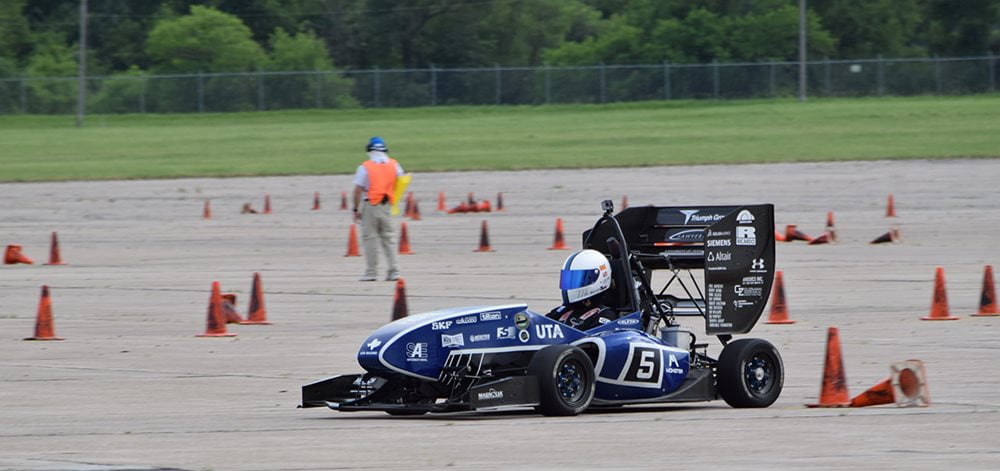 Collegiate racing teams from across the country will meet at The University of Texas at Arlington campus Sept. 13-15 for the 19th annual Texas Autocross Weekend.
The dozen or so teams will bring their formula racing cars, built by students each year from the wheels up, to Arlington to race for pride during what has become an annual tradition among Formula Society of Automotive Engineering teams.
Bob Woods, UTA adviser to the Formula SAE team, said the autocross event serves as a place where teams can try out their latest technologies and gadgets on their cars.
"It's an informal place to build camaraderie among the teams, apart from the sanctioned events that have intense competition," said Woods, a professor of mechanical and aerospace engineering who started the racing program in 1982. "We also use the event as a recruitment tool. Although most team members are engineering majors, the opportunity is open to all majors."
Autocross is a form of racing involving a pattern of sweeping and hairpin turns, slaloms and straightaways. Cars race against the clock. The best time wins.
The UTA FSAE team builds a new racecar from scratch every year. Woods said each one usually has a "new bell or whistle." Saturday's competition starts at 9 a.m. on Lot 49, at the southeast corner of Cooper and Mitchell streets. Racing will start at 9 a.m. Sunday for a formal "Formula Cars Only" autocross event at Lot 49. Last year, 14 teams competed with 26 cars.
Volunteers from the Texas Region of Sports Car Club of America will handle timing. Parking for spectators is located just east of the racetrack.
Among the sponsors are Mouser Electronics, TTI, ANSYS, Sawyer Composite, Mike Andrews, Matt Travis, Taylor Race, Red Bull and Hoosier Tire.
The UTA team has enjoyed success all over the world. This year, the team finished third at the national championship, which was conducted in Lincoln, Neb. UTA FSAE has earned eight championships in the United States and has won in England, Australia and Japan.
UTA Racing also has an extensive alumni base, many of whom come back to visit the program, and many, many sponsors, including the late Arnold Petsche, who donated $1 million to the College of Engineering in 2012 to establish the Arnold E. Petsche Center for Automotive Engineering. That donation was matched by the University.
Woods was honored in 2013 with the Society of Automotive Engineers' Excellence in Engineering Education Award for his contributions in engineering education. He was named a 2017 Piper Professor by the San Antonio-based Minnie Stevens Piper Foundation and recently received the prestigious University of Texas System Regents' Outstanding Teaching Award. He also was named a Distinguished Endowed Chair by a donation from Paul E. Andrews Jr.