Excellence in nursing
College of Nursing and Health Innovation at UTA named national Center of Excellence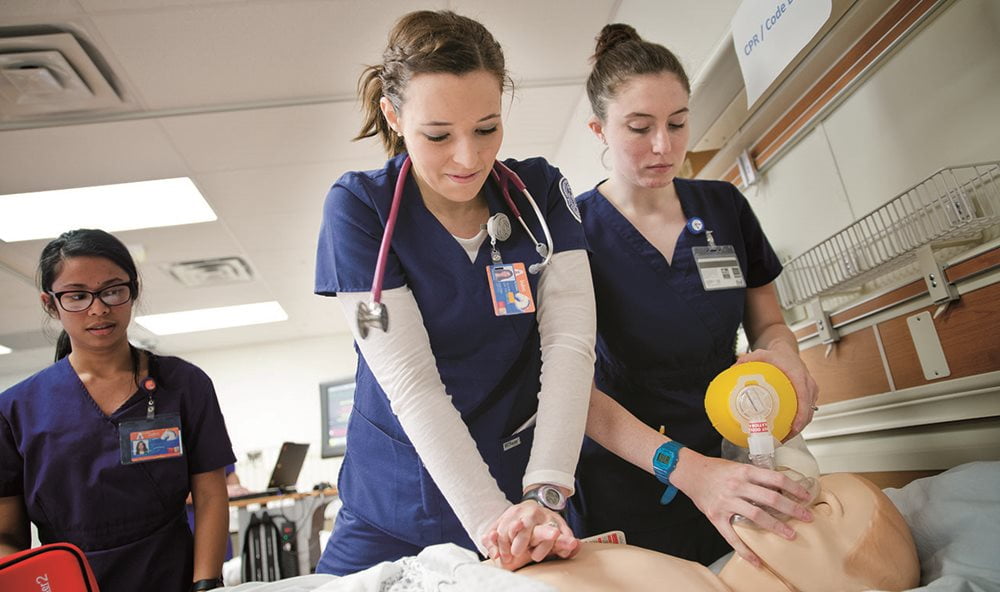 The University of Texas at Arlington's nursing program is one of just 10 nationwide to be named a 2019 Center of Excellence by the National League for Nursing (NLN), a leading organization for nursing faculty and nurse education leaders.
UTA joined the Duke University School of Nursing and the Johns Hopkins University School of Nursing as one of six programs recognized by the NLN in the category of "enhancing student learning and professional development."
It is the second time in recent years that UTA has been named a nursing center of excellence. Criteria include "sustained excellence in faculty development, nursing education research, student learning and professional development."
UTA President Vistasp Karbhari said the designation reflects the college's high standards of academic excellence in its undergraduate and graduate nursing programs.
"The College of Nursing and Health Innovation continues to be a model of excellence in teaching and learning here at UTA and throughout the country," Karbhari said. "The faculty has set the college apart by employing a variety of innovative tools to ensure that students succeed in the classroom and beyond. I am grateful to the faculty, staff and administrators of the college for their hard work and as well as their commitment to creating the next generation of nurses while also setting the standard for nursing education nationally."
NLN, an organization of 40,000 nurse educators and 1,200 member institutions, issues the Center of Excellence designations under three categories: Enhancing Student Learning and Professional Development; Promoting Pedagogical Expertise of Faculty; and Advancing the Science of Nursing Education.
"This is a phenomenal achievement," said Elizabeth Merwin, dean of the College of Nursing and Health Innovation. "It is an endorsement of the hard work, energy, creativity and commitment of our faculty and staff to creating a world-class learning environment for all of our students. It re-affirms our stature as a leading center for nursing education and health care research."
The College of Nursing and Health Innovation has grown to become the largest nursing program in Texas and one of the largest and most respected in the country, regularly ranked highly by U.S. News & World Report. It is the largest producer of bachelor's degree prepared–nurses in Texas and a leader in tackling the state's shortage of registered nurses.
The college is rapidly gaining recognition as a major center for innovative health care research with internationally renowned faculty members specializing in myriad areas, including cardiovascular conditions, aging, esophageal cancer, osteoporosis, bone disease, patient safety and health disparities. Employers regularly laud the college for producing graduates who are extraordinarily well prepared.
UTA and the other institutions will receive formal recognition of this designation at the NLN Educational Summit in the Washington, D.C., area in late September.
"Centers of Excellence help raise the bar for all nursing programs by role-modeling visionary leadership and environments of inclusive excellence," said Beverly Malone, CEO of the National League for Nursing. "These programs will nurture the next generation of a strong and diverse nursing workforce to advance the health of the nation and the global community."
The College of Nursing and Health Innovation (CONHI) is home to the largest nursing program of any public institution in the country. Its online RN-to-BSN program, launched a decade ago, has graduated more than 19,000 students since 2008. CONHI's online MSN program is ranked No. 7 nationally and second in Texas among schools with hybrid or fully online MSN programs, according to the website Best Health Degrees.