Top honor from Biomedical Engineering Society
Kytai Nguyen honored for nanomedicine contributions, training next generation of bioengineers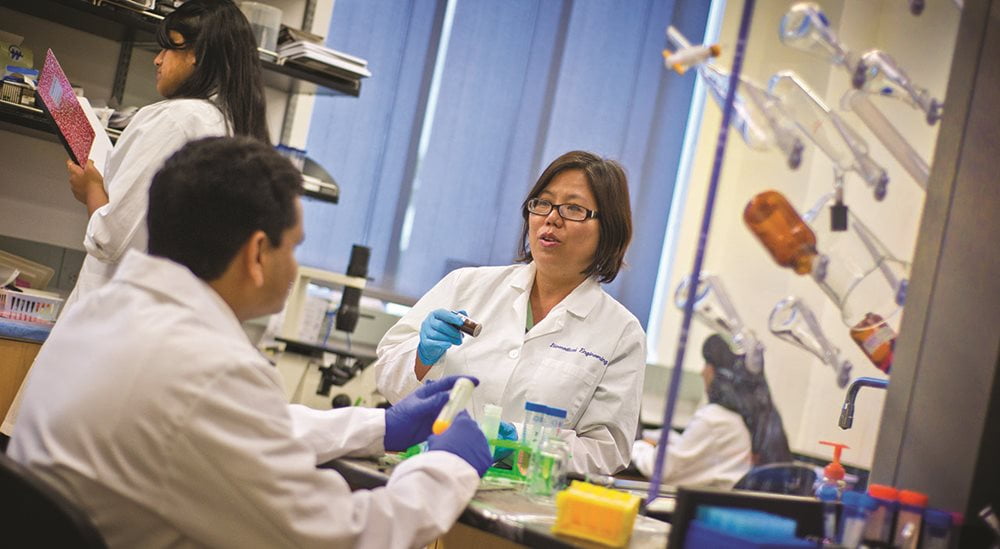 Kytai Nguyen, a bioengineering professor at The University of Texas at Arlington, has been named a Fellow of the Biomedical Engineering Society (BMES), a designation reserved for the top 4% of its members.
"This is a tremendous accomplishment and great recognition of Dr. Nguyen's scholarship and research leadership as related to nanomedicine and to the training and mentorship of the next generation of bioengineers," UTA President Vistasp Karbhari said. "She is accelerating UTA's position as a premier location with a critical focus for the role of engineering in medicine. I'd like to congratulate her on this career milestone and thank her for her continued focus on excellence and student success."
Nguyen joined the UTA College of Engineering in 2005 and has secured more than $8 million in research funding during her career. Her work is focused on nanomaterials—specifically, nanocomposites, nanoparticles, hydrogels and scaffolds for controlled drug delivery and tissue engineering applications. She has authored or co-authored more than 90 highly cited publications and has also mentored dozens of graduate and undergraduate students at UTA.
She earned a prestigious, $1.2 million National Institutes of Health T-32 grant in 2017 to train doctoral students in nanomaterials, nanoengineering and nanomedicine, focusing on cardiovascular and lung diseases. To date, the grant has funded tuition and fees, an annual stipend and travel support for 12 students.
Nguyen will formally receive the honor on Oct. 17 during a ceremony at the BMES Annual Meeting in Philadelphia. She credited her colleagues, students and UTA administrators for their encouragement and support.
"It's an honor to be recognized as a fellow of BMES, but it's truly a team effort," she said. "I'm lucky to have had a wonderful adviser who nominated me, but also to have had so many people supporting me since I arrived at UTA as a very young assistant professor. If you don't have that kind of support, you can't achieve this kind of success."
The Biomedical Engineering Society represents more than 7,500 individuals in the fields of biomedical engineering and bioengineering. Robert Eberhart, professor emeritus and former chair of the Bioengineering Department, is also a fellow of BMES.
"The selection of Professor Nguyen not only recognizes her tremendous contribution to nanomedicine, but also her herculean effort to single-handedly spearhead UTA's NIH-funded T32 training grant that will help us graduate the next generation of well-trained engineers and scientists," said Michael Cho, chair of the UTA Bioengineering Department.
Nguyen is also a fellow of the American Heart Association and the American Institute for Medical and Biological Engineering. She was awarded the inaugural Embracing Challenge Award from Materials Today magazine and the Elsevier Materials Science Council award in 2016.