A leader in caring for students
VP of Student Affairs honored for distinguished service and leadership
Lisa Nagy said she never aspired to be a vice president on a college campus. Now she is being recognized as one of the best in higher education in Texas.
"Every job that I've had on campus has been a great experience," said Nagy, vice president of student affairs at The University of Texas at Arlington. "Our role in higher education is to aid students while they are working to achieve their goal of getting a college education. We want them to be successful both inside and outside the classroom. To work in higher education, you have to love it."
Nagy will be recognized for her high-quality contributions and leadership to the profession of higher education student affairs with the Dr. James (Jim) E. Caswell Distinguished Service Award from the Texas Association of College and University Student Personnel Administrators. The award recognizes "leadership performance in student affairs at the state, regional or national level, the high quality of which is recognized by peers," along with "contributions above and beyond the normal service required by positions of leadership."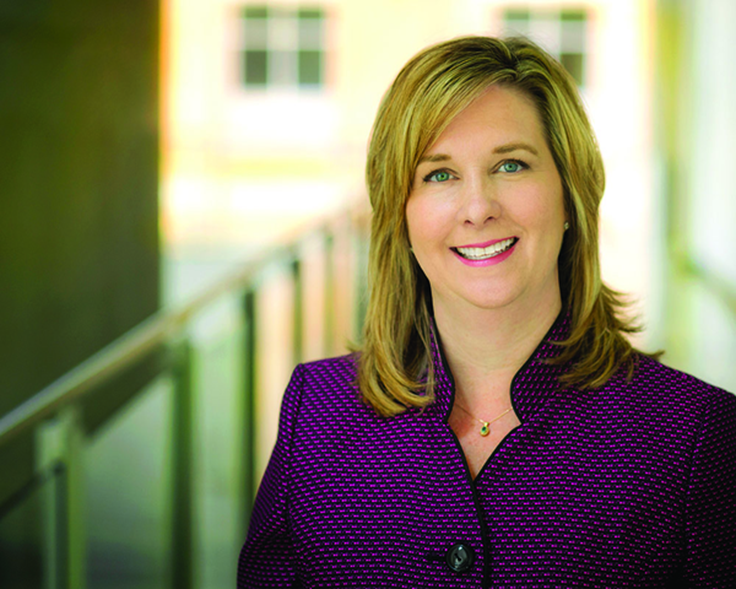 The award will be presented during the Texas Association of College and University Student Personnel Administrators' annual conference, Oct. 20-22 in San Marcos.
"I am thrilled to see Lisa's leadership being recognized through the James Caswell Distinguished Service Award," UTA President Vistasp Karbhari said. "Lisa is a wonderful example of the tremendous leadership we have in place that enables UTA to continue to be a leader in student support and success through purposeful engagement and innovative practices. She has spearheaded a large number of nation-leading projects, including those related to relationship violence and sexual assault prevention, bystander intervention, the Community that Cares project and many others that focus on serving the needs of all our students, truly creating an environment at UTA that is supportive, caring and enabling. Her work has firmly established UTA as a leader in student affairs. We are fortunate to have her as the VP for Student Affairs as she continues to set new standards for student support and to enable their wellness and success, and I'm deeply grateful for her leadership and commitment."
The award is the latest milestone for Nagy, now in her 21st year of dedicated work to the University. She spent seven years as associate director of marketing and communication for campus recreation, then transitioned into student affairs as a director and special assistant to the vice president. She twice served as interim vice president before becoming VP in December 2017.
Nagy said she is proudest of watching the campus change and grow over the last two decades, from the addition of College Park Center to the designation of UTA as R-1 "Very High Research" by the Carnegie Classification of Institutions of Higher Education.
"This campus has really transformed itself since the '90s, when I first started here," she said.
"Being a part of the evolution of what UTA is today has been incredible. UTA supports the Arlington community, serves as a home for our students and propels our alumni to accomplish their goals. That's my favorite part of it all."
Nagy has helped revamp major University events such as welcome week, convocation, homecoming and commencement. She also led the expansion of what is now the Lockheed Martin Career Development Center.
Her focus on enhancing student life and the University's role in holistic education led to the creation of the Emergency Assistance Fund, which helps students in crisis with urgent financial needs. She co-created the First Year Experience course and supervised the formation and launch of the Community That Cares Task Force and subsequent campaign to strengthen a culture of caring and support for students.
"Lisa Nagy is one of the best supervisors, mentors and friends that I've had in my career here at UTA," said Molly Albart, director of planning, assessment and student success in UTA's Division of Student Affairs. "I could go on and on about her ability to build relationships with students and staff and how we are inspired by her and look up to her."
It's not uncommon to see Nagy walking around campus checking in on students, even those she's never met before, said Justin Hidalgo, a junior and intern in the Office of Student Affairs.
"She makes those connections with students, faculty and staff across campus," he said. "That's what really sets her apart, even in the whole state of Texas. She's very passionate about her job and giving back to students."
Nagy said her goal is to help UTA meet the needs of its students and community.
"We will have to pay attention to the needs of the next generation of students who will come in," she said. "What kinds of experiences will they be expecting? I'm excited to plan for those and, of course, to continue to take care of the students who are here now."