Behind the music
UTA's new degree program focuses on the business side of music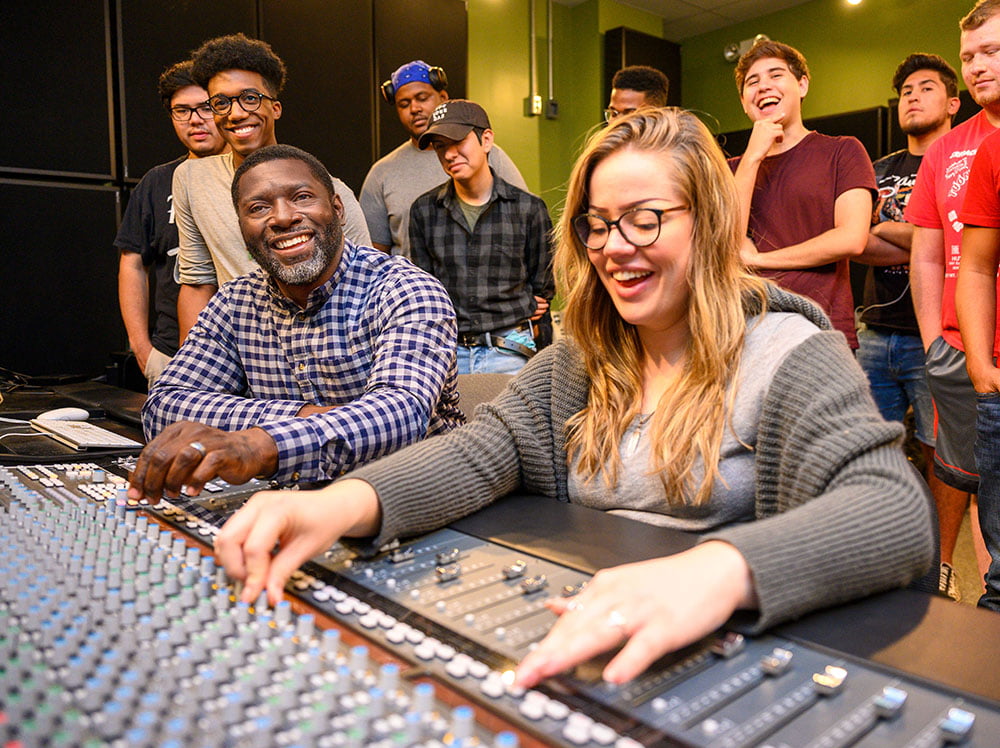 Jamar Jones is a University of Texas at Arlington alumnus and music industry veteran who has performed with Patti Labelle, Jamie Foxx and Jill Scott.
But as a UTA assistant professor and the director of the Music Industry Studies program, his focus is not on performance, but instead on teaching students how to manage artists, run record labels and produce albums. UTA's Music Department has introduced a new Bachelor of Arts degree program this fall in music industry.
"Students should feel like being at UTA is just like walking into a studio in LA or New York or Nashville," Jones said. "I want to put UTA on the map as a place that educates and trains music industry professionals. I am confident that many of tomorrow's industry tastemakers will begin their storied journeys as UTA Mavericks."
The new degree includes not only core courses in music, but also classroom work that focuses on the business and production side of the industry—including courses such as record label studio management and digital music technology.
"The music industry is growing locally, regionally and nationally and is ripe with career opportunities and pathways," said Dan Cavanagh, chair of the Department of Music. "Having a degree in music industry studies is a leg up and more attractive than simply receiving a business degree and then working in the industry."
The curriculum is structured to incorporate elements of business and music and is built on a liberal arts foundation. The Music Department's Studio 301 is UTA's on-campus recording studio and features the latest tools and technology to record a wide range of music in a professional environment.
The combination of long-established principles of musicality with new philosophies of the current industry is a draw for students. Nick Rood, a junior taking the record label studio management course this fall, is enthusiastic by the hands-on experiences and networking.
"It's very exciting to create something tangible, but these courses also put you in contact with a lot of people," Rood said. "Professor Jones tells us all the time that he is here to help us grow and to create opportunities. That's the baseline for the whole Music Department, and they're very genuine. They've made it very easy for us to make those connections that everyone is looking for."