Distinguished Alumni and Community Service awards
UTA to honor alumni and friends for achievements, support.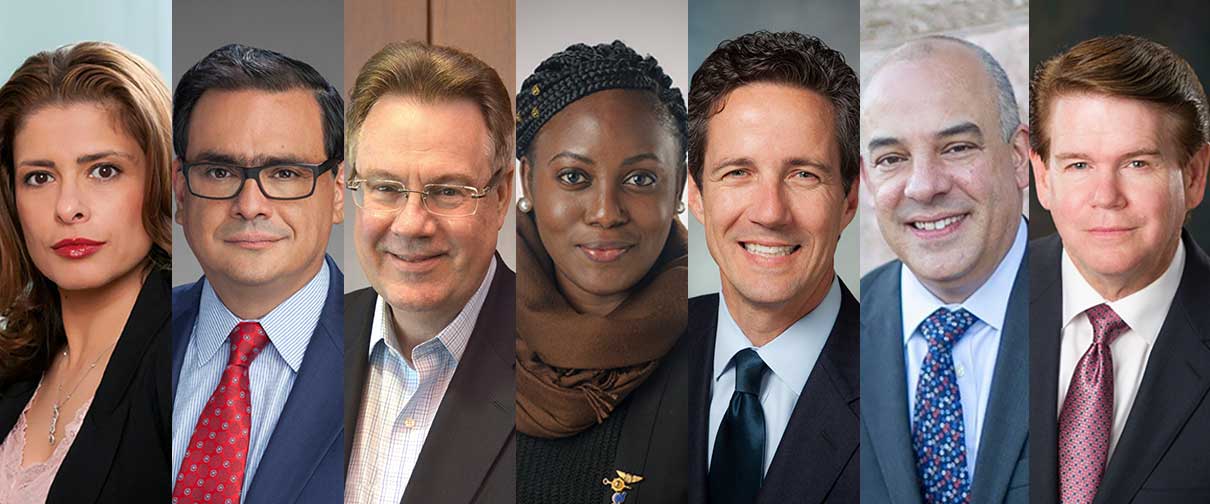 The University of Texas at Arlington will recognize seven alumni and friends of the University for their professional and civic achievements, community engagement and support for UTA at the 2019 Distinguished Alumni Awards.
This year's Distinguished Alumni honorees are Shahrzad Amirani, Jacob Monty, Michael Ray and Wendy Okolo, the latter of whom will receive the Distinguished Recent Graduate Award. Additionally, state Sen. Kelly Hancock, state Rep. Chris Turner and Arlington Mayor W. Jeff Williams will each receive the Distinguished Community Service Award.
The 2019 Distinguished Alumni Awards will begin at 6:30 p.m. on Nov. 8 in the E.H. Hereford University Center's Bluebonnet Ballroom and highlight UTA's weeklong Homecoming celebration, Nov. 4-10.
Distinguished Alumni
• Shahrzad Amirani '89 BA, '93 PhD: Shahrzad Amirani is vice president, head of new products and innovation, at Ipsen Biopharma. She is passionate about improving patients' lives by implementing customer-centric approaches to new product development and bringing life-saving medicines to market. She has held positions in both pharmaceutical and biotech companies, working on commercial development, life cycle management and integrated care. Her expertise spans a wide range of therapeutic areas including oncology, rare diseases, cardiovascular disease, diabetes, immunology/inflammation and dementia. Amirani established the Shahrzad Amirani Endowed Scholarship at UTA and has contributed to over 2,000 microloans for women starting small businesses. A member of the UTA President's Advisory Board since 2009, she holds a bachelor's degree in chemistry and a PhD in business administration.
• Jacob M. Monty '91 BA: For more than two decades, attorney Jacob M. Monty has successfully practiced at the intersection of immigration, labor and employment laws. He is the founder and managing partner of Houston-based law firm Monty & Ramirez LLP and is a nationally recognized authority on issues facing employers with large Hispanic workforces. He has held gubernatorial appointments to the Texas Higher Education Coordinating Board, University of Houston Board of Regents and Texas Private Security Board and currently serves as outside counsel for the Mexican Consulate in Houston and as chair of the Center for Latino Jewish Relations. A member of the UTA President's Advisory Board, Monty earned a bachelor's degree in history from UTA and a law degree from the University of Houston Law Center.
• Wendy A. Okolo '10 BS, '15 PhD: Wendy A. Okolo is an aerospace engineering researcher in the Intelligent Systems Division at NASA Ames Research Center. She focuses on systems health monitoring and control systems design with applications to air and space components, vehicles and systems. Her research experiences include working at the Air Force Research Laboratory at Wright-Patterson Air Force Base, where she examined aircraft formation flight for fuel savings. Okolo earned a bachelor's in aerospace engineering from UTA and, at age 26, became the first black woman to earn a PhD in aerospace engineering from the University. Her numerous honors include the 2019 NASA Ames Early Career Researcher Award; the 2019 Women in Aerospace Award for Initiative, Inspiration and Impact; and the 2019 Black Engineer of the Year Award for Most Promising Engineer in U.S. Government.
• Michael B. Ray '76 BS, '78 MA, '81 PhD: Michael B. Ray is a longtime advocate for UTA and the College of Science and became chair of the college's Advisory Council in June 2019. Dr. Ray is retired but most recently was ExxonMobil's Distinguished Science Advisor. During his career, he held positions as laboratory director at ExxonMobil's Corporate Strategic Research, division manager of technical software development and manager of upstream strategic research in Mobil, among other technical positions. He was named a Society for Industrial and Applied Mathematics Fellow in 2009 for his contributions to geophysical computation. In 2008 he and his wife, Wanda, established the Michael B. and Wanda G. Ray Scholarship for Graduate Studies at UTA. Ray received three degrees from the University: a bachelor's and master's in mathematics and a PhD in mathematical sciences.
Distinguished Community Service Award
• Kelly Hancock: The Honorable Kelly Hancock was first elected to the Texas Senate in 2012 and represents his home community in District 9. He previously served three terms in the Texas House of Representatives and 13 years on a local school board. In both chambers, he has advocated for limited government and lower taxes. A champion of higher education, Sen. Hancock co-chaired the Joint Interim Committee on Higher Education Formula Funding during the 85th Legislative Interim. He currently serves as chair of the Senate Committee on Business and Commerce and sits on the state's Legislative Budget Board. He also serves as vice chair of the Senate Transportation Committee and as a member of the Natural Resources and Economic Development Committee, Property Tax Committee, budget-writing Finance Committee, newly formed Select Committee on Mass Violence Prevention and Community Safety and Select Committee on Redistricting. He is a graduate of Baylor University with a degree in business.
• Chris Turner: The Honorable Chris Turner serves the people of House District 101, a diverse area of Tarrant County that includes major portions of Arlington and Grand Prairie. During his five terms in office, he has focused much of his attention and efforts on expanding educational opportunity, increasing access to affordable health care, improving the economic well-being of all Texans and broadening civic participation. He currently serves as chair of the House Committee on Higher Education, vice chair of the House Committee on Redistricting and as a member of the House Committee on Insurance. Additionally, he is serving his second term as chair of the House Democratic Caucus. A lifelong Texan and Dallas native, Rep. Turner is a graduate of The University of Texas at Austin. He and his wife, Lisa, live in Grand Prairie.
• W. Jeff Williams, P.E.: The Honorable W. Jeff Williams, P.E., has served as mayor of Arlington since 2015. Under his leadership, Arlington has risen to the top of North Texas cities in job creation and tourism. He was selected by the U.S. Conference of Mayors to serve as chairman of the prestigious U.S. Metro Economies and was one of 20 mayors to participate in the Harvard Bloomberg Leadership program as well as the Yale School of Management for CEOs and mayors. As president and CEO of Arlington-based Graham Associates, a civil engineering and surveying firm, Williams was the civil engineer on landmark projects such as AT&T Stadium, Globe Life Park, The Parks Mall, IH-30 Three Bridges and River Legacy Living Science Center. He has been recognized as a Distinguished Engineer by his alma mater, Texas Tech University.
—Written by Mark Permenter