3 UTA chemists named to global Power List
Armstrong, Dasgupta and Schug named to 'Power List' by The Analytical Scientist magazine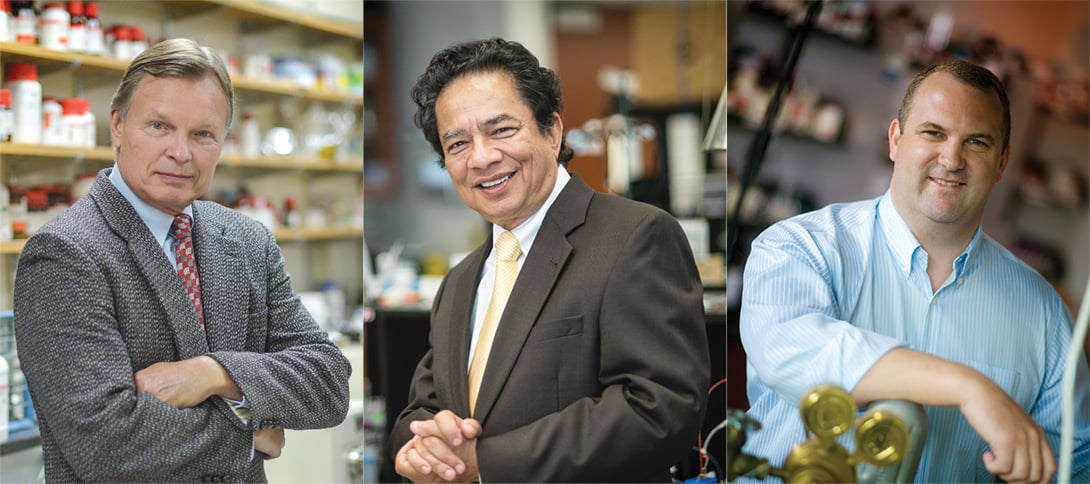 Three chemists at The University of Texas at Arlington have been recognized among the top 100 scientists in the world by The Analytical Scientist magazine.
Daniel Armstrong, Robert A. Welch Distinguished Professor; Purnendu "Sandy" Dasgupta, the Hamish Small Chair in Ion Analysis; and Kevin Schug, Shimadzu Distinguished Professor of Analytical Chemistry were named to the magazine's 2019 Power List, which "showcases the tremendous range of talent, ingenuity and leadership present across all corners of analytical science on a global scale." All three professors have appointments in the Department of Chemistry in UTA's College of Science.
"This is a tremendous recognition of both the individual scholarly and research leadership of these three faculty members and the growing reputation of this department," UTA President Vistasp Karbhari said. "I'm thrilled to see their scholarship recognized on a global level. Their leadership, teaching excellence and mentorship contribute mightily to the success of our students and institution."
To identify the top scientists in the field, the publication held open nominations before a panel of expert, independent judges whittled down the candidates to the final 100.
Armstrong is ranked No. 8 in the world.
"It is a monumental honor to be considered among the best and brightest by my scientific peers," Armstrong said. "This group represents a relentless passion for discovery and the insight and cutting-edge science that will solve some of our greatest global challenges."
Armstrong and Dasgupta are no stranger to the Power List, having previously appeared in the 2017 edition. Additionally, Armstrong ranked No. 16 on the magazine's inaugural Power List of the top 100 most influential people in analytical sciences in 2013, and he was No. 8 on the 2015 list. Dasgupta was included in the 2015 field of top 100 noted scientists, executives and consultants from institutions around the world.
Schug, who also serves as director of the Collaborative Laboratories for Environmental Analysis and Remediation (CLEAR), appeared on The Analytical Scientist's Top 40 Under 40 list in 2014. Muhammad Farooq Wahab, a research engineering scientist at UTA, was named to the 2018 Top 40 Under 40 Power List of young analytical scientists.
"Our faculty in the College of Science comprise some of the most innovative scientists in the nation, dedicated to problem-solving while fostering and educating the next generation of scientists," College of Science Dean Morteza Khaledi said. "I am tremendously proud to see Drs. Armstrong, Dasgupta and Schug elevated among the titans of our discipline and UTA recognized as a premier institution for science. I am grateful for the outstanding work continuously demonstrated by Dan, Sandy and Kevin."
Armstrong specializes in chiral chromatography and separation science. He has nearly 700 publications, including 29 book chapters, and holds 28 patents, which earned him admission to the National Academy of Inventors. The Scientific Citation Index named him as one of the world's most highly cited scientists.
Dasgupta is recognized as a pioneer in the field of ion chromatography whose inventions have become modern cornerstones of the field. He has published more than 450 papers and holds 34 patents, the majority of which have been commercialized. The Analytical Scientist selected two of his papers for its lists of the landmark literature of 2017 and 2018. Recently, Dasgupta has partnered with NASA to develop a device that can detect life-supporting conditions in space.
"I am deeply passionate about my work and am thankful to be recognized by my peers," Dasgupta said. "No one excels in a vacuum; I am very happy to have the superb colleagues I do. I am proud of the scientific community we have fostered at UTA—especially in the analytical sciences."
Schug has played a critical role in defining UTA as a proving ground for new fracking water treatment technology through the use of forward osmosis, a less energy-intensive and more widely applicable alternative to reverse osmosis. He heads up CLEAR, a consortium of academic and industry partners dedicated to understanding the relationship between environmental quality and industrial processes, including the advancement of solutions for remediation needs.