UTA graduating more than 5,200 students
Students graduate as learned citizens, workforce-ready employees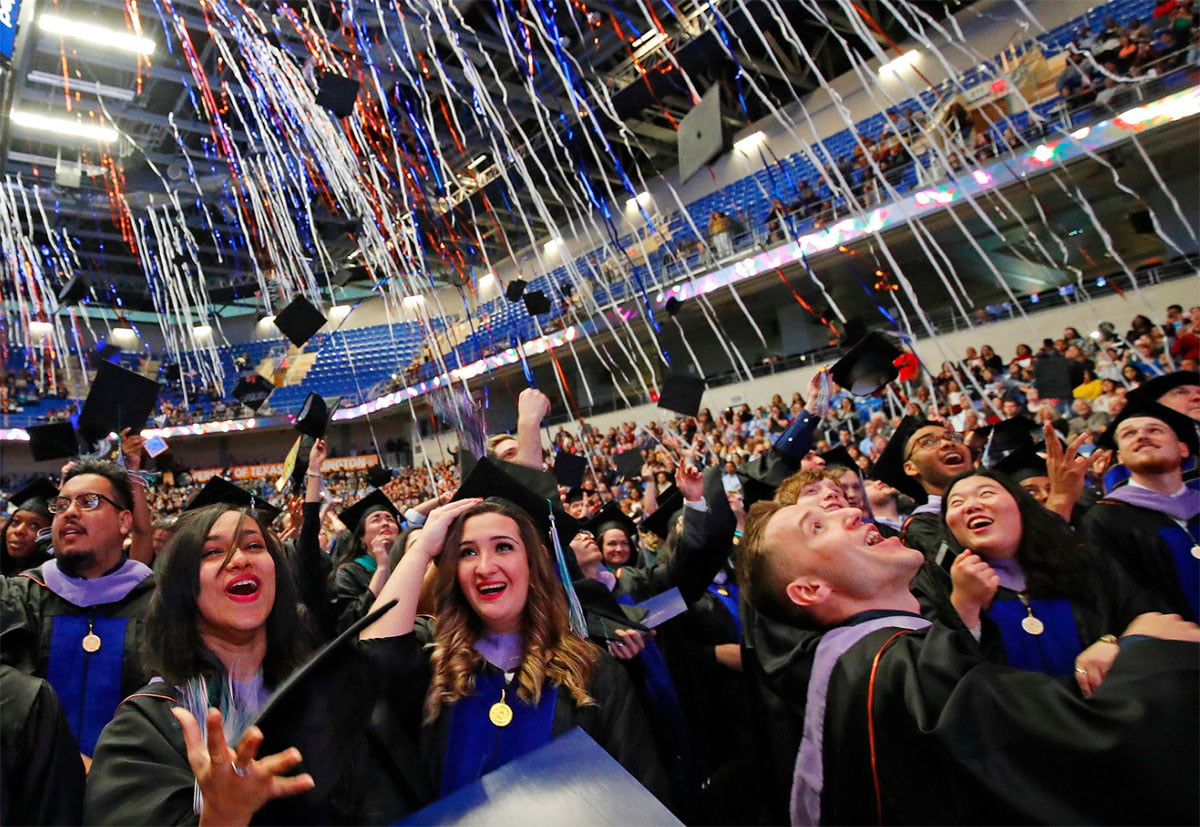 The University of Texas at Arlington is scheduled to confer degrees to more than 5,200 graduation candidates in commencement ceremonies Dec. 12-14 at College Park Center.
The newest graduates will join about 240,000 UTA alumni, who earn the highest first-year median wage of graduates from any UT System academic institution, according to the 2019 UT Smartbook.
UTA has made employment readiness an explicit part of its mission, providing students with both a broad education and employable skills that empower graduates not only to be learned citizens but also be assured of gainful employment in a constantly changing world.
State Sen. Beverly Powell, a member of the state Senate Higher Education Committee, said UTA makes the promise of higher education accessible to thousands of North Texas students while helping meet the workforce needs across Texas and beyond.
"Through its remarkable growth and evolution, UTA is enhancing the North Texas region by educating its citizens and preparing them for high-paying jobs in industries that our crucial to our economy," Powell said. "In addition, the university is addressing a substantial need for research demands that only a major, top-flight research academic institution can meet."
Ceremonies begin Thursday, Dec. 12 and continue through Saturday, Dec. 14. Ceremony details are on UTA's Commencement Page.
Included among the 5,200 graduates who will receive their diplomas this week are some remarkable stories. They include:
Awa Sy and her mom, Ndeye Ndaw, are graduating with a Bachelor of Arts in Public Relations and a Master of Science in Social Work degree, respectively. The two are from Côte d'Ivoire (Ivory Coast) and Senegal, respectively. They're here because Awa's dad, Cheikh Sy, a student in UTA's College of Engineering, won the Diversity Immigrant Visa program—or what's commonly known as the Green Card Lottery. Awa has an internship with SPM Communications. Ndeye is currently working in childcare and as a substitute teacher. She has her application in at Parkland Hospital and other firms once she takes her social work license exam.
Fatima Barker is graduating with a Bachelor of Science in Nursing degree and is the winner of the Jean Ashwill Leadership Award. She is the president of the Health Innovation Constituency Council, an umbrella organization of the College of Nursing and Health Innovation's student groups. She also serves as the volunteer chair of the Hispanic Student Nursing Association and CoNHI's representative in UTA's Student Congress. She selected UTA for its diversity and stellar reputation.
Latocia Keyes earned her doctorate in social work in August and will walk with fall 2019 commencement candidates. She is the first member of her family to attain a doctoral degree and currently works as a postdoctoral research associate at UTA, focusing on race relations to aid in dismantling structural barriers. This past April, Keyes was invited to Michigan State University's Race in 21st Century America: 11th National Conference as a panelist to speak on the Globalization of Colorism.
Justin Mendoza is graduating with a Bachelor of Science in Social Work degree. Mendoza has excelled in the face-to-face requirements of his major despite a hearing loss. He has not used note takers during class. Social work professors say Justin just wants to help people.
Nehan Shujaat is graduating with a Bachelor of Science in Nursing degree. She was inspired to become a nurse when visiting a friend in the hospital. The nurses were working together to deliver the best patient care, and Shujaat decided she had to be a part of that world. That same night, she went home, researched the nursing program and changed degrees. She also is an artist and a published poet. Shujaat found her nursing niche while at UTA in wound therapy, which often involves older patients. She will begin her professional life at Plano Presbyterian.
December 2019 commencement speakers are:
College of Architecture, Planning and Public Affairs/School of Social Work/Division of Student Success/Honors College: Adrian Parr, dean of the College of Architecture, Planning and Public Affairs
College of Business: Sam Mahrouq ('91 B.A., journalism), chairman and CEO, MEI Group
College of Education/College of Science: Teresa Taber Doughty, dean of the College of Education
College of Engineering: Hari Vasudevan ('05 M.S., civil engineering), P.E., founder and CEO, Think Power Solutions
College of Liberal Arts: Shirlee J. Gandy ('70 B.A., political science), president of Fort Worth's RPM Commercial
College of Nursing and Health Innovation (both ceremonies): Keith Zimmerman, CEO, Medical City Arlington