No. 1 for serving first-generation, low-income students
UTA tied for first in state on ScholarShot's Texas Public University Report Card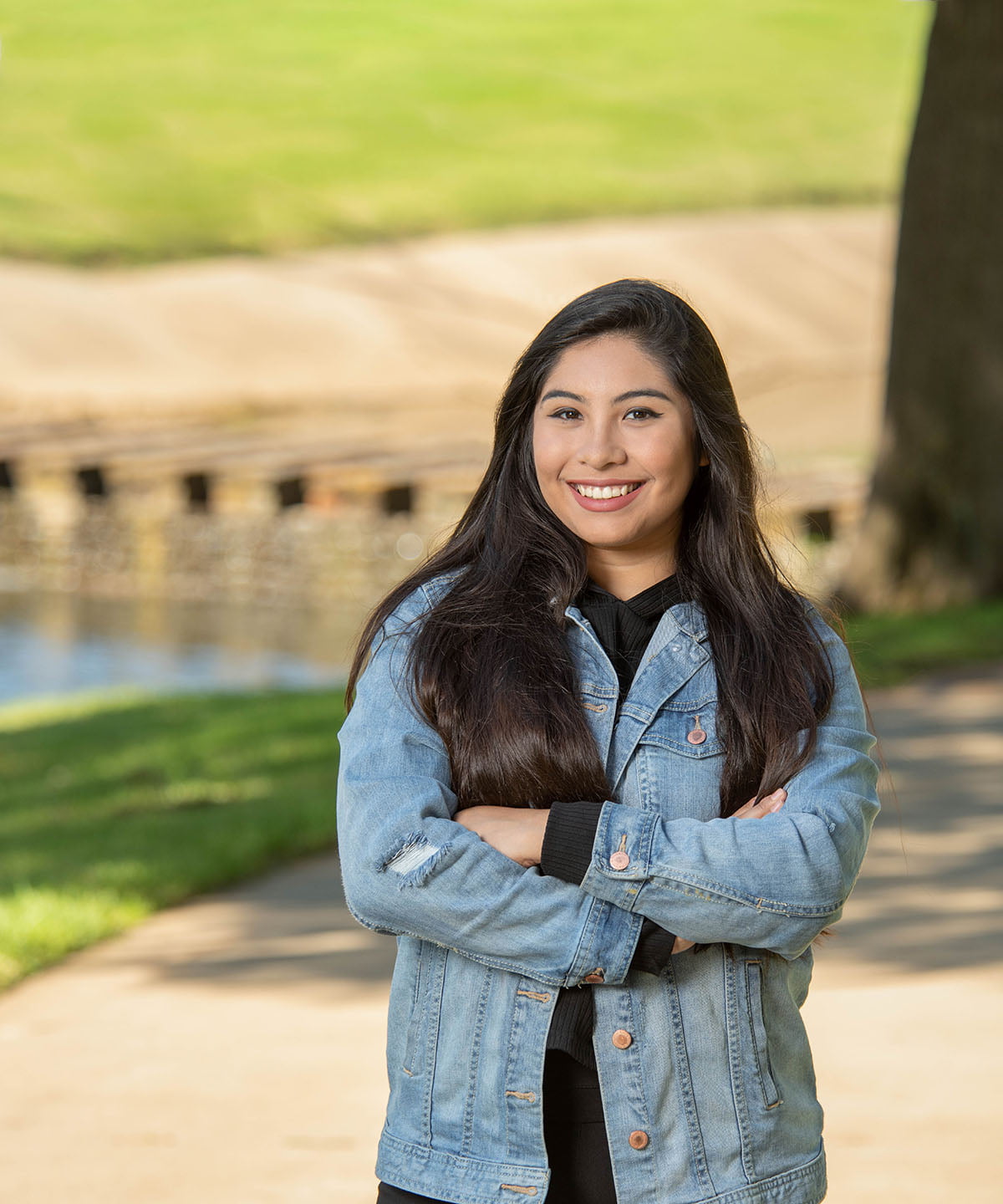 First-generation college student Juana Escobedo Bermudez used programs offered by The University of Texas at Arlington's Division of Student Success before she ever enrolled in class.
"Those services gave my parents and me the confidence we needed to succeed," she said. "They solidified my understanding of using resources such as financial aid, how to apply for more scholarships and how to improve academically as well as socially."
Her experiences reflect a broader trend at UTA, which is one of the largest and most diverse universities in Texas—and is increasingly gaining recognition for the performance of its first-generation students.
This month, the educational nonprofit ScholarShot ranked UTA tied for first in Texas on the Texas Public University Report Card for serving first-generation, low-income students. This demographic represents more than half of the students enrolling in state universities and a majority of those who receive financial aid, according to ScholarShot.
"I'm pleased to see the tremendous efforts of our faculty and staff related to serving first-generation, low-income students being recognized by ScholarShot," UTA President Vistasp Karbhari said. "The University of Texas at Arlington is committed to providing the very highest levels of education to all students and is dedicated to enabling the best support mechanisms possible to ensure student success at all levels.
"Our faculty and staff are tireless in their efforts, and this recognition comes on the heels of earlier recognition of UTA by Washington Monthly as being the No. 1 school in Texas for success of first-generation students, and I'm extremely proud of UTA's growing reputation and success in this area. While we still have a long way to go, I'm confident that our efforts will continue to enable even further success as we serve students and our great state."
ScholarShot bills its report card as the first of its kind, using data from the U.S. Department of Education and survey responses from Texas' public universities. Measurements include academic engagement, financial management and interventions.
For first-generation students at UTA, the Division of Student Success plays a leading role in developing programs that ease the transition to the University, such as offering assistance in obtaining financial aid and helping students find a sense of belonging both in the classroom and on campus.
Those efforts are paying off. In 2019, Washington Monthly magazine ranked UTA first in Texas and 23rd nationally for the performance of first-generation students. The rankings also placed UTA as the top national university in North Texas, based on a methodology that accounts for contributions to the public good in three broad categories of social mobility, research and public service.
Late last year, Diverse: Issues in Higher Education magazine ranked UTA among the nation's leading four-year institutions in educating diverse, workforce-ready students. Among the magazine's findings:
UTA ranked No. 1 in the state and No. 17 nationally for master's degrees awarded to all minority students. UTA was ranked No. 22 nationally the previous year.
UTA also ranked first in Texas in the number of degrees earned by African American students at the bachelor's and master's degree levels. Nationally, UTA is No. 11 for bachelor's degrees awarded to African American students and No. 14 for master's degrees.
Nationally, UTA ranked No. 17 for bachelor's degrees awarded to Hispanic students and No. 11 for master's degrees.
Escobedo Bermudez, a public health senior, said she found more support once she was on campus. She says she took full advantage of the computer lab and one-on-one tutoring offered by the Division of Student Success, which also helped her land a work-study job.
"Student success is everyone's job, and there's a real understanding of what's needed to breed, nurture and maintain success," said Ashley Purgason, associate vice provost in the Division of Student Success. "The support system is in place for those first-generation students. We're headed in the right direction."