Documentary among highlights of UTA's Black Heritage Celebration
UTA will screen 'Fannie Lou Hamer's America' as part of UTA's Black Heritage Celebration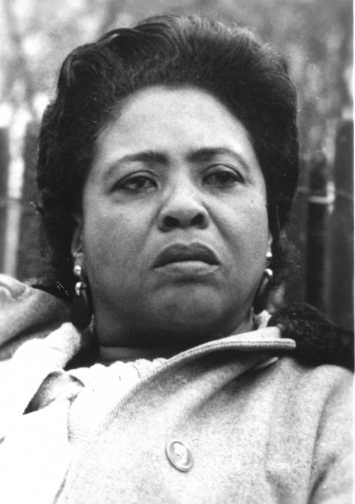 The University of Texas at Arlington's Black Heritage Celebration day is highlighted by a screening of "Fannie Lou Hamer's America," a documentary about the civil rights leader's struggle in the 1960s.
Filmmaker Joy Davenport will be on hand after the documentary airs to talk about the importance of her film and the iconic Hamer, a voting and women's rights activist who was a leader in the civil rights movement.
The screening will start at 2:30 p.m. Saturday, Feb. 1, in Rooms 198 and 298 of the Science and Engineering Innovation and Research (SEIR) Building, 655 W. Mitchell Road. The discussion with Davenport follows from 3:50 p.m. to 4:20 p.m.
"I believe this film makes the point that this struggle really has been going on forever," said Alan Bowling, one of the organizers of the event and an associate professor of mechanical and aerospace engineering. "The film makes the point in a more emotional way, as opposed to just talking all day about voting."
"Fannie Lou Hamer's America" is told through the oral histories, powerful songs, personal letters and hard-to-find, rarely seen video footage of the fearless and dynamic Mississippi sharecropper-turned-human-rights-activist. Assembled by the Hamer family and several critically acclaimed civil rights scholars, authors and historians, the film weaves its story from the fabric of a voice that challenged the country during her lifetime—and well beyond.
In addition to the film and discussion, UTA's 2020 Black Heritage Celebration on Feb. 1 will include:
Opening statements will be offered at 8:30 a.m. on the sixth floor of the Central Library. Bowling will welcome participants. The RISE A Capella group will sing. UTA President Vistasp Karbhari will offer opening remarks.
Faculty presentations will start at 9 a.m. in Room 198 of the SEIR Building. Rhonda Prisby, associate professor of kinesiology, and Ambra Green, assistant professor in the College of Education, will make the first presentation. Bowling and Diane Allen, associate professor in planning and landscape architecture; Elten Briggs, chair in marketing, and Kayunta Johnson-Winter, associate professor of chemistry; and Robert Bing, professor of criminology and criminal justice, and Jason Shelton, director of the Center for African American Studies and a sociology associate professor; will give brief lightning presentations on their research.
A short presentation on Fannie Lou Hamer will be given at 10 a.m. in SEIR 198.
A voting rights panel discussion will begin at 10:35 a.m. on the sixth floor of the Central Library. Panelists include Marvin Sutton, Arlington City Council member; Maleshia B. McGinnis, city attorney and chief legal adviser for the city of North Richland Hills; Judge Kenneth Sanders, Precinct 7 justice of the peace for Tarrant County; Devan Allen, Tarrant County Commissioner, District 2; and Wendell Joubert, associate principal of Mansfield Timberview High School.
Educational programs for students will be from 10:30 a.m. to 4 p.m. in the Central Library Basement, first floor and sixth floor. Events include the Engineering Showcase, Creation of Blackout Poetry, Save the Timeline Escape Room, Explore Heritage Archives, Take a 3D Selfie in the FabLab, Create Keepsake Stickers in the FabLab, Chat and Sing with a Robot, and Learn to Drive a Robot.
Lunch for children is 11 a.m. to noon in the basement of the Central Library. Lunch for adults is noon to 1 p.m. on the sixth floor.
Focus on Mathematics (STEM workshops) will be from 12:30 to 2 p.m. Elementary school students will be on the second floor and middle school students will be on the third floor of the Central Library.
Closing remarks by Eddie Freeman, president of the African American Faculty and Staff Association, are at 4:20 p.m. in Room 198 of the SEIR Building.
The African American Faculty and Staff Association is sponsoring the event. Co-sponsors and contributors include the UTA Libraries and the Center for African American Studies.