For Pre-Law Center, a courtroom of its own
Adelfa B. Callejo Courtroom creates space for learning, community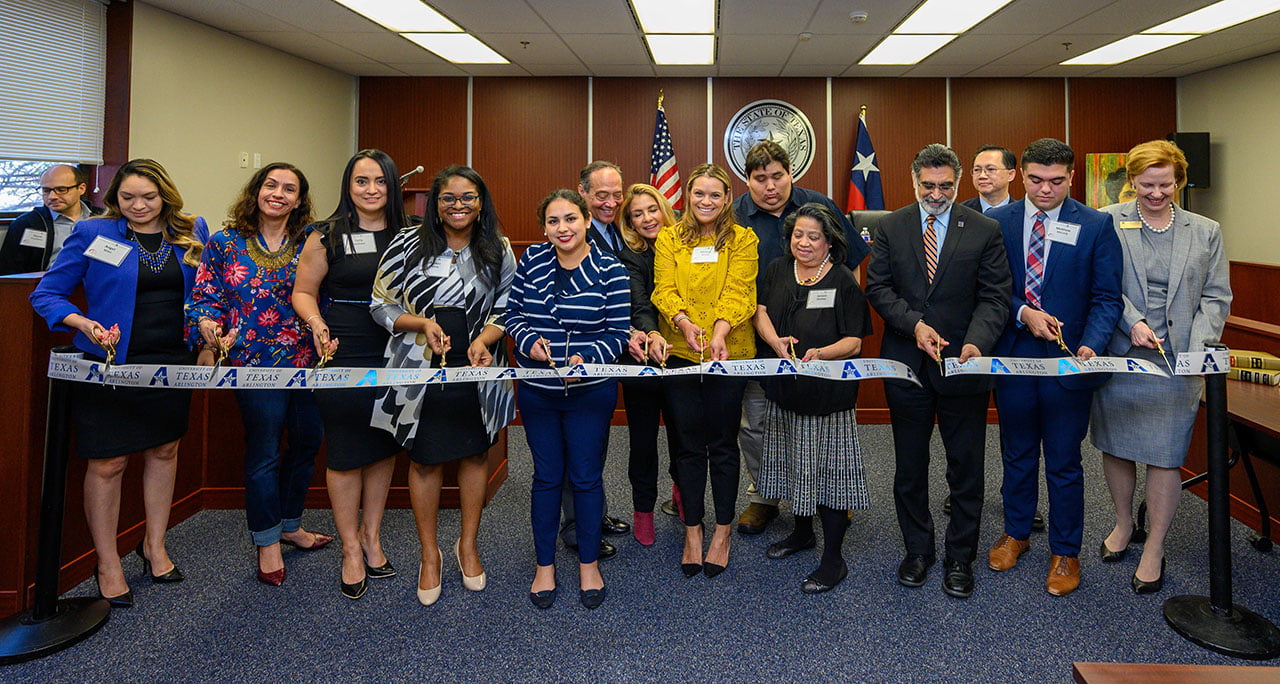 The Pre-Law Center at The University of Texas at Arlington now has a courtroom to call its own.
The Adelfa B. Callejo Courtroom was recently inaugurated with a ribbon-cutting ceremony that revealed the new quarters. The space will serve as a practice area for mock trial and moot court participants, as well as a classroom and gathering spot for students interested in studying law.
The courtroom was made possible through funding from the Callejo-Botello Foundation, which was established to honor the memory of Adelfa Callejo, a prolific lawyer, civil rights activist and educational advocate in Dallas. Its mission is to create opportunities for low-income and minority students to succeed in postsecondary education.
"Adelfa came from humble roots in South Texas and cared deeply about the lives of others, particularly those who were marginalized," said Monica Lira Bravo, chair of the Callejo-Botello Foundation Board. "One of her favorite quotes was, 'Education is the great equalizer.' It really speaks to her sense of personal purpose and her desire to help others succeed. I know that she would have been honored to have her name associated with The University of Texas at Arlington and its Pre-Law Center."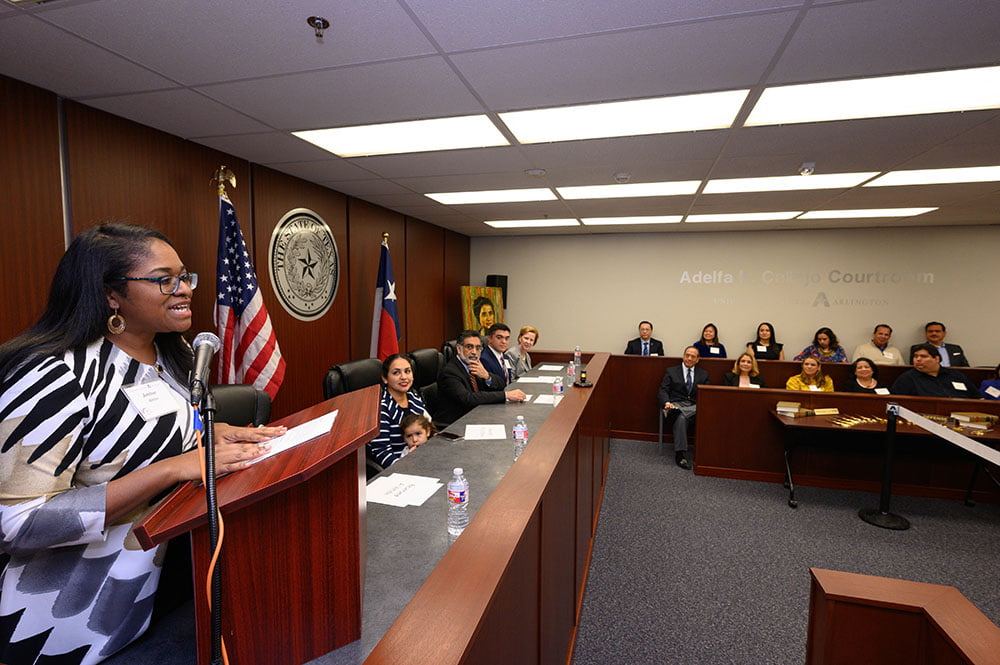 Amber White, director of the Pre-Law Center, expressed gratitude for the foundation's generosity and is thankful to have Callejo's name attached to the center. She hopes it will honor her legacy and inspire students.
"Adelfa was a woman who refused to accept limitations," White said. "That's what we want our students to embody."
Elisabeth Cawthon, dean of UTA's College of Liberal Arts and former interim director for the Pre-Law Center, said the new courtroom is a major step for the program.
"We want this to be a resource for our students to give them tools and help them decide if this is the right path for them while they get a great education in whatever fields they choose," she said.
UTA's pre-law program existed informally for decades but, thanks to donor generosity, was officially established in 2012. The center provides invaluable services to students, including advising; mentorship programs with legal professionals at AT&T, Haynes & Boone LLP, and other firms; service-learning experiences with Legal Aid of Northwest Texas; moot court and mock trial competition training; and more.
With the support of donors like the Callejo-Botello Foundation, the Pre-Law Center continues to increase learning opportunities for students. White hopes to add even more advances to the courtroom, bringing what is already a singular undergraduate program to the next level.
"We want to offer the students in our program an innovative, skill-building experience unlike any other," White said. "The design of this structure puts us ahead of the game."
Located in Trimble Hall, the courtroom will make its public debut when UTA hosts the American Mock Trial Association Regional Mock Trial Tournament Feb. 21-23.