Better tests and treatments for osteoporosis
UTA research team leads effort to improve testing and treatment for osteoporosis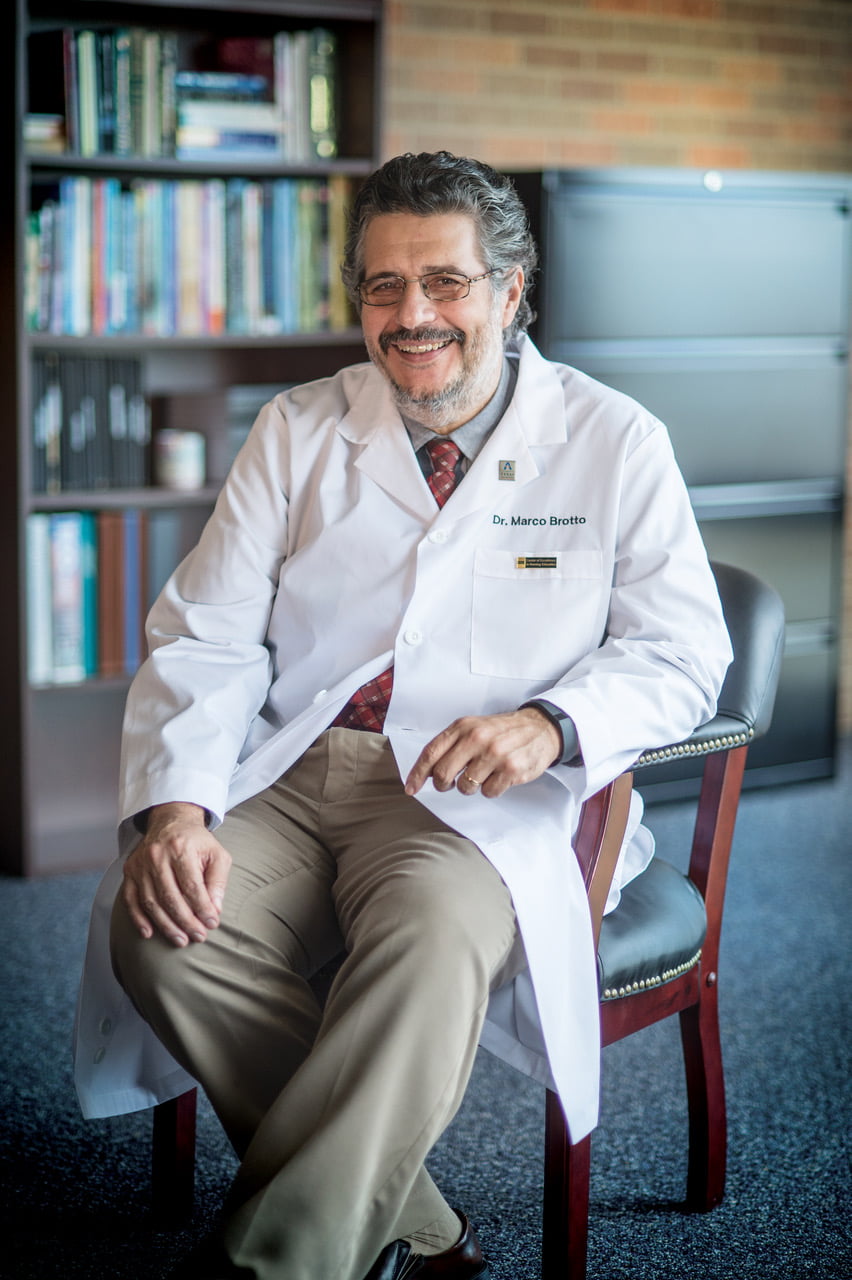 A new multisite study led by researchers at The University of Texas at Arlington details a series of biomarkers in the blood—and a screening to detect them—that could lead to better diagnoses and treatments for osteoporosis.
Experts from UTA's Bone-Muscle Research Center and the Shimadzu Center for Advanced Analytical Chemistry, along with colleagues at three other major universities, authored the study, which was published in January in Nature Communications Biology.
"Osteoporosis is one of the most common and devastating chronic aging conditions, as it commonly goes unnoticed until fractures occur," said Marco Brotto, professor of nursing at UTA's College of Nursing and Health Innovation and director of the Bone-Muscle Research Center.
The team also developed a quick, accurate and sensitive screening method to quantify these biomarkers, demonstrating the test's clinical applications by using samples from women who have osteoporosis and those who don't.
"One of our major goals during the study was to determine if we could we find biomarkers for osteoporosis that could help improve the diagnoses at an earlier time in life by using very simple methodology, such as blood or saliva samples," said Brotto, who is also a George W. and Hazel M. Jay Endowed Professor and director of UTA's nursing doctorate program. "The applicability of this method may lead to significant advances in the detection and treatment of osteoporosis. In the future, we hope to continue and expand our research to include other populations."
The National Institutes of Health and the National Institute on Aging provided crucial support to the project, along with colleagues at Tulane University, Creighton University and Indiana University.
"It is such an honor to know we are contributing to the solution for this problem," said Zhiying Wang, a researcher in Brotto's laboratory and first author of the study. "As a female research scientist, I know how serious osteoporosis can be for post-menopausal women. The discovery of significant biomarkers in younger women populations for early detection of osteopenia and osteoporosis will remarkably relieve patient suffering and reduce high healthcare costs and societal burden."
Researchers on this project include UTA's Wang, Liangqiao Bian, Chenglin Mo, Maciej Kukula, Daniel W. Armstrong and Brotto; Tulane University's Hui Shen, Lan Juan Zhao, Kuan-Jui Su and Hong-Wen Deng; Creighton University's Robert Recker and Joan Lappe; Indiana University's Lynda F. Bonewald; and Jauh Tzuoh Lee from AZYP LLC: Separation & Analytics.
"UTA boasts some of the foremost expertise in studying and treating musculoskeletal maladies, and I am tremendously proud of how this interdisciplinary team was able to collaborate on such a large scale with the empowerment of the cutting-edge technologies available through Shimadzu," UTA Interim Vice President for Research James Grover said. "The efforts of this group foster hope for a future of more effective treatments of osteoporosis."