The 'beauty and complexity' of biomedical research
Nursing professor works to solve the body's mysteries through bone-muscle research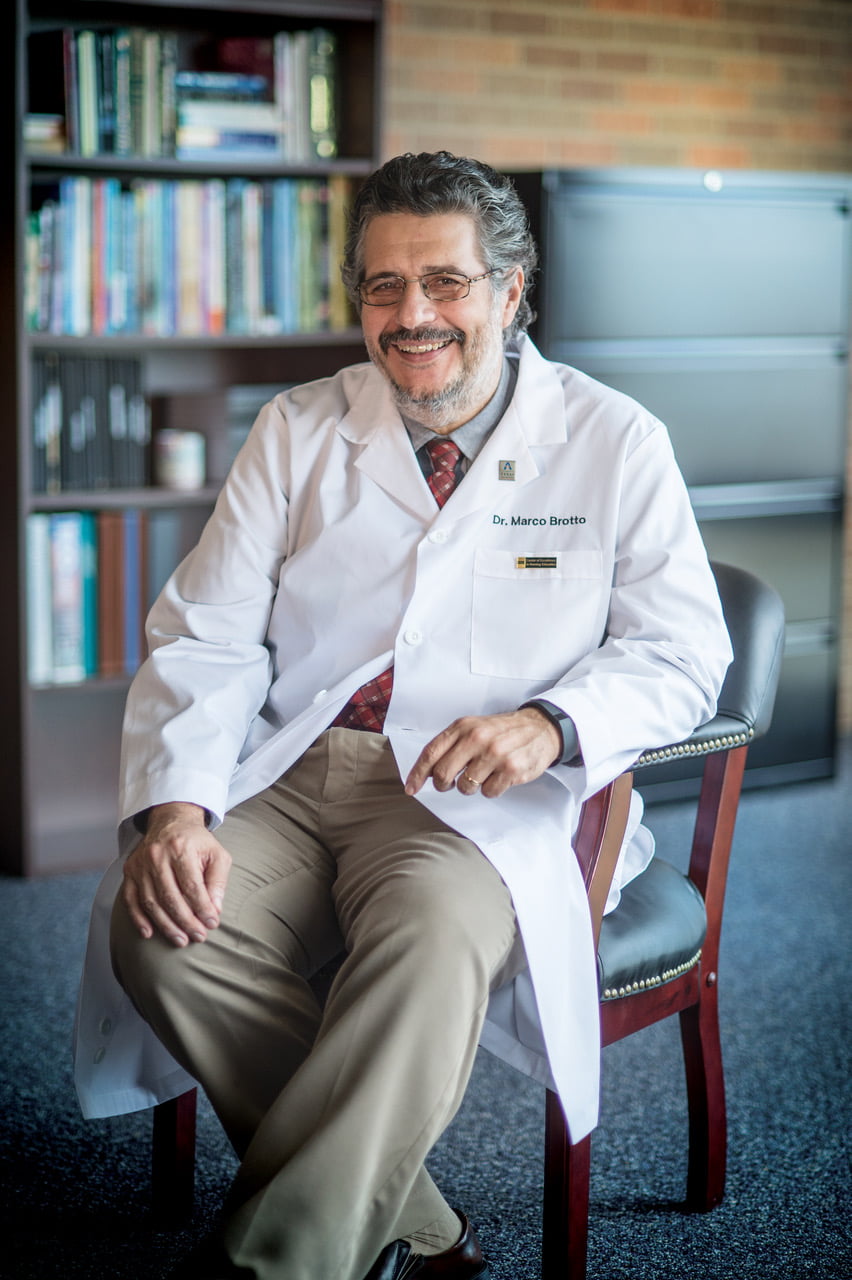 Marco Brotto has always been driven by curiosity.
Brotto, professor of nursing in the College of Nursing and Health Innovation at The University of Texas at Arlington, is part of a group of researchers dedicated to the study of the musculoskeletal system (MSK)—the largest system in the human body that provides nutrition and stimulation.
He said his passion for understanding the mechanics of MSK began more than three decades ago when he embarked on a clinical research career in Brazil as a nurse practitioner.
"I became fascinated by the notion that people can use their muscles to lift incredibly heavy objects yet also use the muscles in their hands, for example, to perform very delicate tasks like surgery," said Brotto, who is also the George W. and Hazel M. Jay endowed professor and directs both the nursing Ph.D. program and the emerging UTA Bone-Muscle Research Center. "I fell in love with its beauty and its complexity."
His curiosity and drive led him to become an internationally renowned scientist and an expert in bones, muscle physiology, sarcopenia and bone-muscle crosstalk. Brotto says ongoing studies at UTA can translate into new diagnostics and treatments for MSK disorders and aging.
"We want to understand the MSK system, answer essential questions about its mechanisms and discover strategies for improved function during development and aging," Brotto said. "We hope our work leads to answers and solutions for better health outcomes, especially in older adults."
His ongoing research projects at UTA include:
Skeletal muscle function: With an award from the National Institutes of Health, Brotto is investigating how bone cells can influence and change the function of muscles by releasing hormone-like molecules, a process that is affected by aging.
Muscle aging: Brotto is examining the mechanisms that contribute to the loss of strength in muscle during aging to determine if regulating certain proteins can improve the function of aged skeletal muscles.
Muscle weakness: Brotto and his team are investigating the role of a protein called NUMB in muscle function and whether it contributes to muscle weakness. He believes it could lead to treatments to prevent and mitigate weakness and frailty in the elderly.
Protecting skeletal muscle: The major objective of this avenue of research is to develop protein gene activators to protect skeletal muscles from diabetes. "Diabetes is a metabolic disease associated with skeletal muscle injury," Brotto said. "This research project will generate high-impact pharmacological data through the discovery of new agents and develop molecular insights into preventing muscle injury in diabetes."
Alleviating ALS progression: Research shows that muscles appear to be primary targets as the ALS (amyotrophic lateral sclerosis) gene mutates. In collaboration with Jingsong Zhou, professor of kinesiology and associate director of the Bone-Muscle Research Center, Brotto and his team are developing alternative therapeutic strategies for combatting the disease.