Becoming a nurse in the age of COVID-19
UTA expected to graduate prelicensure 365 nurses into workforce and onto front lines of COVID-19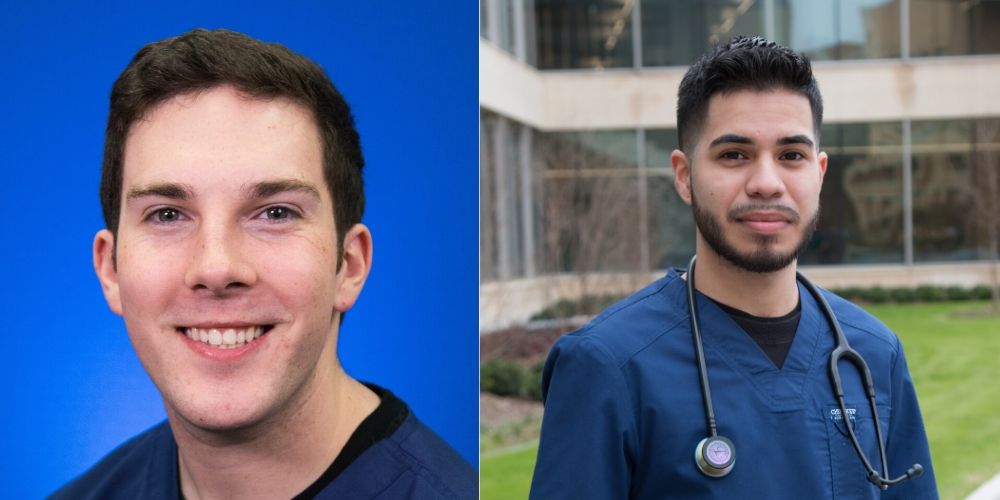 Lucas Ferris and Orlando Flores, senior nursing students at The University of Texas at Arlington, are less than one month away from earning their Bachelor of Science in Nursing (BSN) degrees.
They both say they are ready for the challenges of providing care in the era of COVID-19.
"We are eager to get out into the workforce and do as much as we can," Flores said. "Our UTA training prepared us to be adaptable and take on emerging challenges with confidence."
Ferris and Flores are among the 365 prelicensure nursing students expected to earn their diplomas next month from UTA's College of Nursing and Health Innovation (CoNHI). Each of them could soon find themselves on the front lines of a pandemic, caring for those with coronavirus.
"Students who are near the end of the program have shown a tremendous amount of courage and resilience as they prepare to enter the workforce at such a tumultuous time," said Meagan Rogers, clinical assistant professor of nursing. "Our profession needs our students now more than ever."
Texas Gov. Greg Abbott recently expanded the state's nursing workforce by allowing temporary permit extensions for recently graduated nurses who have yet to take the state's licensing exam. The governor is also allowing students in their final year of nursing school to meet their clinical objectives by exceeding the 50% limit on simulated experiences.
With more than 19,000 students, CoNHI is one of the largest nursing schools in the nation and the largest producer of baccalaureate-degreed nurses in Texas. Ferris said the program has "prepared us for what's ahead in our nursing careers and providing high-quality care for patients."
"We produce both a great quantity and great-quality graduates ready to take on this public health emergency," said Erin Carlson, associate clinical professor and director of graduate public health programs.
UTA instructors have been able to leverage innovative technology to simulate hospital-based clinical experiences during this public health crisis.
"Our faculty's spirit of innovation is unwavering, and they have turned to video-response technology, screen-based simulations and real-time virtual faculty-led sessions to allow students to be immersed in clinical situations very similar to real life," Rogers said. "While this situation is certainly unprecedented, nurses are known for their flexibility and caring spirit amid chaos."
Tammy Eades, clinical assistant professor of nursing and president-elect of the Texas Nurses Association, said this unique experience will allow UTA graduates to become better health care workers.
"We want our students to know we are proud of them," Eades said. "We want them to know we are thankful they chose to be part of this noble profession."
Despite the challenges ahead, Flores said he can't wait to go out and put his skills to work, a sentiment shared by his fellow graduates.
"We have been taught by the best instructors, and I feel we are well-prepared to take on anything that comes our way," Flores said. "We are ready to go on the front lines. We are ready to help out as soon as we can."