'I want to do my part'
Amid COVID-19 pandemic, UTA Mavericks continue to serve. Here are four of their stories.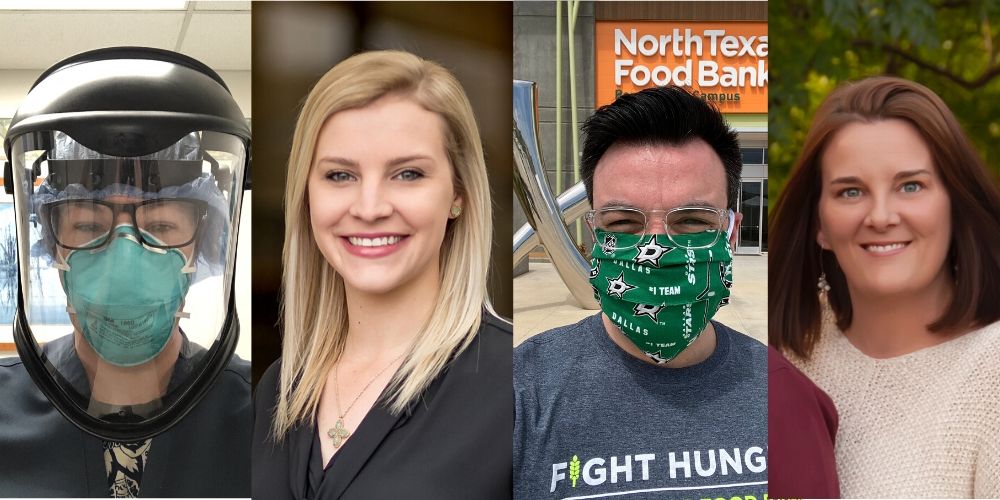 As part of the Mavericks on the Front Lines series, The University of Texas at Arlington is sharing stories of how the Maverick community is a force for good.
Among our 230,000 UTA alumni and 60,000-plus students, staff and faculty are thousands of Maverick heroes providing essential support and care during the COVID-19 pandemic. From treating ill patients to making do-it-yourself personal protective equipment to serving the hungry at food banks, Mavericks near and far are making a difference.
Sarah Van Leuven, nurse
For Van Leuven, a master's student in the online family nurse practitioner program, the toughest part about working as a nurse right now is seeing her coronavirus-positive patients so sick and alone.
Van Leuven lives in Fallbrook, Calif., and works as a nurse in the COVID unit at a San Diego hospital. New hospital regulations prohibit patients from receiving visitors, part of an effort to limit the spread of the virus.
"You see these really sick people who are all alone," she said. "As much as we are there for them and care for them, we are no substitute for somebody's family or loved one."
Van Leuven enrolled in UTA's online master's program in 2019, attracted by its flexibility, high-quality reputation and affordable tuition. Becoming a nurse practitioner, she said, will give her the opportunity to earn more money and enjoy a more routine work schedule. The online classes – along with regular study sessions via video conference with one of her classmates – have helped Van Leuven maintain a sense of normalcy during the pandemic.
"I'd never had this feeling of being part of something that is bigger than myself," she said. "I really feel like I am making an impact when I go to work."
Elizabeth Hahn, assistant project manager
Hahn ('13 BS, Architecture) works for a large commercial general contractor in the Dallas-Fort Worth area and took notice when she heard on the news that health care workers were experiencing a shortage of personal protective equipment (PPE).
"This pandemic has made me realize how many people I know in the health care community," Hahn said. "They shouldn't have to worry about PPE—they have much more important things to worry about."
She soon started seeing designs for face shields pop up online. Though she didn't have any prior experience making PPE, Hahn does own a laser-cutter. She found a design that had been approved through a local hospital and got started.
"I can't imagine having the ability to help during such a critical time and not doing it," she said.
Cody Meyers, major gift officer
Meyers ('11 BBA) is a major gift officer at the North Texas Food Bank in Dallas, a nonprofit that provides meals to those facing hunger in the region.
"Our partner agency network is reporting upwards of 70% increases in service just within the first month of adjusting to the pandemic," Meyers said.
Social distancing has forced food banks to adjust their service models from a grocery store setup to meal boxes that people can pick up. Access to food is another concern, as supply chains face interruptions from increases in bulk shopping.
The food bank team is now producing 60,000 family meal boxes per week to try to keep up with demand. Meyers' team is helping fill orders while also raising funds.
Meyers' biggest concern is making sure the food bank is serving all who need help. He is confident in his organization's efforts and thankful to be able to help in whatever ways he can.
"Every day I get to go to work with the most caring, thoughtful team that's ready to tackle this issue head-on," Meyers said. "I know there is a long, uncertain road ahead of us, but I am comforted knowing that I have a strong team to fight hunger alongside me."
Laura McCarthy
When McCarthy ('01 BFA, Photography) started hearing stories about the different ways COVID-19 was affecting her local community, she was also feeling its impact.
Her photography business had dwindled, her kids' scheduled commitments were canceled and her husband was still going out to serve the community every day as a veteran officer in the Fort Worth Police Department (FWPD).
It all left her with a sense of helplessness—a feeling that didn't sit well.
"I'm part of all these communities—and I realized there was something I could contribute," she said.
From her home in Burleson, McCarthy started producing acrylic mask extenders, which help relieve the pressure that masks can put on the backs of ears. Using her own materials, she has made more than 200 and donated all of them to FWPD, local health care providers and individual families in need.
"It's such a small thing, but if there's a problem to be solved, I want to be able to do my part," she said. "I believe that's the way we'll all get through this—by pitching in, working together and helping each other in any way we can."
- Written by Jeff Carlton, Jenny Gumbert and Amber Scott