Four Mavericks selected for prestigious NSF program
3 students, 1 alumnus to participate in NSF's Graduate Research Fellowship Program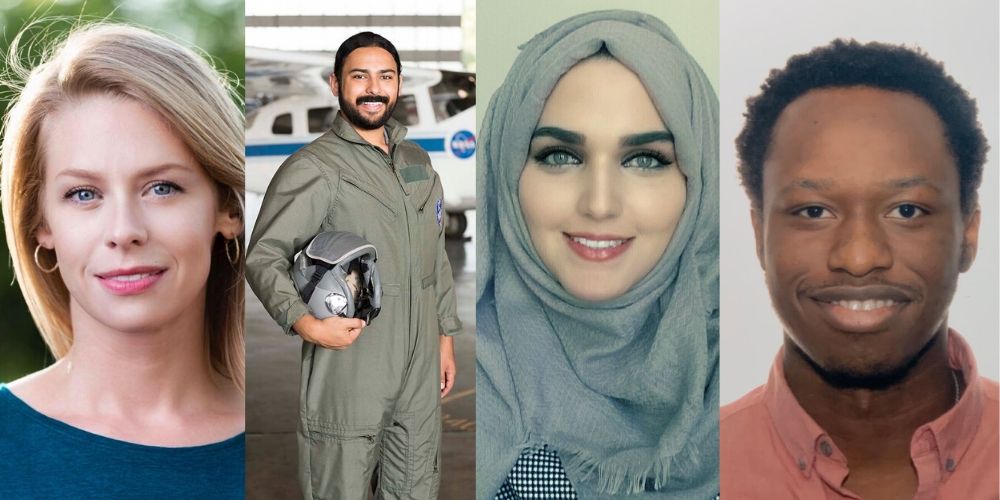 The National Science Foundation (NSF) selected three graduate students and one recent alumnus from The University of Texas at Arlington to participate in its prestigious Graduate Research Fellowship Program (GRFP).
The program recognizes and supports outstanding graduate students in NSF-supported science, technology, engineering and mathematics disciplines.
The three UTA graduate students selected for the program are
Melissa Orr, chemistry
Joseph Michael Cloud, robotics and computer vision
Israa Qasim Jaradat, computer science and engineering
Alumnus and awardee Iretomiwa Esho ('18 BS, Mechanical Engineering) is now pursuing a Ph.D. in materials science at the California Institute of Technology. Esho said his professors at UTA were instrumental to his academic development.
Cloud earned a bachelor's in computer science and engineering in 2019 and stayed at UTA to pursue his doctorate. Orr will graduate this month with a bachelor's in chemistry and pursue her doctorate in chemistry in the lab of Robin Macaluso, associate professor of chemistry. Jaradat is a doctoral student in computer science and engineering at UTA.
Orr said her research interests focus on the unique chemistry that only rare-earth elements can provide—physical phenomena that translate into optical, magnetic and semi-conducting applications.
"I have been interested in chemistry since I first learned about the periodic table of elements in grade school," Orr said. "I'm inspired by the impact of new materials to revolutionize entire civilizations and historical time periods, such as the Iron Age. I hope to participate in continued innovation through the unique overlap of chemistry and material design."
The GRFP provides recipients a three-year annual stipend of $34,000 along with a $12,000 cost-of-education allowance for tuition and fees, opportunities for international research and professional development, and the freedom to conduct their own research at any accredited U.S. institution of graduate education.
As the oldest graduate fellowship of its kind, GRFP has a long history of selecting recipients who achieve high levels of success in their future academic and professional careers. The program receives more than 12,000 applications each year and selects only about 2,000 students.
"To have four awardees with UTA ties is a signal that our reputation is growing," said Erick C. Jones, associate dean for graduate affairs in the College of Engineering and a former director of the program for NSF. "Competing successfully in this arena demonstrates that UTA is training our students to rank among the best.
"This is the federal government's best investment in our future for impactful research and innovation. To have a growing population of UTA students and alumni recognized among this group is an honor and signifier of the work being done at our institution."
Jones said he is passionate about the growth of the GRFP at UTA because it raises the bar for the campus as a whole.
"To compete for the GRFP, we have to connect our research mission with our academic mission," he said. "The success of these students and alumni has positive implications for all of us."