Dedicated students keep UTA community informed
Student-run media outlets have adapted to keep producing scoops
Across the country, college students are staying off campuses and completing their studies online because of the coronavirus pandemic.
But that hasn't stopped dedicated students at The University of Texas at Arlington from keeping their communities up-to-date and entertained with UTA Radio, UTA News en Español and The Shorthorn.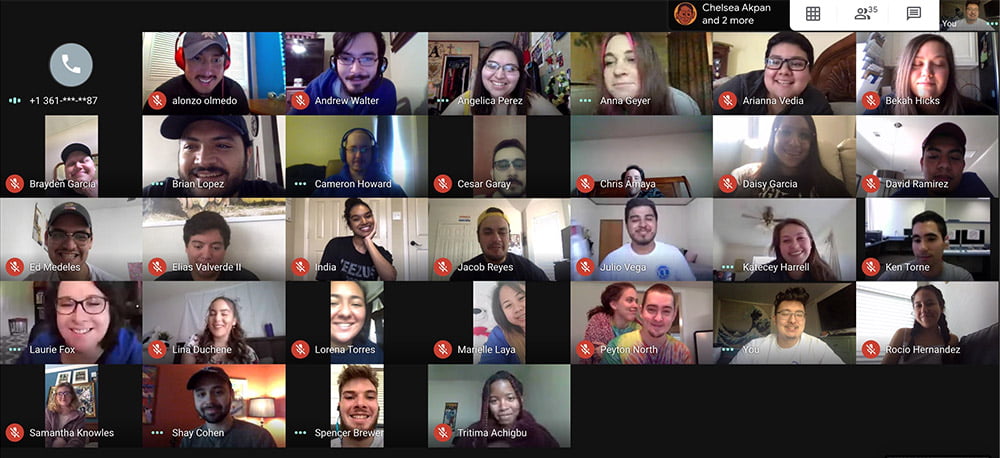 Paulina Fonseca is a broadcasting major who produces, anchors and reports for UTA News en Español. She says creating content when her routine has drastically changed has been challenging.
"It is an honor to be a part of the newscast, but it's also a great responsibility," she said.
Although students are not allowed in the broadcast studio, UTA Radio has stayed on-air with a combination of remotely recorded news broadcasts, student podcasts and music automation.
"Our UTA Radio students have figured out a way to produce content even though they are at home, navigating a new normal," said Lance Liguez, faculty adviser for UTA Radio and broadcast communication specialist. "They understand they are in the midst of the biggest story so far this decade, and they have responded in kind."
Mavericks at student-run media outlets say they have a mission to provide high-quality news reports, while training future professional journalists and broadcasters.
"It will be an interesting detail to share with future employers," said Scarlet Hilario, UTA broadcasting senior and news director at UTA Radio. "Just when we thought it was over, we've proved that despite being apart, we can still work together and get things done."
Audrey Henvey, a UTA Radio reporter with a double major in French and journalism, said student media outlets can help UTA community members maintain ties during the pandemic.
"We're in this impactful position to continue connecting our campus even though we can't be physically at UTA," she said. "Hearing student voices reminds listeners that they belong to a community and keeps them engaged through this hard time."
Brian Lopez, UTA journalism senior and editor-in-chief of The Shorthorn, said he misses the camaraderie of the newsroom.
"It's not the same editing online," said Lopez. "It's a bummer we can't be in our newsroom, which is where we work but is also a place a lot of us call our second home. Not being able to see my friends every day has been tough."
Still, students believe their media outlets have a valuable role to play, and that staying operational was never in question.
"The Shorthorn's goal has always been to keep our UTA and Arlington communities informed," Lopez said. "During these times, that has become even more vital. We're working harder, and I'm proud of my team."