Second-career students pursue public health degrees
A passion to serve inspires established professionals to continue their education at UTA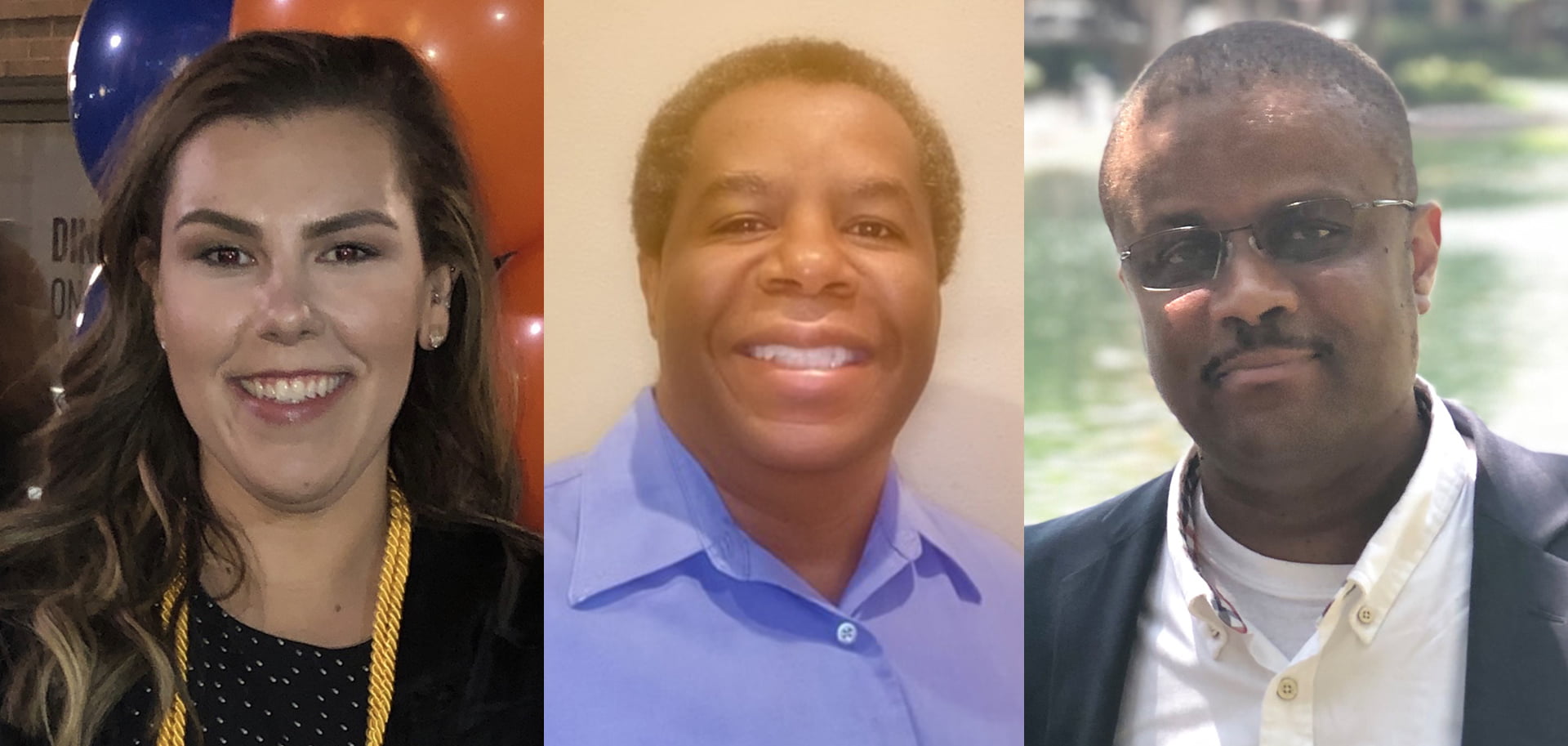 Sofia Alcasey, Berford Moncriffe and Laud Dei are different ages and come from different professional backgrounds. But they all share a passion for improving health outcomes in their communities.
That passion inspired them to pursue public health degrees at The University of Texas at Arlington.
After graduating high school, Alcasey ('19 BS, Public Health), knew she wanted a career in the health field. She just wasn't sure which route to take.
"I took several health certifications, including a pharmacy technician class, in preparation for the health care career I expected to have," she said. "While working at a pharmacy, I enrolled as a pre-med student at UTA and later decided to switch my focus to public health."
Alcasey, now a UTA graduate and in her sixth year as a pharmacy technician, said she hopes to use the skills learned in both disciplines to impact her community.
Moncriffe is also familiar with pharmacy work.
"I've been a practicing pharmacist for the last 18 years," said Moncriffe, a Master of Public Health (MPH) student. "As I practiced my profession and gave patients individual attention, something was missing. I felt the need to help the community at large. After that realization, I began researching public health careers and found myself gravitating toward the field."
Moncriffe decided to continue his education at UT Arlington.
"What made UTA's MPH stand apart from other programs was its focus on urban health," he said.
UTA offers the only MPH concentration in urban health in Texas and one of the few in the U.S. Moncriffe expects to earn his MPH degree in 2022.
Dei, also a Master of Public Health student, was attracted to urban health as well, although he was no stranger to the field of public health.
He received his undergraduate education at the University of Cape Coast in Ghana. He continued his graduate education at the University of Aberdeen and Brunel University in the United Kingdom, where he earned postgraduate degrees in global health and health services research, respectively.
In 2018, Dei decided to join his wife in the United States.
"When I arrived in the U.S., I wanted to get into my field of expertise," he said. "I realized there were some basic public health modules that I did not do in the United Kingdom that were required here before I could get into the system. I decided to enroll at UTA to do the entire MPH program instead of doing only the modules I was missing."
Dei expects to earn his MPH degree in 2021.
"I believe completing the entire degree program will allow me to be more in tune with the American public health system," he said.
UTA's Bachelor of Science in Public Health program provides students multiple coursework and practice-based learning opportunities to explore the effects of urbanization on population health. UTA's MPH degree is a student-centered, practice-focused program for the working professional that builds their skills and enhances their practice.
Both of UTA's programs are dedicated to teaching applied skills and their curriculums are designed around the skills most used in real-world public health practice by integrating classroom learning with real-life community-based projects.
"UTA's public health students have extensive opportunities to practice and master the skills required for success in today's workforce as a professional in the field of public health," said Erin Carlson, associate clinical professor and director of graduate public health programs. "Our students come from all types of backgrounds, and that is one of the aspects that makes our programs truly special. Our students' passion for service and their dedication to our community is truly inspiring."