Helping Mavericks with their tech needs
UTA offers students laptop lending, better Wi-Fi, socially distant computer labs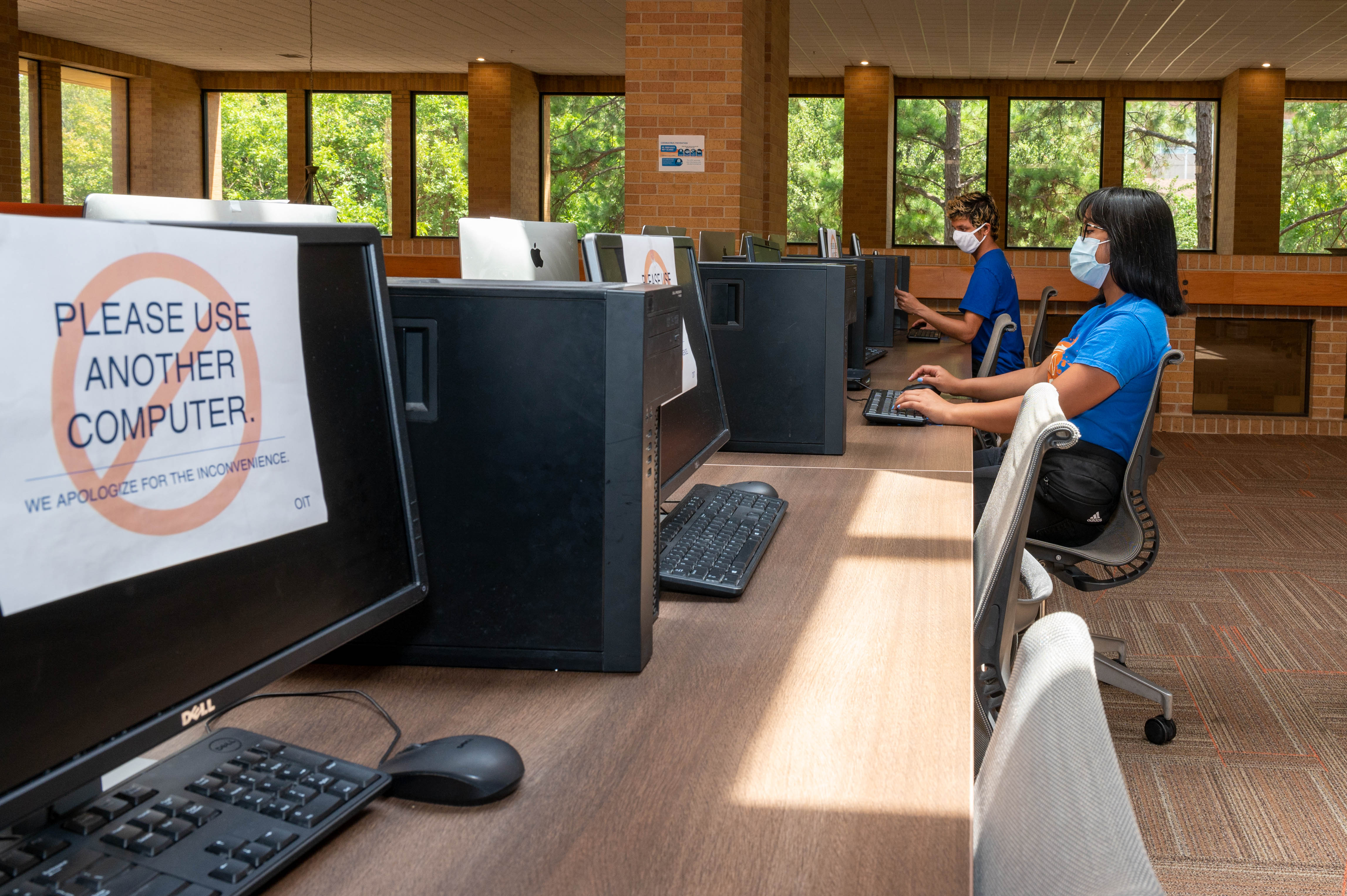 *Updated January 2021
As The University of Texas at Arlington prepares for a blended approach to spring 2021 courses, student accessibility to technology for online and hybrid courses is a top priority.
UTA recommends students consider the following equipment for a successful experience in online and hybrid courses:
Computer, laptop, tablet or smart phone
Speakers and microphone (built in or external)
Webcam
Keyboard
Mouse
Power cords
Ethernet cable or Wi-Fi connection
For students without reliable internet access or the necessary technology to engage in courses or study online, the University has made available specially designed, socially distant computer labs on campus.
At full operation, these labs provide more than 130 desktop computers across 12 labs. Complete information about the computer labs and their hours of availability during the summer 2020 semester and moving into fall 2020 is available on UTA Remote, the University's hub for key strategies and resources to support students learning remotely. The site also provides information on internet service providers that have made accommodations to assist with internet access during this time, as well as pathways to digital tutoring, tech support and more.
Additionally, the UTA Central Library remains open for computer checkout and other available services.
To support moving its academic instruction to online platforms during the spring 2020 semester, UTA more than doubled the number of devices available for checkout by students in the library to nearly 500. This repository of resources remains available to students going into fall 2020.
Wi-Fi access is being upgraded across the campus, with existing products undergoing a complete replacement. Wireless access will also be available in outside areas on campus. Many buildings have been completed, and the full network upgrade is scheduled to be complete by the end of September, nearly two months ahead of schedule.
"Across the University, the technology team has been working to upgrade or replace technologies to provide the resources and infrastructure necessary to support our students and keep them on the path to their higher education goals as we adapt to a new normal," said Jeff Neyland, UTA's chief information officer. "We continue to work to identify ways we can provide students access to leading technologies that are highly secure and provide the best possible experience."
Check the Mavs Back 2020 site for more stories on what to expect as UTA safely returns to campus for fall 2020. You also can check the Coronavirus and Fall 2020 Semester page, which is UTA's official site for up-to-date information on campus operations during the COVID-19 pandemic.