Nonprofit expert awarded for excellence in online teaching
CAPPA associate professor garners distance learning award for international excellence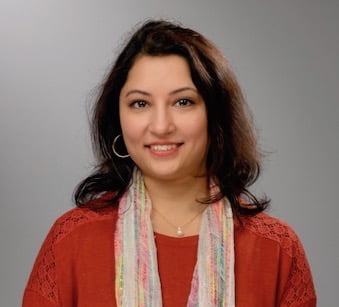 Karabi Bezboruah has won the 2020 United States Distance Learning Association (USDLA) International Excellence in Teaching/Training Award.
Bezboruah, an associate professor in the College of Architecture, Planning and Public Affairs (CAPPA), said the award is an honor for The University of Texas at Arlington because it is recognized globally.
"I try to humanize my online courses and be available for my students," she said. "Additionally, I use student feedback as a mechanism to improve my courses and teaching every semester."
CAPPA Dean Adrian Parr said Bezboruah is an inspirational teacher, both in-person and online.
"She uses a variety of different tools and pedagogical approaches that she incorporates in a traditional classroom setting, thereby giving her students the best of both online and classroom worlds," Parr said. "Dr. Bezboruah's main strength, though, is the manner in which she uses her own rich research outcomes as a platform to inspire her students, regardless of the teaching modality."
Bezboruah, who specializes in public and nonprofit management, said she incorporates experiential projects in her online courses that benefit communities.
"Experiential projects help students acquire critical thinking skillsets that are so needed in today's workforce," she said. "It makes the online courses more context-based and practical for students, and the experience adds value to the curriculum."
USDLA, founded in 1987, is the nation's leading distance learning organization. These prestigious USDLA International Awards are presented annually to organizations and individuals engaged in the development and delivery of distance learning programs.
The USDLA International Awards are closely followed by the distance learning community.
"As the premier organization for the entire distance learning profession, USDLA has a history of honoring leaders within the industry," said Reggie Smith III, CEO/executive director of USDLA. "We recognize leaders in the field each year and their award-winning best practices are especially important during a global pandemic when so many are learning from a distance."
The USDLA Awards were created to acknowledge major accomplishments in distance learning and to highlight those distance learning instructors, programs, and professionals who have achieved and demonstrated extraordinary results through the use of online, videoconferencing, satellite and blended learning delivery technologies.
"This year's USDLA Award recipients represent the finest examples of online courses, best practices and leadership in our field," said Rhonda Blackburn, president of USDLA. "Each year we are impressed with the caliber of our winners, and they stand as examples for the world to emulate."