A new 'front door' to University Center
UTA celebrates completed renovations of University Center with ribbon-cutting ceremony
The University of Texas at Arlington unveiled the latest update to campus, a newly renovated entrance to the E.H. Hereford University Center (UC). The enhancements provide a more welcoming entrance for students, faculty, staff, alumni and guests who visit the UC.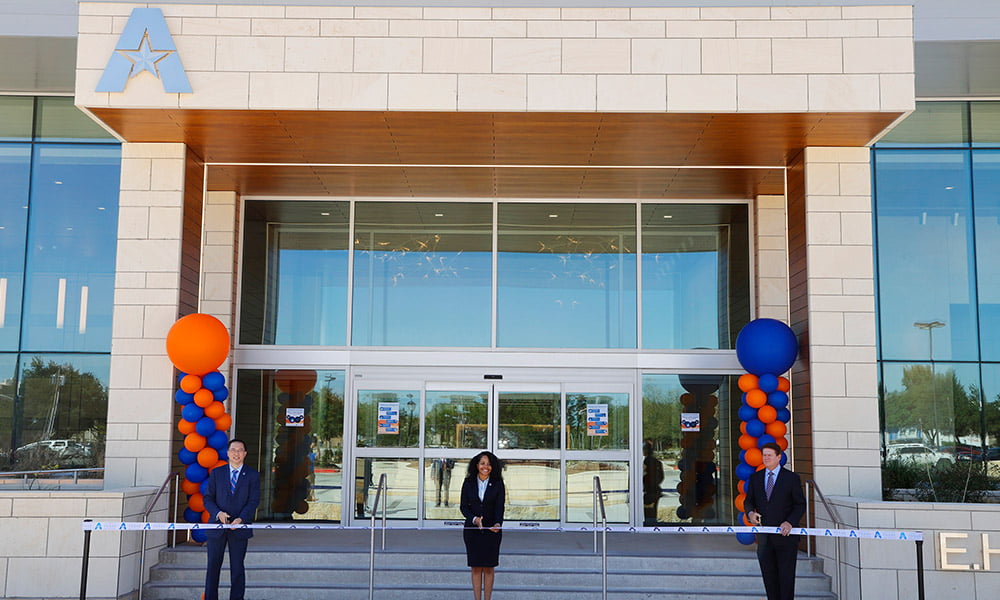 "The University Center hosts nearly 8,000 events in a normal year, and I am confident that the entrance will be enjoyed by the entire University community," said Teik C. Lim, interim president for UTA. "We look forward to the day when we can gather here in person."
Due to concerns regarding COVID, the ribbon cutting was a closed event to ensure a small gathering where participants could maintain social distance from one another.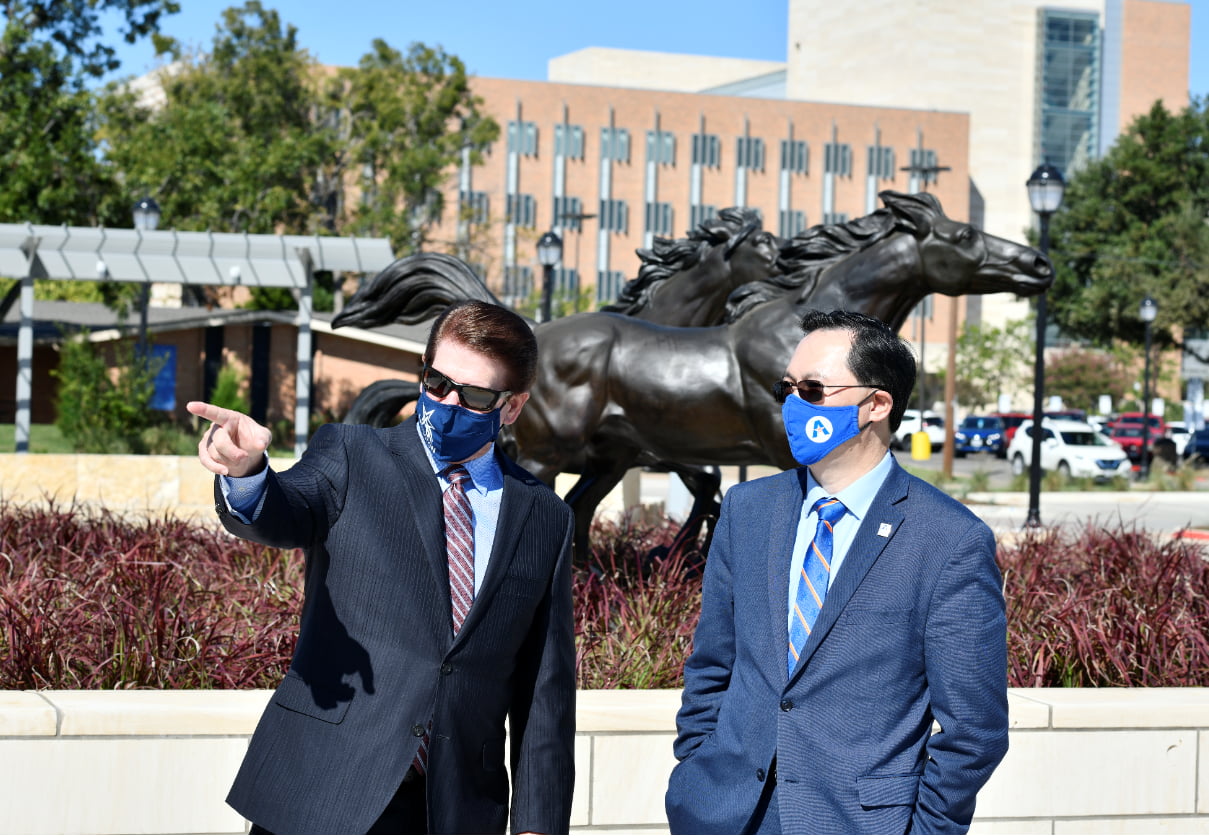 Designs for the $9.8 million project started in 2018, with construction to transform the space near the Bluebonnet Ballroom and Rosebud Theatre beginning in September 2019. The updates include a new entrance, pedestrian walkway, formal promenade and a parking lot that extends to UTA Boulevard. Final touches, including landscaping and outdoor lighting, wrapped up this month.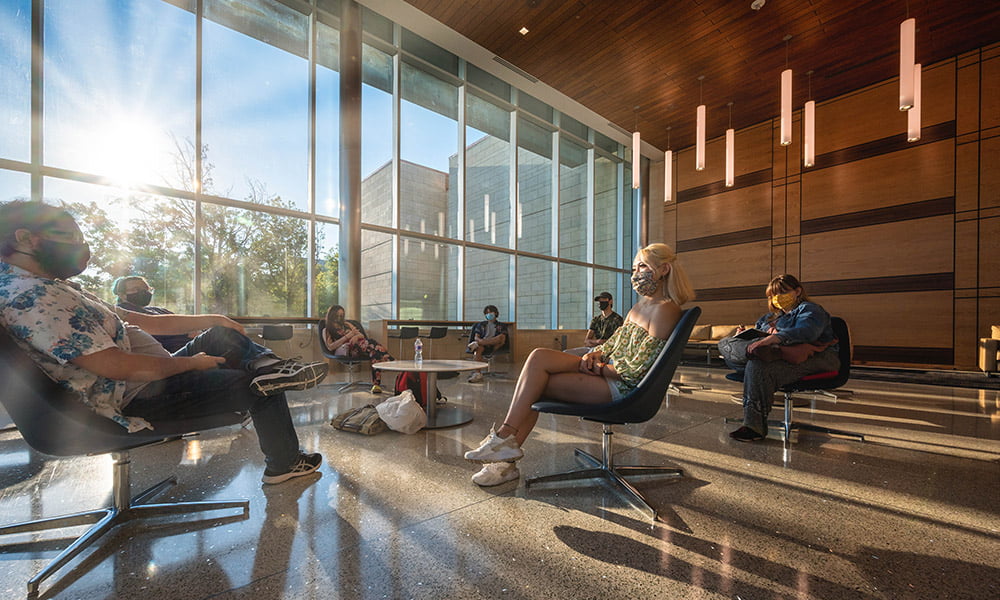 "The goal was to develop the north side of the UC into an inviting and open campus entrance in order to create a signature entrance to a building that suffered from a lack of identity," said Troy Yoder, director of institutional construction. "Since most of our VIP events that we have on campus involve the Bluebonnet Ballroom, it really is a premier location. The entrance to the building now lives up to its function."
The transformation features a two-story glass entrance, limestone materials and terrazzo flooring that matches the space with newer parts of the UC, such as the Lockheed Martin Career Development Center atrium.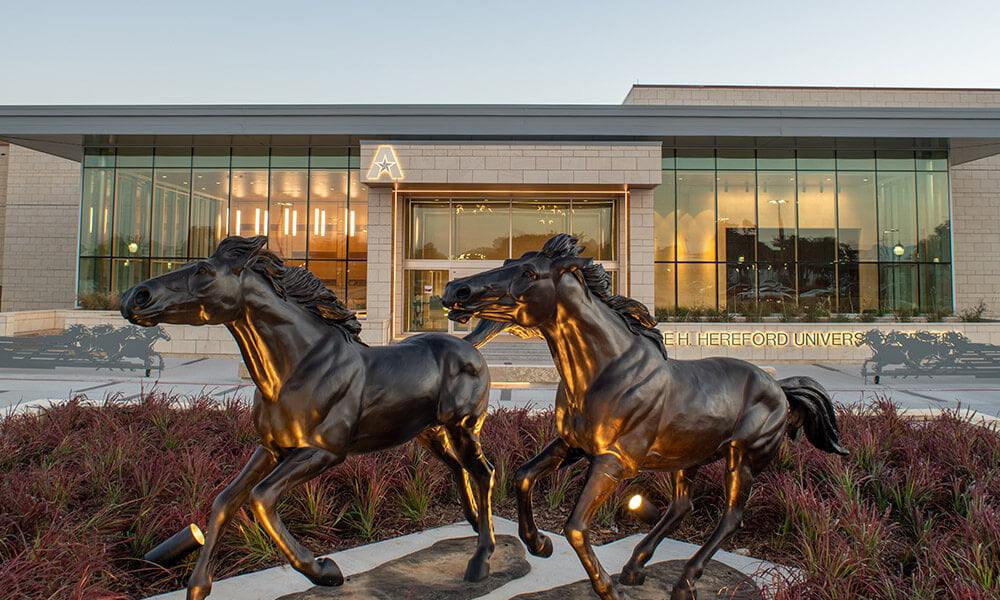 "The University Center plays host to many events that bring the Arlington community onto UTA's campus," Arlington Mayor Jeff Williams said. "I'm proud of the strong partnership between UTA and the city and pleased to play a role in celebrating this new addition. I hope everyone who sees this will take the opportunity to visit Arlington and the campus when the time is right. You will be impressed by the growth of both the campus and the city."
In addition to being a hub for students to study, eat and socialize, the UC houses the Division of Student Life, offices and meeting spaces, and places for dining and gathering. The Student Government chambers are located there as well.
"The University Center is the heart of student activity at UTA," said UTA Student Body President Blaize LaFleur, a junior political science major. "This renovation provides a welcoming entrance to a building that is filled with UTA students from morning into night."