Recent grad named Student Engineer of the Year
Recent UTA mechanical engineering doctoral graduate earns award from ASME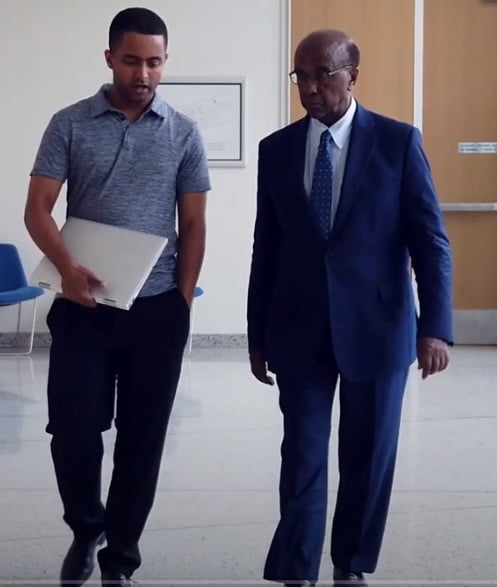 A recent mechanical engineering doctoral graduate from The University of Texas at Arlington has won a national engineering award for his excellence in research and his promise as a strong contributor to the field of electronic and photonic packaging.
Abel Misrak is the recipient of the 2020 American Society of Mechanical Engineers (ASME) Electronic and Photonic Packaging Division (EPPD) Student Engineer of the Year Award. Only one student is selected each year for the award nationally.
Misrak earned his doctoral degree in 2020. As a graduate student under Dereje Agonafer, he authored or co-authored more than 10 conference papers and three journal papers and currently has two journal papers under review. His research focuses on investigating the impact of material models on reliability assessment of electronic packages.
Throughout his graduate career, Misrak served in leadership roles on multiple projects, including collaborations with Texas Instruments and a material characterization study sponsored by TDK Invense. He also completed several internships at Tesla, where he recently began his professional career as a senior mechanical design engineer.
"I'm honored to be named Student Engineer of the Year," he said. "This award is an important recognition of the hard work I've put in during my time at UTA. I'm grateful to Dr. Agonafer for his support, as well as the support of the people who submitted letters of recommendation on my behalf and who helped me along the way."
Misrak is the third of Agonafer's doctoral students to win the EPPD Student Engineer of the Year Award. Fahad Mirza, now at Qualcomm, won in 2014 and Jimil Shah, now at 3M, won in 2018.
"I am delighted that ASME EPPD has recognized Abel with the Student Engineer of the Year Award," Agonafer said. "He has contributed greatly to our research and has made a name for himself. I think that he will be a star in this field for quite some time."
- Written by Jeremy Agor, College of Engineering