UTA Wins Sun Belt's Community Service Initiative Award
UTA Athletics completed more community service hours than any other Sun Belt school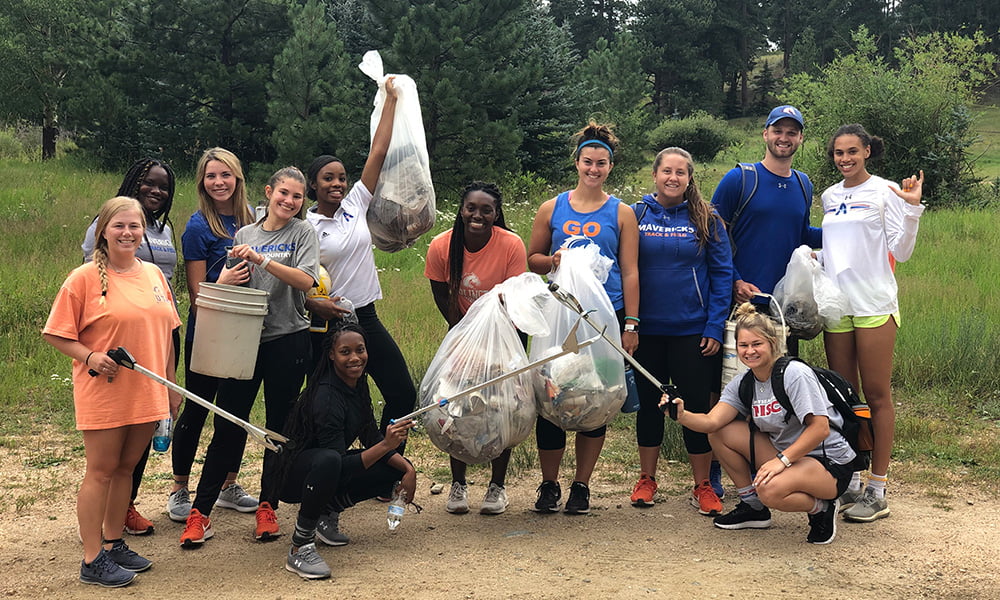 UT Arlington Athletics has won the Sun Belt Conference's Student-Athlete Advisory Committee (SAAC) Community Service Initiative Award for 2019-20.
UTA Athletics—which completed more community service hours than any other Sun Belt member school—has consistently made community service a focal point. This past year was no different, as the Mavericks have now claimed either the Sun Belt's Community Service Initiative Award or its Community Impact Award every year since 2015-16.
In 2018-19, the Mavericks swept both awards, winning the Community Service Initiative for the first time. They won again in 2019-20 thanks to a wide array of volunteering that not only impacted the local Arlington and Dallas-Fort Worth communities, but also established a global footprint.
Included among those volunteer initiatives were:
Volunteering with the Navajo Reservation to do outreach and put on events

Running canned food drive for Mission Arlington

Raising money and donations for food banks to help with COVID-19 relief

Serving food at the Ronald McDonald House in DFW

Holding educational events about alcohol awareness

Volunteering with Mission Arlington, Special Olympics and churches

Playing with kids, tutoring, reading to them and teaching them how to play different sports

Participating in local events, including Math-o-ween, CASA superhero run, MAV Move-In, Girls in Sports and Fun Fair Clinic
"We pride ourselves on community involvement, and we're honored to be recognized once again as a leading institution in the Sun Belt for our student-athletes' commitment to service," UTA Director of Athletics Jim Baker said. "These initiatives all begin with our great SAAC leaders, and I can't thank them enough for all the hard work they put in behind the scenes to make an impact."
Beyond the aforementioned local volunteer initiatives, UTA Athletics had an impact globally by donating 253 pairs of shoes as part of the Soles4Souls drive, which provides footwear for those in need in several African countries. Additionally, men's tennis player Edu Simo volunteered with Health Warriors in Barcelona, Spain, to help with COVID-19 relief by delivering and providing meals to health care workers and first responders.
- Written by Jason Macbain