UTA supports, encourages military-connected students
University to thank veterans with Recognition of Military Service events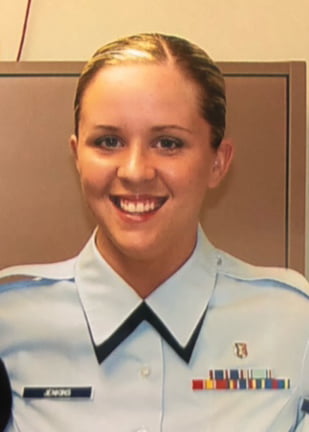 Schuyler Hopkins signed up for the Air Force in the summer of 2001, with her enlistment scheduled to begin at the end of the year. But before she had to report for duty, the Sept. 11 attacks took place.
"People asked me if I still planned to join the military," said Hopkins, now a senior studying social work at The University of Texas at Arlington. "I had made a commitment, and I felt it was important to remain true to my word, especially at a time our country really needed our assistance."
Hopkins is one of more than 3,100 service members and veteran students at the University who will be thanked this week as part of UTA's Recognition of Military Service events, held in conjunction with Veterans Day. The events include a drive-through celebration for faculty and staff veterans, an online panel for veterans and military-connected students and an induction ceremony for the SALUTE Veterans National Honor Society.
Ensuring veteran students and their families are cared for as individuals is an important part of UTA's mission, said James Kumm, executive director of veteran programs at UTA.
"We want our students to develop a sense of belonging and be proud to call themselves Mavericks," he said.
For the past several years, UTA has been recognized as one of the nation's top four-year institution for veterans and their families to earn a college degree by Military Times. UTA was ranked No. 1 on the 2020 Best for Vets list, No. 7 in 2019 and No. 12 in 2018.
Other accolades include the Military Order of the Purple Heart designating UTA as a Purple Heart University and No. 1 national rankings for veteran friendliness from College Factual for UTA's College of Nursing and Health Innovation and for the School of Social Work.
Hopkins came to UTA after a 10-year career in the Air Force, where she was trained as a medic and served on bases in Texas, Mississippi and Germany. After leaving the military, she spent five years in the civilian workforce before becoming a Maverick.
"After my military career ended, I knew I wanted to continue to help people," Hopkins said. "I chose UTA for its nursing program, but later decided to switch my major and focus on a career in social work. I think social workers are so important in the overall health outcomes for people of all backgrounds."
Hopkins said she hopes to receive her Bachelor of Social Work in spring 2021.
"We are honored to serve student veterans, like Schuyler, and military-serving families," Kumm said. "Continued recognition by organizations like the Military Times reflects the University's commitment to serve and support our veterans and military-serving families as they transition into higher education, find success while completing their degree programs, earn their diplomas and become workforce ready."
UTA's Office of Military and Veterans Services functions as a hub and first-stop shop for military-connected students by providing 17 coordinated services for veterans in five core areas: transition, health, education benefits, engagement and career development. The office features meeting space for external services, organizations and workshops, tutoring and seminars, and a student longue with computers and other amenities.
Through Military and Veterans Services, military-connected Mavericks have access to a variety of organizations and programs at UTA, including:
MavVets, a student veteran organization that provides campus networking with community leaders, access to veterans' scholarships and community service opportunities.
Veteran's Edge Peer Mentor Program, which connects new-to-UTA military-connected Mavericks with junior- and senior-level military-connected peer mentors to assist with transition, campus navigation, connecting with campus services/resources, and developing a sense of belonging as they pursue their degrees at UTA.
A veterans-dedicated education benefits advisor.
Veterans Upward Bound, a program for qualified veterans designed to motivate and assist in developing academic and other requisite skills necessary for acceptance and success in college. Services include refresher classes, weekly tutoring sessions, assistance with financial aid and college applications, academic and career counseling, personal counseling and peer-to-peer mentoring.
Partnership with the Lockheed Martin Career Development Center, which helps veterans and other students pursue their professional goals and connect them to employment opportunities.
Veteran Orientation, a welcoming event designed specifically for students transitioning to UTA after military service.
Corporate Dialogue Initiative, a cooperative effort between UTA and area companies designed to help the University best prepare student veterans to be ideal job candidates.
VetSuccess on Campus, an on-campus program through the Department of Veterans Affairs aimed at helping veterans, service members and their qualified dependents succeed and thrive through a coordinated delivery of on-campus benefits, assistance and counseling.
Below is a list of UTA's 2020 Recognition of Military Service events:
Annual Faculty and Staff Recognition of Military Service Event:
Drive-Through Celebration.
Wednesday November 11, 2020
9:00 a.m. to 12:00 p.m.
Military and Veteran Services Center, 406 Summit Ave. Arlington, TX 76019 (Lot 24)
Drive-through pick-up of a breakfast item and gift.
Military-Connected Student Virtual Town Hall:
Thursday, November 12
6:00 p.m. to 7:00 p.m.
Via Microsoft Teams
Opportunity for veteran and military-connected students to ask questions and voice opinions
SALUTE Veterans National Honor Society Induction Ceremony:
Thursday, November 19
6:30 p.m. to 7:30 p.m.
Via Microsoft Teams
Inducting 75 high-achieving UTA Student-Veterans into SALUTE, the Veteran National Honor Society