A passion for helping cancer patients
At unique internship, UTA student provides mental health support to oncology patients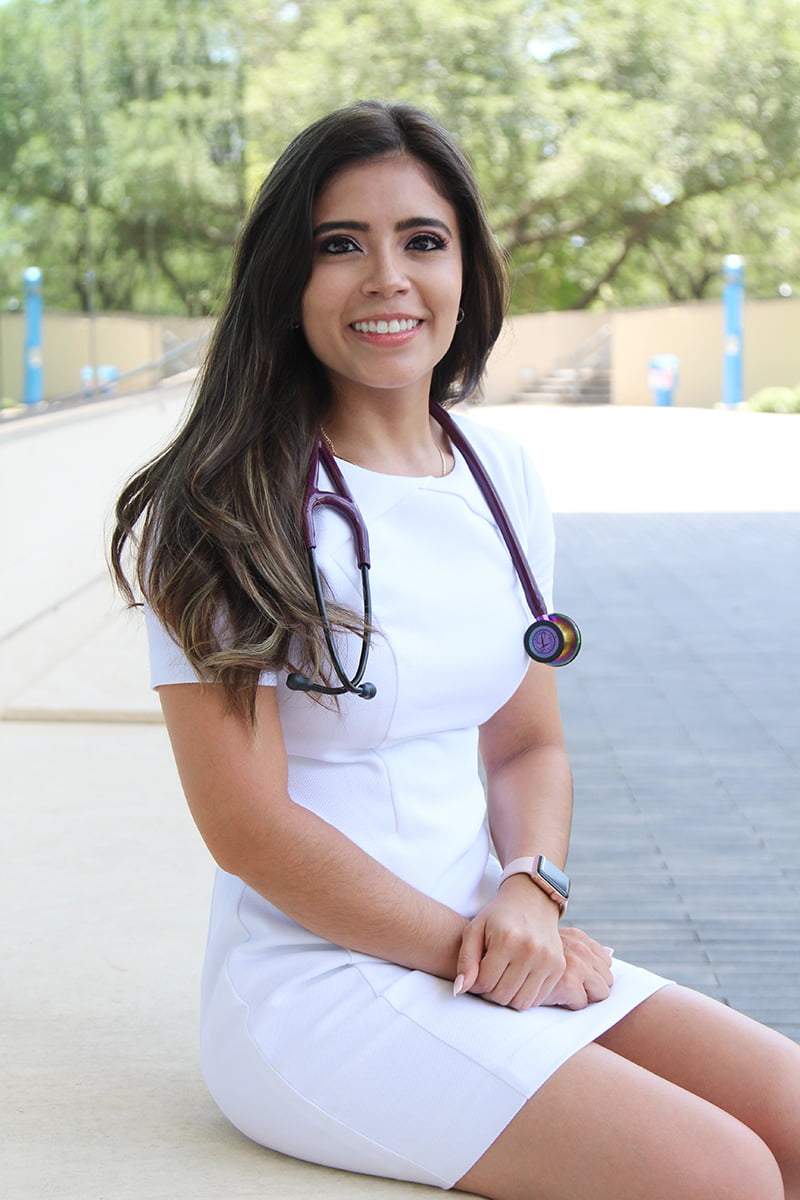 Alyssa Tijerina, a nursing and psychology junior at The University of Texas at Arlington, always knew she would one day pursue a career in medicine.
Having witnessed firsthand how her family members fought different illnesses, she developed an aptitude for assessing the potential needs of patients.
"I knew from a young age that I wanted to be in the medical field and help people in general," said Tijerina, who wants to become a psychiatric nurse practitioner. "As I began to explore my career options, I decided to pursue nursing. I chose to transfer to UTA because of its amazing reputation and track record.
"I have such a strong passion for helping cancer patients and for mental health in general."
Tijerina's interest in both oncology and mental health led her to an internship at the Texas Center for Proton Therapy, which uses an advanced, precise form of radiation that employs protons to destroy cancer cells while minimizing damage to the surrounding tissue. Research teams and medical experts at the center work with patients through in-depth studies and leading-edge trials to address challenges and identify ways to better treat, diagnose and prevent cancer, said Gary Barlow, its administrative director.
The opportunity for Tijerina's internship, a first of its kind at the renowned center, came about unexpectedly.
"I first became involved with Texas Center for Proton Therapy when I visited the facility with a UTA student group," she said. "After the visit, I kept in touch with Gary. Time went on and I reached out to him asking for suggestions and recommendations for internships in my areas of interest."
Barlow surprised Tijerina by offering her an internship at his center.
"Alyssa is a very professional young lady focused on excelling in her career, and she has a big heart for service to others," Barlow said. "I offered her the opportunity to develop this new internship because I believed Alyssa's multifaceted interests, both in nursing and psychology, would be a great fit for what we do at the center."
Barlow, Tijerina and a team of professionals at the center began working on the internship's curriculum, which currently focuses on providing mental health support to oncology patients and their families while helping them understand their individual treatment plans.
"I asses social and emotional interactions between the patients and staff during the duration of the patients' treatment," Tijerina said. "I can definitely sympathize and empathize with our patients."
Barlow said he hopes the Texas Center Proton Therapy continues a collaborative relationship with UTA and its students.
"Alyssa is a trailblazer," he said. "We know UTA students bring forward nothing but the best attitude, willingness to learn and a passion to help others."
Tijerina said she is grateful for the opportunities that have come her way thanks to UTA and the relationships she's built.
"In the future, I hope to continue to counsel patients and their families through the uncharted territories involved with oncology diagnoses," Tijerina said. "It's a privilege and an honor to help those who need it."