A record-setting class at UT Arlington
For seventh straight year, UTA enrolls largest first-time-in-college class in University history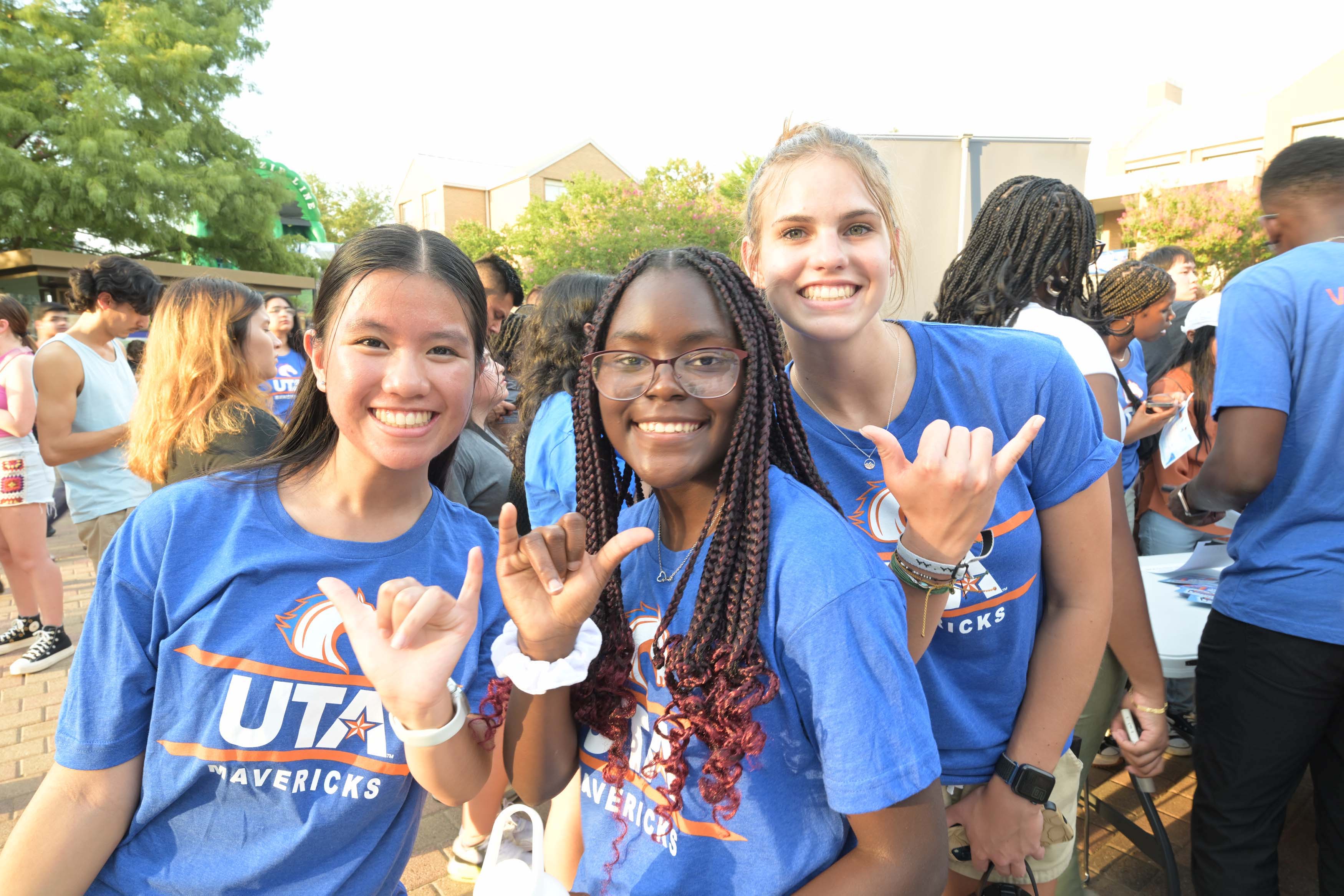 For the seventh consecutive year, The University of Texas at Arlington has enrolled the most first-time-in-college students in University history, eclipsing the fall 2022 mark by more than 8%, according to preliminary census numbers.
A total of 4,809 first-time college students enrolled in fall 2023. Among them are high-achieving students from across the Dallas-Fort Worth region and beyond who say they came to UTA—from destinations both nearby and far away—because of its academic excellence, student diversity and location in the heart of a thriving metropolitan area.
Michelle Phan, a valedictorian from Seguin High School in Arlington, said she chose UTA for its diverse community and the opportunities her hometown university could provide.
"I really appreciate the wide range in diversity at UTA, as it allows me to meet new people with different experiences and perspectives," Phan said. "I believe that learning and opening up to these new experiences is a great opportunity in college."
The University boasts students from more than 100 countries and every state in the nation, including Ryutaro Bath, a National Merit finalist who chose UTA because of its aerospace engineering reputation.
"My home state of Tennessee not only didn't offer as much in terms of a quality aerospace education, but also offered less financial aid. This made UTA a no-brainer for me," said Bath, who hopes to graduate in three years with internship or research experience. "One thing that impresses me about UTA is the sheer number of resources available for extra help in classes. This is reassuring for me, as I am confident I can have help for any questions I may have for homework."
The largest enrollment gains this fall are in the colleges of Engineering and Science; both increased more than 4% over the previous year. This growth reflects a similar demand in the marketplace for skilled workers in technical fields, a demand UTA is helping meet by adding degree programs such as data science, learning analytics, construction management and public health, all of which have been introduced over the past few years.
In addition, UTA this fall launched the nation's first resource and energy engineering degree (REE) program. Made possible through the largest single philanthropic investment in University history—a $12 million gift from alumnus Kelcy Warren, UT System Board of Regent member and executive chairman and chairman of the Board of Directors of Energy Transfer LP—the funding is fueling faculty and research excellence while providing students with life-changing opportunities for educational and career success in REE and beyond.
"The educational opportunities we create provide paths to meaningful growth in our economy, society and culture in Texas," UTA President Jennifer Cowley said. "Focusing on the learning and development of students from all backgrounds is how we will meet the talent needs of our region, state and beyond. Our students come to UTA knowing that they belong here. And when industries and national organizations are looking for the best scholars, the strongest capabilities, and an institution with a reputation for collaboration and success, they immediately turn to UTA."
Through innovative, student-focused initiatives in recruitment and retention, UTA is committed to providing pathways to opportunity for all students. That's why the University in 2022 launched the Blaze Forward program, which makes a college education more accessible by covering 100% of tuition and mandatory fees for undergraduate students who meet all eligibility requirements and are from families with adjusted gross incomes up to $85,000.
UTA's emphasis on eliminating barriers to success also inspired the First Year Retention model, which provides individual case management support and academic coaching to address attrition among first-time-in-college students.
For UTA students, the ability to persist pays off. A 2023 University of Texas System survey on post-graduation earnings for baccalaureate graduates working in Texas found that UTA graduates have the highest first-year median wage of any non-medical UT System institution.