Noted actor, TV show host LeVar Burton to kick off 2023-24 Maverick Speakers Series
Burton, known for "Reading Rainbow" and "Star Trek: The Next Generation," speaks Oct. 5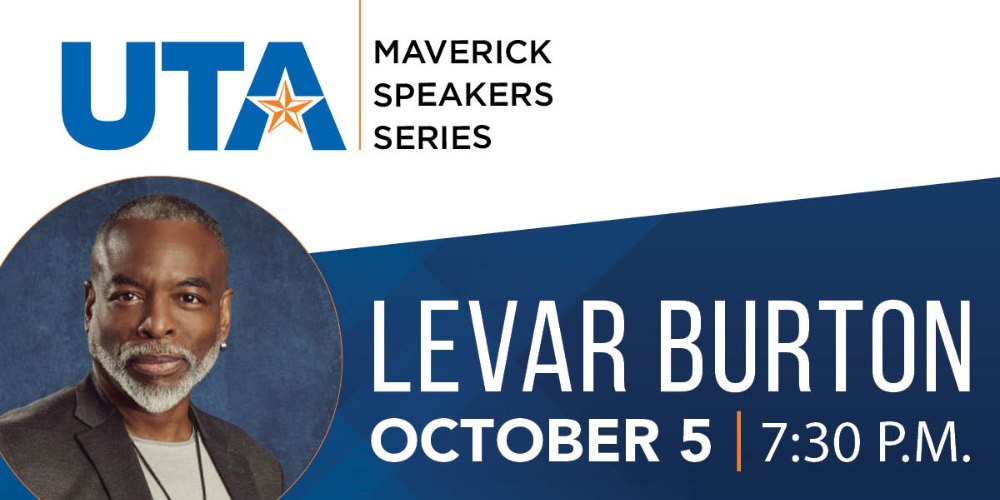 Beloved children's programming icon and noted actor LeVar Burton will kick off the 2023-24 Maverick Speakers Series season at The University of Texas at Arlington on Thursday, Oct. 5.
"A Conversation With LeVar Burton" will be held at 7:30 p.m. at Texas Hall, 701 W. Nedderman Drive. Audiences will enjoy a moderated discussion covering Burton's career, his passion for literacy and more.
Burton launched his acting career while still in college; at age 19, he found himself on the cover of "Time" magazine after landing the groundbreaking role of Kunta Kinte in the landmark television series "Roots." He would go on to achieve further acclaim when he originated the role of Geordi La Forge in the "Star Trek: The Next Generation" television series.
Beyond his many acting successes, Burton says he is most proud of his role as host and executive producer of the long-running PBS children's series "Reading Rainbow." As a lifelong advocate for literacy, he has dedicated decades to encouraging children to read. He continues to exercise his passion for storytelling in numerous projects, including literacy-focused apps, children's books, reading-focused podcasts and films.
Over the years, Burton has received extensive recognition for his work, including six NAACP Awards, a Peabody, a Grammy and 15 Emmys. In 2022, he received a Lifetime Achievement Awards at the inaugural Children's and Family Emmys.
"A Conversation With LeVar Burton" is sold out. More exciting speakers will be announced soon. Visit the Maverick Speakers Series website for updates.
- Written by Amber Scott, Office of Marketing, Messaging, and Engagement