Military-connected students find community and cohesion at UTA
UT Arlington again recognized for its commitment to military-connected students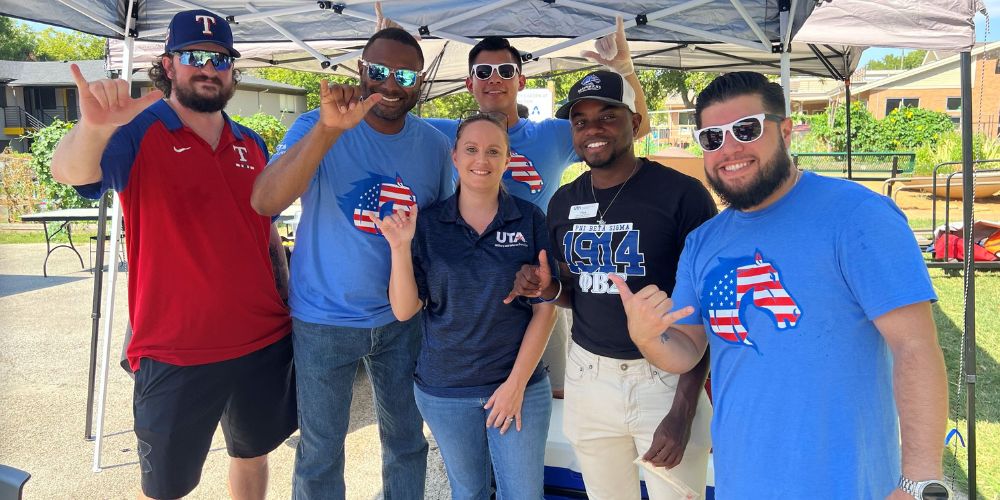 The University of Texas at Arlington's intentional commitment to military-connected students once again received local and national praise.
UTA was recently designated a top 10 Military Spouse-Friendly institution, in addition to being named a top 10 Military-Friendly© university earlier this year. In addition, the Texas Veterans Commission awarded UTA with a Gold Veterans Education Recognition Award for its excellence in providing education and other services to its military-connected community.
"These achievements reflect the institution's dedication to empowering our veterans and service members with a world-class education and providing unparalleled support and services to our military-connected students," said James Kumm, director of UTA's Office of Military and Veteran Services. "They also serve as a testament to the profound impact higher education can have in shaping the future of those who have dedicated themselves to defending our nation."
About 4,000 military-connected students attend UTA. Of those, 1,700 are veterans, on active duty or in the National Guard or reserve. About 2,300 are the children or spouses of military members.
At the beginning of the fall semester, UTA hosted a Welcome and Resource Fair for its military-connected students. About 20 on-campus and community groups came together to share the resources and services they have available for UTA's military population.
"We have students all the time who come to our center for one particular need. But in the conversation, we find out about other needs, such as food insecurity or a disability in need of an accommodation," Kumm said.
Dalton Owens, a sophomore geology major and U.S. Army veteran, said UTA has a tightknit military-connected community on campus.
"At UTA, you have that community and cohesion that a lot of veterans want when they get out of the military," he said. "We all have the same goal: for veterans to succeed."
Wesley Bailey, a doctoral student in public administration and public policy and five-year U.S. Army veteran, volunteered his time to work at the fair. He said he noticed UTA's dedication to veterans firsthand during the event.
"It was packed," he said. "That tells me that there is a fabric of the community being woven here."