Nuclear physics traineeship program offers launchpad for research careers
Program provides paid traineeships for students to be mentored by nuclear researchers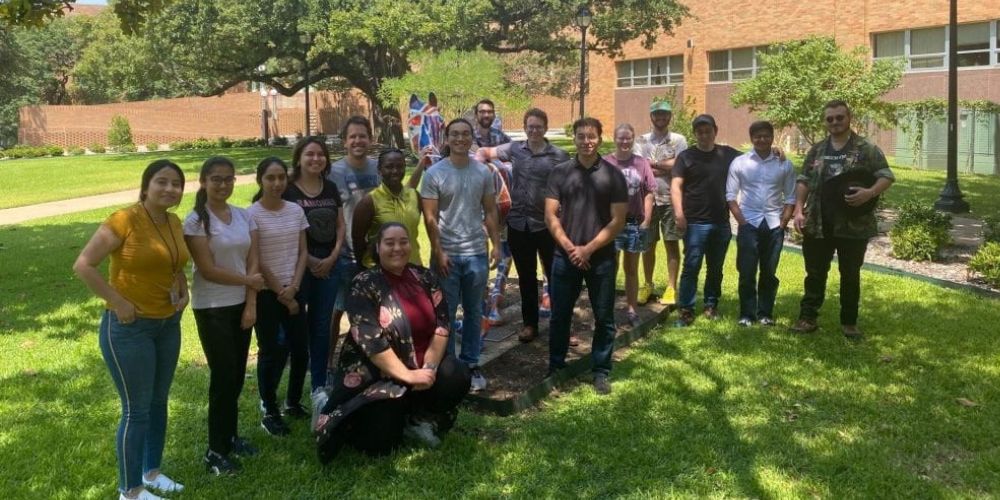 Associate Professor of physics Benjamin Jones has received a $341,571 grant from the U.S. Department of Energy to continue his successful traineeship program at The University of Texas at Arlington.
The program exposes undergraduate students to opportunities in particle and nuclear physics, which offer key components in many diverse careers, such as nuclear medicine, radiation therapy, archaeology, precision management and astrophysics.
UTA's Nuclear Research Experiences for Minority Students (NREMST) started in 2021 with the goal of immersing students from historically underrepresented populations in nuclear physics.
"We know that many students have exceptional potential to make outstanding contributions to nuclear physics, but that they never consider careers in the field simply because they never have exposure to it," said Jones, principal investigator of the project. "We hope to offer them a positive experience that can serve as a launch pad for them to pursue research careers."
The program has hosted eight trainees who contributed to the production of heavy ion beams for precision nuclear chemistry, the development of particle detectors to study nuclear reactions, the exploration of novel concepts in rare event detection and the study of the capabilities of low-pressure time projection chambers. Several students who participated have now applied to graduate school to pursue doctoral degrees in physics and are working on the next phases of their research careers.
The program for 2024 begins officially in the summer to allow mentors to build relationships with the students as they introduce the subject matter and research expectations. Students who finish the first summer suitably engaged and enthusiastic about the work will be encouraged to re-apply for a second summer with options to continue remote paid work through the program during the subsequent fall and spring semesters. Other students can finish their summer commitment and easily move on to other interests without feeling an obligation.
Jonathan Asaadi, associate professor of physics, and Raquel Castillo Fernández, assistant professor of physics, are co-principal investigators and co-organizers of the program.
"It is truly satisfying to see students who had no exposure to nuclear physics catch the research bug and start to get excited about the possibility of a scientific career," Asaadi said.
"All of the students we have hosted so far have shown so much potential, and it is great that we can offer a taste of what nuclear physics research has to offer for people who would not otherwise have been exposed to it," Castillo said.
Applications for summer 2024 will open in January, with application review expected to begin Feb. 28 and decisions expected by March 7. Visit the NREMST website for more information.