Three College of Business Alumni Win Forty Under Forty Awards
Forty Under Forty recognizes leaders today that are part of the next generation that will keep Tarrant County a great place to live and work.
The Fort Worth Business Press held the 2020 Forty Under Forty award ceremony on Tuesday, June 23. Forty Under Forty recognizes leaders today that are part of the next generation that will keep Tarrant County a great place to live and work.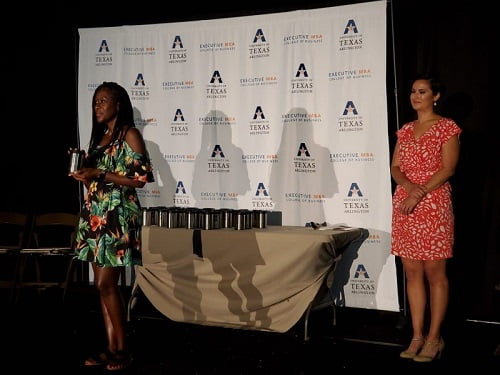 Shay Dial Johnson, left, receives 2020 40 Under 40 Award. Victoria Puente, Executive MBA alumni of UTA's College of Business to right. (Photo by Robert Francis)
Because of COVID-19, this year's event was delayed and was held at the Coyote Drive-In to allow for safety protocols and proper social distancing. The presenting sponsor was the University of Texas at Arlington College of Business Executive MBA (EMBA).
EMBA alumnus, David Rettig, 37, is currently the mayor of Northlake, Texas, and a director at Fidelity Investments and was among one of the winners. Rettig grew up as an ex-pat in post-Soviet bloc Prague in the Czech Republic and studied at the State Opera under a leading Czech tenor. He became the mayor of Northlake as a step from previously being the director of economic development for the city.
Rettig is also president of the David & Cynthia Rettig Charitable Foundation, which has supported more than 40 educational, civic and human services charities locally and nationally.
Over the years, Rettig has progressed from intern to director and delivered on more than 60 projects resulting in tens of millions in cost savings, said nominator William Seeger of the University of Texas at Arlington.
"To the degree that his experiences in leadership and life could inspire others to find their calling, I point to his involvement in many facets of leadership, leading through empathy and compassion, as an example of what a normal person can do just by looking around and seeking to make a difference," Seeger said.
Jonathan Cranz, 39, also honored, is a College of Business alumnus and a partner at Kelly Hart & Hallman LLP. Cranz specializes in public finance with experience representing both borrowers and lenders. As bond counsel, he has represented municipalities, counties and a variety of special districts, including school districts, hospital districts, municipal utility districts, fresh water supply districts, water control and improvement districts, and various other improvement districts, Kelly Hart & Hallman said in his nomination.
Cranz has already brought to the finish line some of the most important projects in North Texas, including TEXRail, the City of Fort Worth, FWISD, Tarrant County and the massive and complex Dallas Fort Worth International Airport's innovative taxable refunding which included international marketing and sales – and which resulted in the financing being named The Bond Buyer's Deal of the Year, one of the most prestigious honors in the public finance industry, the nomination said.
Helping others succeed is a key element of Cranz' character. He's actively involved with the Texas Bar Foundation and the Tarrant County Bar Foundation, which support programs including Texas Lawyers for Texas Veterans and TVAS Family Law and Wills Clinics. TVAS offers support and information on pro bono work, mentors for pro bono matters and opportunities for attorneys to accept representation of indigent clients.
Cranz devotes hundreds of hours each year on pro bono work for those less fortunate. In addition, he mentors students at Como Elementary.
"With Jonathan, what you see is what you get, and what you get is someone in whom you can place total and complete trust, be it a client, an attorney or a person from any station in life. You know that Jonathan will exhaust every source and spend every ounce of his energy and soul to find the right and workable path and solution to the desired result if one is to be found," said Dan Settle, Partner and Chair, Banking & Finance Practice at Kelly Hart & Hallman.
Cranz graduated from the University of Texas at Arlington, B.S., summa cum laude, and the Southern Methodist University Dedman School of Law, cum laude.
Also among the Forty under Forty winners was Chris Katri, 37, who got his MBA from UTA with a finance concentration and is now Senior Vice President and Senior Credit Officer of North Texas at Southside Bank. Katri has distinguished himself as a leader in commercial lending and banking in Tarrant County for the past 16 years and is a key part of the success of Southside Bank in the North Texas region, said nominator Mark Drennan, President - North Texas Region, Southside Bank. He started at Marquette Commercial Finance, but wanted to be more involved in the community and deal with customers at a micro-level and face-to-face, Drennan said. That led to a shift to Fort Worth-based Omni-American Bank, acquired by Southside Bank in 2014.
Katri is a graduate of Leadership Fort Worth's Leadership Class 2019, where he worked on a project with the Financial Exploitation Prevention Center of Tarrant County (FEPC) and Meals on Wheels to help prevent elder financial abuse.
Katri leads by example inside Southside Bank by developing employees and being an active member of the leadership team, and he represents the bank extremely well in the community through his meaningful involvement with numerous non-profit organizations, Drennan said.
He is a regular volunteer for Meals on Wheels, Junior Achievement, Fort Worth ISD (elementary school PTA), Habitat for Humanity and various programs through his church. He recently joined the board of the Northeast Texas Chapter of the Cystic Fibrosis Foundation, as some in his family are carriers of the gene and he has been heavily involved in the organization.
Katri attended Arlington Martin High School; earned a BBA from TCU with majors in accounting and finance and a minor in Spanish, summa cum laude (2004); an MBA from UTA with a finance concentration; and the Southwestern Graduate School of Banking at SMU, with distinction.
Contributing source: Fort Worth Business Press, Paul K. Harral
Student and Alumni Events