Maverick Entrepreneurial Spirit Grows
Year Two: MAVS 100 awards program highlights UTA entrepreneurship's impact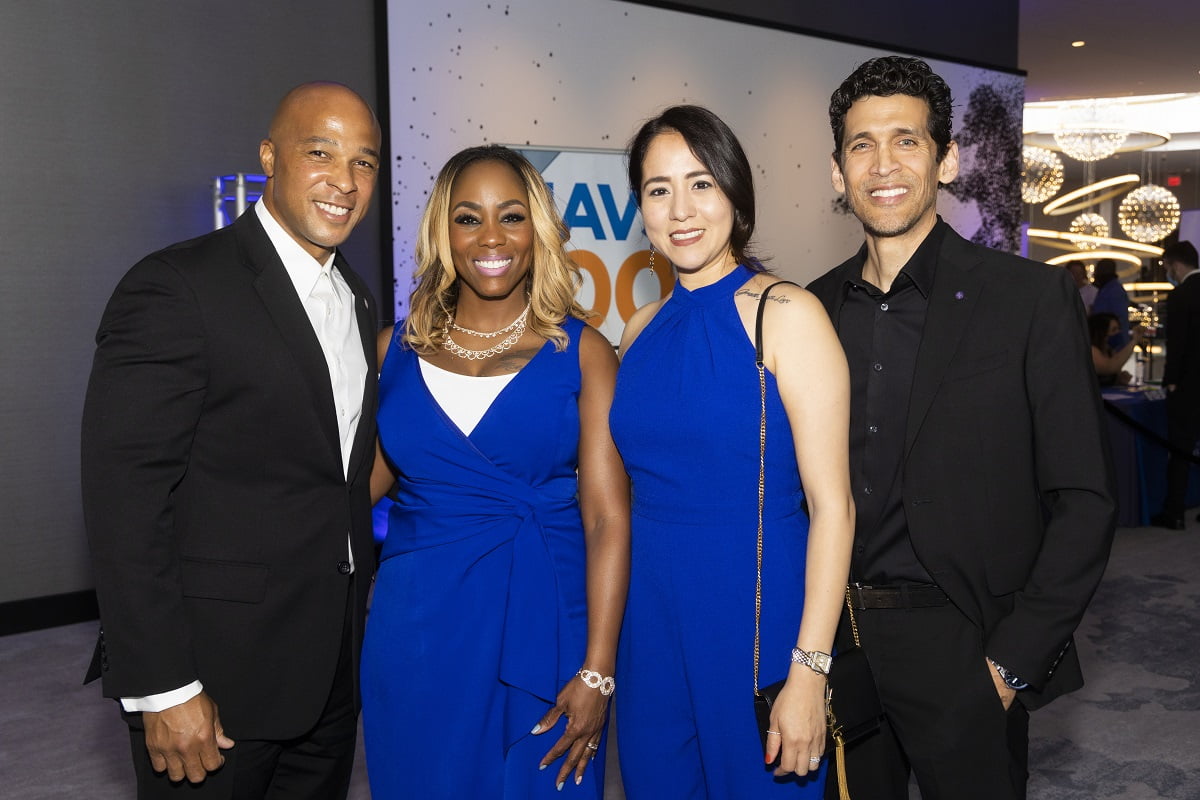 Lionel & Tamiko Bailey (of Bailey's Premier Services) and Nancy Galvan and Eric Marceleno (of Unica Enterprises LLC).
Eighty-eight businesses started by The University of Texas at Arlington entrepreneurs were honored at the Second Annual MAVS 100 Awards & Gala May 8 at Live! By Loew's in Arlington.
The annual event, established by UT Arlington's College of Business, recognizes the fastest-growing Maverick owned or run businesses and highlights the significant impact of UTA entrepreneurship on the region and state economies. The top 30 firms alone represent $181 million in annual revenue.
Edmund Prater, professor of business and coordinator of MAVS 100, said the program illustrates the culture of Maverick entrepreneurs and the ecosystem that supports their goals. He said he hopes the next generation of students will be inspired by seeing what alumni have accomplished because of their UTA educations.
"Nearly 300 attended to recognize the top firms founded and run by UT Arlington alumni. These individuals understand the truth that everything we teach in business is theory -- until you have to make payroll," Prater said. "The top 30 firms represented $181 million in annual revenue and they did this during the year of COVID. Congratulations to all of them and this year's winner, Veryable."
Veryable received the top honor of the night, ranking as the No. 1 fastest-growing Maverick business. UTA co-founder and CTO, Noah Labhart, UTA '12, is leading the company's growth. Veryable is a business that provides on-demand labor for manufacturing and distribution, which provides businesses with higher productivity and fewer administrative burdens and workers with flexible work arrangements.
"The MAVS 100 is a celebration of the entrepreneurial spirit that exists at UTA and that resides in our many alumni," said Harry Dombroski, dean of the College of Business. "It's an opportunity for us to recognize these individuals, their accomplishments and their contributions to the community."
The genesis for the event originated with alums Connie McCarty '97 and Drew Madsen '06, who encouraged to College to create a program that would celebrate Maverick entrepreneurship by recognizing the fastest growing Maverick owned business and providing a venue for these entrepreneurs to network.