Maverick Sales Club Awarded in Competition
UTA Business students compete in Tri-State Challenge.
Students from the Maverick Sales Club, an organization that offers students the opportunity to grow and practice knowledge and skills in the field of professional selling, participated and placed in multiple categories at the Challenger Sales Institute competition. The competition helps students gain experience in sales and practice their selling skills with industry buyers and judges.

Daniel Galindo, Andrea Clark, Blossom Nguyen
The Maverick Sales Club travelled to Oklahoma City to compete in the Tri-State Challenge, where three business students placed in two categories: Speed Selling and Role Play. Blossom Nguyen placed second in Speed Selling, while Andrea Clark and Stephanie Ruiz placed first and third, respectively, in the Role Play category.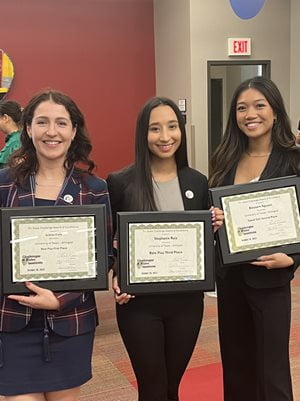 Andrea Clark, Stephanie Ruiz, Blossom Nguyen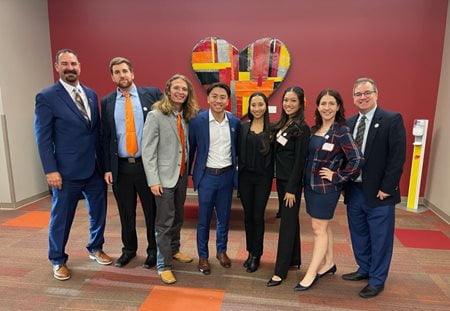 Dr. Greg Wicklman (faculty advisor), Alexander Rhodes, Daniel Galindo, Long Trinh, Stephanie Ruiz,
Blossom Nguyen, Andrea Clark, Dr. Kevin Carr (faculty advisor)