UTA ART HISTORY STUDENT UNION SPRING SYMPOSIUM: THE UNFINISHED ART OF IDENTITY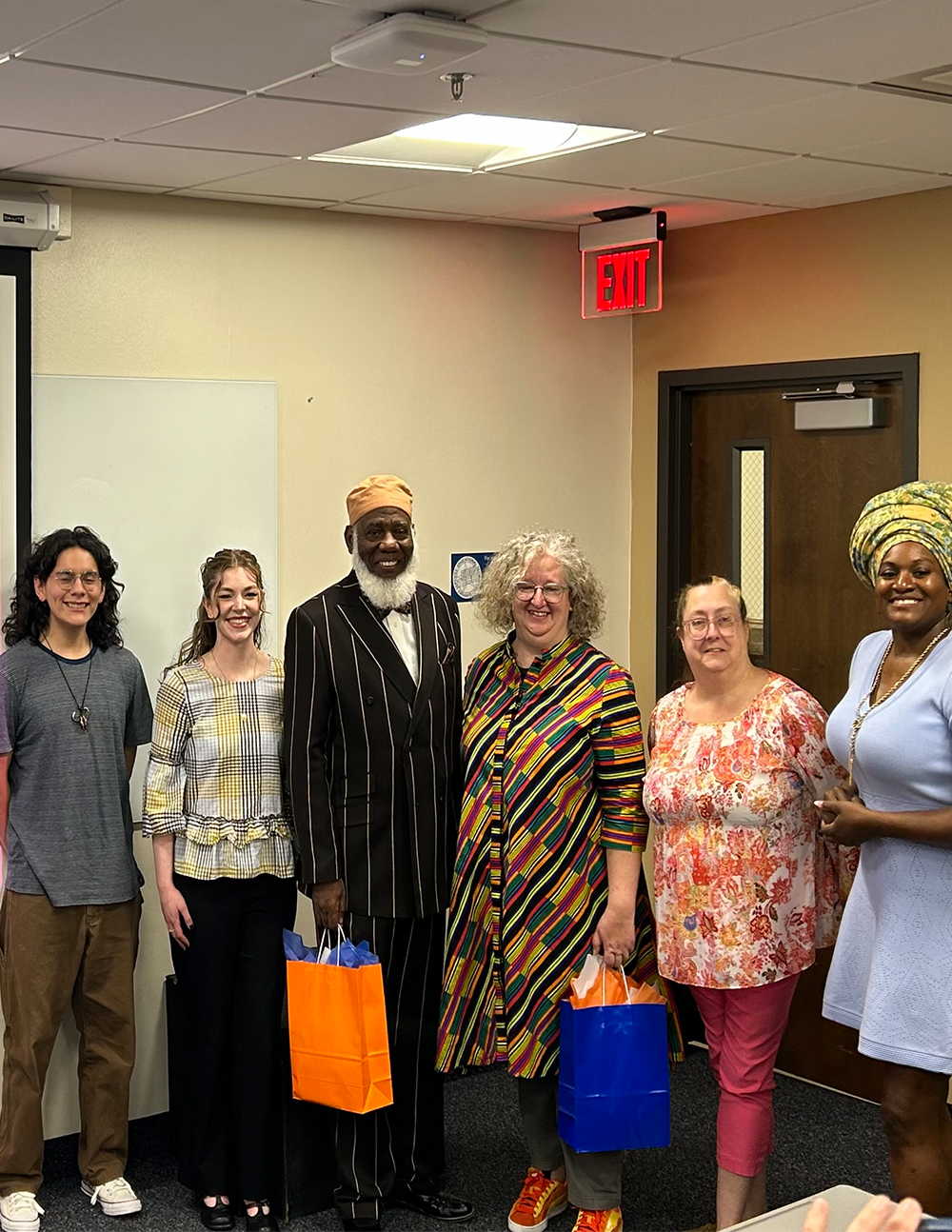 Symposium speakers Rue Rios, Libby Morse, Dr. Jamal Rasheed, Margaret Adler, Pamela Jordan and Tai Drake.
Art History Student Union's annual symposium took place on April 14, 2023 under the theme "The Unfinished Art of Identity." The program featured presentations by keynote speakers Margaret Adler,Curator at the Amon Carter Museum of American Art who spoke about her current exhibition Emancipation: The Unfinished Project of Liberation and Dr. Jamal Rasheed, the president of the Ellis County African American Hall of Fame of Waxahachie, TX.
The Art History Student Union consists of students who share the interest of art history and is led by the faculty advisor Dr. Mary Vaccaro. The Symposium is an annual event held every Spring semester. The goal is to foster a welcoming environment for the discussion and appreciation for all genres and periods of art history, while embracing the cultures and the effects of works around the world.
Participants bios:
Tai Drake is a graduating BFA student majoring in Glass and a descendant of Harlem Renaissance photographer James Van der Zee. Tai's symposium presentation contextualized her artistic practice within familial archives and oral histories.
Pamela Jordan is a graduating Art History senior and the Art History Student Union President. Pamela's interests lie in Mesoamerican art, specifically Maya and Aztec. She works with the Campbell-Dowdey Guatemalan Mask collection in the UTA Fine Arts Collections as part of her Senior Capstone internship, researching their provenance and writing the descriptions for the online catalog.
Libby Morse is an art history major with a business minor, set to graduate in Fall of 2024. Libby's main interests lie in gender and sexuality that come from her own identity as a queer woman. She is focusing on the experience of working women in nineteenth-century France as expressed through Impressionist artists. The acceptance of voyeuristic behavior was strong in Impressionism and continues into today's world.
Rue Rios is a first-generation American and first-generation college graduate with a deep passion for the arts. Rue studied Art History and minored in Museum Studies, seeking to expand their historical knowledge and gain a deeper understanding of cultural styles and their significance in the humanities. Rue's interests lie in exploring art related to gender, ethnicity clothing, portraiture, representations of queerness, and topics around Latinidad. Rue's symposium presentation focused on the interweaving of politics, identity, and clothing during the Civil Rights Era in the United States.
Keynote speakers bios:
Margaret Adler is Curator of Paintings, Sculpture, and Works on Paper at the Amon Carter Museum of American Art. Adler's scholarly research focuses on nineteenth-century art, but consistent with the Carter's commitment to fostering cross-temporal connections, she often collaborates with living artists on site-specific installations, including Gabriel Dawe, Mark Dion, and Justin Favela. Following a 2019 gallery remodel, Adler played a critical role in the museum's collection reinstallation that reconceived how visitors interact with the collection by emphasizing unexpected visual and scholarly relationships between historic and contemporary works. Prior to coming to the Carter, Adler held the Barra Fellowship at the Philadelphia Museum of Art after serving as Director's Office Fellow at the Williams College Museum of Art, where she worked on projects with artists Jenny Holzer and Pepón Osorio. Adler's publication highlights include Emancipation: The Unfinished Project of Liberation (University of California Press, 2023); Homer|Remington (Yale University Press, 2020); and Wild Spaces, Open Seasons: Hunting and Fishing in American Art (University of Oklahoma Press, 2016), which was nominated for the Alfred H. Barr Jr. Award. Adler holds a BA in classical languages and art history and an MA in art history from Williams College.
Dr. Jamal Rasheed serves as president of the Ellis County African American Hall of Fame and The Prince Hall Fraternal Cemetery Association in Waxahachie, TX. He is a sociologist with experience in secondary education, abstinence education, prostate cancer education, criminal justice, adult and juvenile probation, behavior management, curriculum development, and film production. He earned BS in Journalism with a minor in English and African American Studies from Southern Illinois University at Carbondale and MA in Sociology from Prairie View A&M University at Prairie View, Texas. While attending Prairie View, Mr. Rasheed completed the King Scholars Program in 1984 as part of his independent study at the Martin Luther King, Jr. Center for Non-Violent Social Change in Atlanta, Georgia under the direction of the late Mrs. Coretta Scott King, wife of Rev. Dr. Martin Luther King, Jr. Dr. Rasheed completed his Ph.D program from Newburgh Theological Seminary and College in the field of African American Ministry in June 2012. Dr. Rasheed's philosophy is, "Each one should teach one, take a youth by the hand, teach them to understand, and lead them to serve mankind where he will be a part of the solution not the problem."