APRIL
PRE-LAW NEWSLETTER
April 8, 2022

Greetings from the Pre-Law Center!
Tickets are LIVE for the Annual Pre-Law Banquet! This year, with the theme of "Masquerade Murder Mystery" you know what's in store --- that's right, a virtual escape room!! You don't want to miss it! Don't miss out on any other events and activities coming your way in the month of April.
In This Month's Newsletter
Pre-Law Achievers Banquet 2022
Calling All Dec. Grads & Graduating Seniors!!!
Cast Your Nominations for Outstanding Seniors
Important Fall/Summer Registration Updates
Pre-Law Rewind – Recent Live Events
NLLSA Law School Fair
Student Group Calendars & Events
New Summer Internship Opportunity
Check Out Our Featured Recorded Events
Scholarship Opportunities
PRE-LAW ACHIEVERS BANQUET LIVE APRIL 29TH!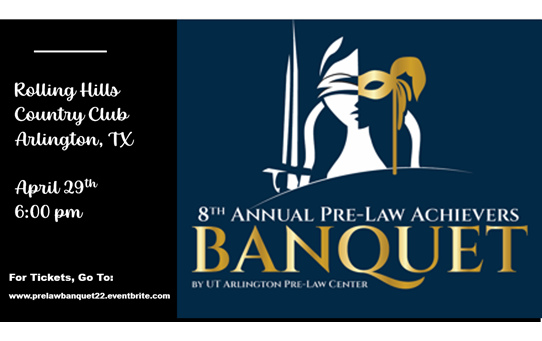 Mark your calendars for our annual Pre-Law Achievers Banquet!
April 29th @6:00 PM Live at the BEAUTIFUL Rolling Hills Country Club in Arlington, TX
Join us for our fun celebration of graduates, advocates and Leaders with our fun annual send-off!!
Featuring raffle drawings for

5 FREE LSAT TUTORING PACKAGES

plus lots of other Pre-Law Center merchandise and prizes and…… AN AMAZING MURDER MYSTERY EXPERIENCE hosted by The Murder Mystery Co. after the program!!!
TICKETS AVAILABLE NOW through April 25th !!!
https://prelawbanquet22.eventbrite.com
**Ticket sales end on April 25th **
CALLING ALL GRADUATING SENIORS
It's time to get ready for graduation! And you don't want to miss the chance to get your Pre-Law graduation cords or your Law and Legal Studies Minor cords for those completing the program. We will be recognizing our Fall '21 Grads and Spring/Summer '22 grads at the banquet with a special cord hooding.
Please complete the Pre-Law Graduate Questionnaire linked below so we can celebrate you at the Pre-Law Banquet. Graduating seniors call also reach for the Grad Banquet Ticket Promo Code. Email amber.white@uta.edu if you have any questions or concerns about grad cords or banquet ticket promo codes.
https://forms.gle/gU3nbVe7r9BpQhVg8
CAST YOUR VOTE FOR OUTSTANDING SENIOR
We will be recognizing our Outstanding Senior Pre-Law students through nominations from students and faculty! Graduating seniors as well as those who graduated in Fall 2021 and Spring/Summer 2022 are eligible for this award.
Please submit candidates you believe are deserving of the honors. Self-nominations are welcomed! You are also welcomed to forward this nomination form to members of faculty for nomination.
OUTSTANDING SENIOR NOMINATION FORM
FALL/SUMMER REGISTRATION UPDATES
The Fall & Summer Course Listings available to Law and Legal Studies Minors has been UPDATED! Please refer only to the attached listing.
Key Changes:
HIST 4391 (Experiential Learning) Internship Course is not available Fall or Summer
POLS 4393 (Experiential Learning) Internship Course will be offered for internships for Summer & Fall '22
Special Notes on Prerequisites and Permissions:
CRCJ 4302 Mock Trial I permission to enroll can be obtained by emailing me directly
ENGL 4349 Advanced Creative Non-Fiction prerequisites have been waived for LLS minor seeking to take it for Advanced Writing credit. Students must email me to be added to the class.
SUMMER INTERNSHIP OPPORTUNITY
Law Office of Bowdich & Associates
The Law Office of Bowdich & Associates is seeking a Legal Administrative Assistant within 1 year of graduation to work in their Dallas office.
The person filling the position would be assigned their own set of cases where they would learn how to handle all typical paralegal duties for those cases - calendaring, preparing draft pleadings, discovery, and discovery responses. As there is high volume federal practice, that includes assistance with preparing and research for FRCP Rule 12 and 56 Motions. It really is a great crash course for the future practice of law as a litigator.
Please see the below link to the Handshake page and attached PDF if you do not have a handshake account. Resumes can be submitted through the link below or directly to Emily Graham at egraham@bowdichlaw.com
https://app.joinhandshake.com/emp/jobs/5991367/edit?initial_page=4
AMAZING PRE-LAW EVENTS THIS PAST MONTH
In the Pre-Law Center, all we can say is "What Pandemic??"
Pre-Law Groups are back in full swing!! So proud of our Pre-Law Student Orgs!
Pre-Law Society Trip to UT Austin Law & State Capitol, March 24th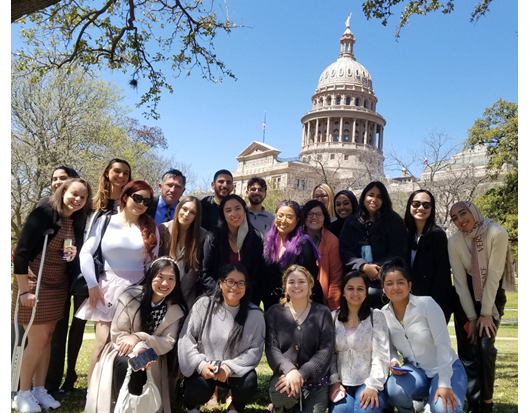 NBLSA's First Live Event at the PLC Speed Networking Mixer
March 25th
Women in Law Spring Retreat in Las Colinas, April 2-3rd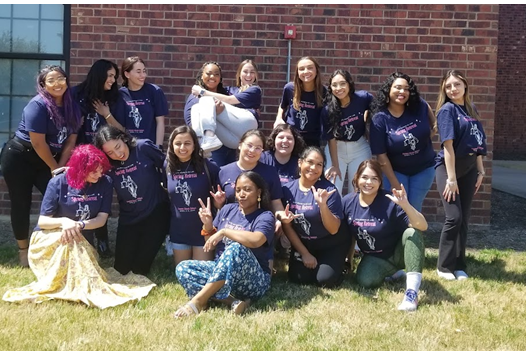 National Latino Law Students Association is Hosting a Hybrid Law School Fair!
April 16, 2022 12:30 – 3:30pm EST
A Message from the NLLSA Central Regional Director Jesus Diaz–
In case you are not familiar with NLLSA: NLLSA was founded on the principles of social, ethnic, racial, gender, and sexual equality. We focus on advancing Latina/o academic success and strive to be the leading center for Latina/o student resources, dialogue, and action. NLLSA is committed to encouraging and hosting student-led encuentros, conferences, and other community-strengthening gatherings.
I would like to invite your Pre-Law students to attend this year's Law School Fair. Due to COVID-19 and changing circumstances, this year's conference will be hybrid. The safety of our members and chapters is our top priority; we will continue to monitor circumstances in the region and update you with any new information that arises. This year's law school fair will be hosted online on Saturday, April 16th, 2022 from 12:30-3:00 PM EST. This event will be a wonderful opportunity for your school to recruit future diverse students from across the nation and build meaningful contacts & opportunities for collaboration with other attendees. There is a $21 registration fee for Pre-Law students.
https://www.nllsa.org/tickets-for-conference/pre-law-student-virtual
We are looking forward to our 25th Annual Conference and on behalf of NLLSA, we would like for your students to participate in the Pre-Law Fair of the NLLSA 2022 Conference.
Lastly, feel free to follow our Instagram, Facebook, LinkedIn, and/or Twitter to stay connected.
In Case You Missed It – CHECK OUT THESE EVENT RECORDINGS THIS PAST YEAR
…plus More Available on our Pre-Law Center YouTube Channel!
Virtual Law Student Panel – Ladies Tell All
Curious what law school is like for first year, second year and third year law students and how each stage is different? Then you should definitely check out this panel as UTA Pre-Law graduates share their experiences now that they're in law school and experiencing different stages of the law school process. Featured speakers: Nida Shah, Esther Oni, Hailey Moore and Alizah Charanaya.
Perfecting the Law School Resume
Tips for getting your resume submission ready for your law school
applications.
Law School Application Q&A for Graduating Seniors
Great tips for those in the middle of applications and looking for
help navigating the process.
UTA Pre-Law Day 2021
Annual event featuring speakers and panelists discussing key information for the next generation of legal professionals. Panels include Creative Ways to Use a Law Degree, Perspectives of a Law Student (Branching Out for Law School), Law School Admissions in the Time of COVID and Beyond, and UTA Pre-Law programs.
University of Arkansas School of Law Q&A
Dean Eurore Oboh of the University of Arkansas Little Rock Bowen School of Law breaks down all of the amazing benefits to attending their law school program in this recorded Q&A session!
STUDENT GROUP CALENDARS & SPRING EVENTS
Pre-Law Society
Students new to UTA or new the pursuit of a legal career will find benefit in socializing with other students pursuing the same goals! This year, the officers are working to bring you a virtual semester of speakers, socials, community service events and the PLS LSAT Prep Study Group!
Upcoming April Meetings and Events
Final General Body Meeting April 18th – 12pm – 1pm in UH 14 (Featured Topic: Mock Trial vs. Moot Court)
2022-2023 PLS Executive Board elections! If you are interested in running, this is the link to sign up: https://forms.gle/BHDrMRhxSvHZ3nUQ6
Networking Event April 18th 5-7pm: PLS will be hosting a multi-organizational networking event on April 18th from 5-7 PM in the Concha Room in the UC. This is an opportunity to meet with other like-minded individuals in professional organizations and network with them. There will be food and drinks provided. This is the link to sign-up: https://forms.gle/28LLpTqG1M56m5QW6
LSAT Prep Sessions April 13th 5-6pm: Our next LSAT Session will take place on April 13th from 5-6 PM in the Pre-Law Center. Bring a pen/pencil and some paper and be ready to learn and study!
For more information about how to join this group, contact PLS President Alyssa Roerick (alyssa.roerick@mavs.uta.edu) or
Vice President Faisal Altaq (faisal.altaq@mavs.uta.edu)
Website: https://prelawsocietyuta.weebly.com/
Women In Law
Women in Law is meeting and looking for new members! This organization is open to all majors and seeks to provide resources to advance women's interest in the legal world. Students can look forward to bi-monthly meetings, socials, the WIL Speaker Series and each semester the WIL Spring Retreat! The 2022 April Spring Retreat in Las Colinas is in the books and was amazing!
Upcoming Events This Semester
April 18th – 20th: WIL Officer Elections Voting Period
Those interested in running must contact WIL President ASAP!
Ready to join this group now? Contact:
President Cassidy Terrazas (cassidy.terrazas@mavs.uta.edu)
Vice President Myeasha Neal (Myeasha.neal@mavs.uta.edu)
Website: https://utawomeninlaw.weebly.com
Facebook: https://www.facebook.com/utawomeninlaw
Pre-Law Chapter of National Black Law Students Association
For over fifty years, the National Black Law Students Association has worked to develop culturally responsible Black and minority law students that excel academically, succeed professionally, and positively impact the community. NBLSA members are activists, thought leaders, and strategic thinkers. NBLSA alumni are partners, general counsel, judges, non-profit executives, and business operatives.
For more information, visit the NBLSA to learn more https://www.nblsa.org
ELECTIONS TIME!! CANDIDATES NEEDED FOR OFFICER POSITIONS! Email NBLSA Pres. Ayleanna Westbrooks Today for more information on campaigning and elections Ayleanna.Westbrooks@mavs.uta.edu
https://groupme.com/join_group/74642966/bbTVw2de
LAW SCHOOL SCHOLARSHIP OPPORTUNITIES
Rising 1Ls and Law School Applicants
Check out these scholarship opportunities below to help relieve some of the burden of law school tuition. Below is a link to several scholarships still available for those entering the 2022 law school class. Apply now!
Law School Scholarships and Grants | LSAC
Pipeline to Practice Foundation Scholarships
The Pipeline to Practice Foundation is a 501(c)(3) non-profit committed to diversifying the legal profession by providing diverse students with programming and attorney mentors throughout law school. Additionally, the Foundation has partnered with BARBRI to ensure that its students receive free access to BARBRI Law Preview's law school prep course (before law school) and a BARBRI Bar Review course (when they graduate). Founded in 2016, the Pipeline to Practice Foundation has already had a profound impact on diverse law students' academic performance. The scholarship application deadline is May 1, 2021.
"One Lawyer Can Change the World" Scholarship
Given the current political and social climate, we feel it is crucial to support entering 1Ls who plan to use their law degree to become change agents. The "One Lawyer Can Change the World" Scholarship supports ten entering law students with the following financial awards:
First prize = $10k scholarship
Second prize = $5k scholarship
Eight Runners-Up = $1k scholarship
All scholarship awards are paid directly to each Finalist's law school on August 1st as a credit towards their 1L fall semester tuition. The scholarship application deadline is June 1, 2022.
The Accident and Injury Law Office of Terry Bryant is proud to announce the availability of a $2,500 scholarship to be awarded to a student who has been accepted to or is currently enrolled in an ABA- or AALS-accredited law school. Applicants must have a cumulative college grade point average of at least 3.0. The deadline to apply is June 1, 2022.
We want to know what motivates candidates to practice law and what they plan to accomplish in their careers as attorneys.
Please review the eligibility, requirements, and further details by following the below link:
https://www.terrybryant.com/about-us/scholarships/law-scholarship-application-form
UTA Pre-Law Center | 817-272-6796 | prelaw@uta.edu