UTA breaks ground for new $125 million Science and Engineering Innovation and Research building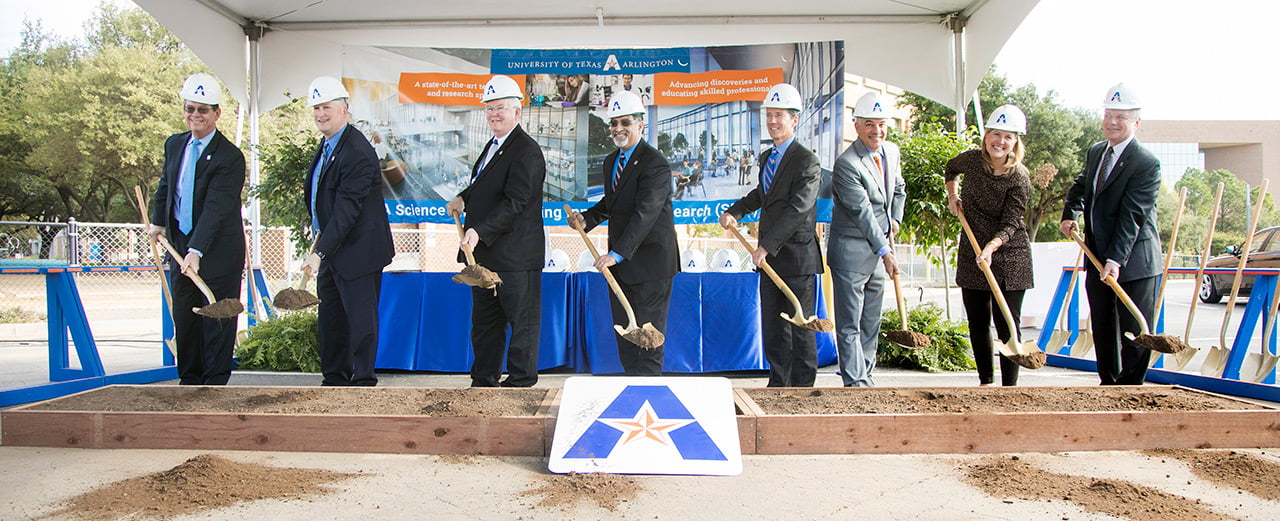 Texas elected officials and numerous university supporters and faculty joined University of Texas at Arlington President Vistasp M. Karbhari to break ground Thursday, Oct. 27 on UTA's new $125 million Science and Engineering Innovation and Research building, which will be the signature research facility for life and health science research at UTA.
"This is another milestone in our journey to becoming the best university in Texas," Karbhari said. "I would like to thank our elected officials here today, whose unrelenting commitment to education has been a real catalyst behind UTA's success over the last years. It has been your support that made all this possible."
Karbhari was joined on the podium by U.S. Rep. Joe Barton, R-Ennis; state Sen. Kelly Hancock, R-North Richland Hills; state Rep. Tony Tinderholt, R-Fort Worth; state Rep. Chris Turner, D-Grand Prairie; Duane Dimos, UTA vice president for research; and Leine Newby-Estrella, a UTA doctoral student in biology.
Barton complimented UTA's leadership on the new SEIR building and on the acceleration of UTA's "search for excellence, as a Carnegie Tier 1 institution and one of the largest universities in Texas," adding that, "this research facility will only help accelerate that acceleration."
Hancock also complimented leadership, adding that "UTA is really the crown jewel, or a diamond yet to be cut out of the stone. The legislature did approve this but it's easy to make a request for UTA because enrollment and academic excellence continue to increase here." The sentiment was echoed by Tinderholt, who added that "UTA is a diamond in our own back yard and I envision that in the next 10 years it is only going to get better."
For his part, Turner emphasized that "from a pure cost-benefit perspective, Texas can be assured that all 220,000-square-feet of this new building will be put to optimal use, but we'll be even more excited when UTA researchers in this building discover a breakthrough that will change our world for the better."
The new building will feature state-of-the-art technology and will advance research at UTA by utilizing the modern concept of research lab neighborhoods to drive cross-disciplinary collaboration. Each of the 12 research lab neighborhoods will accommodate multiple teams in a wide range of fields, from biology to bioengineering to computational research to nursing and kinesiology.
The new space will allow researchers to advance innovative solutions in critical health research areas where UTA has already developed strong programs and top-tier faculty excellence, including chronic illness, aging, and injury; population health; neuroscience; data analytics; and biomaterials and tissue engineering.
Dimos, who leads the SEIR project, emphasized that "the faculty in the colleges have also been amazing to shape the vision of this new facility, which will clearly propel us forward in education and research."
One of the faculty involved, Paul Fadel, UTA associate dean of research for the College of Nursing and Health Innovation, added that a major benefit of the building will be in the way that it brings people from together into 'neighborhoods' within the building.   
"We're going to have a number of investigators in one area, on one floor, attacking a problem – disease, an abnormality – whatever it might be," Fadel said. "What that means is we can take it from the whole human body, physiology, down to the cellular and molecular level, and I think that is really going to advance our research capabilities in quite a distinct way from other places."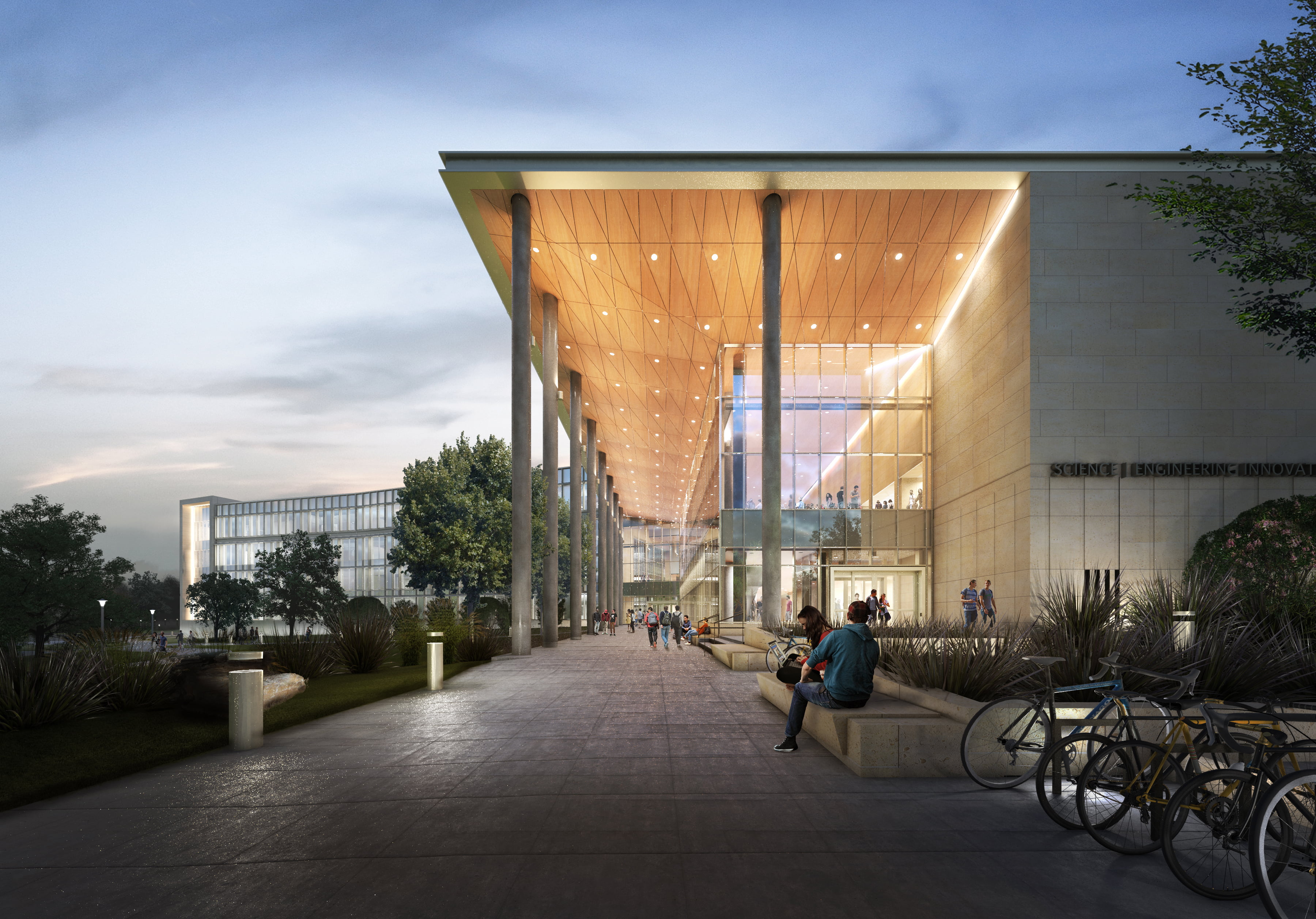 In addition to being UTA's most modern new research facility, SEIR will also have larger classrooms that will improve the University's ability to provide the right instructional space for large, high-demand courses. The laboratory wing will be designed with glass walls facing the atrium so that students attending courses in SEIR will see the research using the 'science on display' approach.
Newby-Estrella spoke on behalf of the students who will use the new facility. She focused on the importance of collaboration.
"Collaboration among faculty and students is not only good for students, it's also an important investment," she said. "Collaboration can lead to deeper research, full-bodied publications and networking, all of which can lead to better career opportunities for students."
Among the building's features are:
• 220,000-square-foot building adding 900 teaching seats to accommodate growth in the College of Engineering, College of Nursing and Health Innovation, and College of Science.
• Building features four-story wing with basement level for laboratory use and two-story, instructional classroom wing.
• Innovative science-on-display design includes glass interior walls allowing students and visitors to view collaborative work performed in research spaces.
• Dedicated lab facilities built with vibration-resistant structure to house highly sensitive research equipment.
• Designed and built using sustainable practices, with high energy efficiency heating and cooling systems, water conservation practices, and sustainable materials for flooring and interior finishes.
The building is scheduled to open in 2018.
About The University of Texas at Arlington
The University of Texas at Arlington is a Carnegie Research-1 "highest research activity" institution of about 55,000 students in campus-based and online degree programs and is the second-largest institution in The University of Texas System. U.S. News & World Report ranks UTA fifth in the nation for undergraduate diversity. The University is a Hispanic-Serving Institution and is ranked as the top four-year college in Texas for veterans on Military Times' 2016 Best for Vets list. Visit http://www.uta.edu to learn more, and find UTA rankings and recognition at www.uta.edu/uta/about/rankings.php.
For more on the Strategic Plan, see Strategic Plan 2020: Bold Solutions | Global Impact.