UTA works with Boeing and NASA to understand social networks' impact on online students' grades, completion rates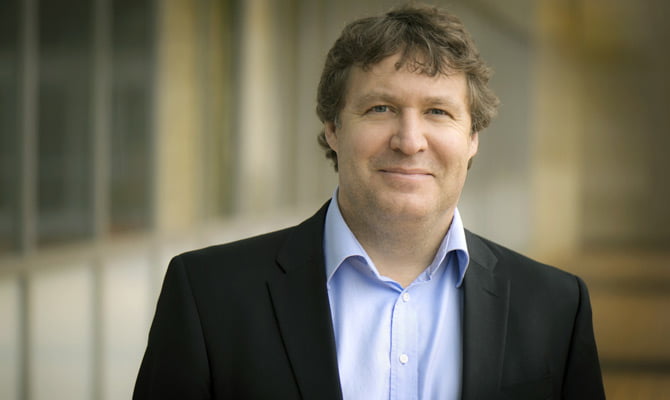 Researchers at The University of Texas at Arlington are working with Boeing and NASA to better understand the role that social networks play in the completion rates and academic performance of students taking online courses.
"Learning online is exploding in popularity, as is the research evaluating how to best learn with technology," said George Siemens, executive director of UTA's Learning Innovation and Networked Knowledge Research Lab and principal investigator of the study. "This project with LINK Research Lab will examine how social networks contribute to student success."
The researchers are studying the performance of students in an online four-course certification program in engineering. Students cited several reasons for not completing the online course, which had a drop rate of 5 percent. While this rate is extremely low for open online courses, it still concerns corporate partners who have made a significant investment in employee development. The reasons given for discontinuing courses ranged from dissatisfaction due to technical issues to inability to keep up with course load.
"Our online course data already suggests students perform better when they have help and the social connection to support their learning," Siemens said. "This connection contributes to their willingness to persevere through the course and could come in the form of interaction on the social network platform, experience in leveraging online social capital, and personal motivation."
"Understanding these social factors will uncover pedagogical and technological constraints that have negative impacts to student persistence," he said.
LINK is a research lab where researchers, educators, and graduate students connect, share, and collaborate in advancing social and technological networks, designing future learning models and exploring the future of higher education.
LINK Research Lab was launched in 2013. Since that time, the lab has obtained a number of NSF grants, foundation, and corporate grants. This has resulted in the development of a network of international scholars, cutting-edge research projects, and collaboration with graduate students, faculty, and staff at UTA.
"This new research project is reflective of LINK's prominent international research profile," Siemens explained. "It also helps us work with top corporate partners and global universities to advance scientific research and develop doctoral and post-doctoral students in the process."
The University of Texas at Arlington
The University of Texas at Arlington is a Carnegie Research-1 "highest research activity" institution. With a projected global enrollment of close to 57,000 in AY 2016-17, UTA is the largest institution in The University of Texas System. Guided by its Strategic Plan Bold Solutions | Global Impact, UTA fosters interdisciplinary research within four broad themes: health and the human condition, sustainable urban communities, global environmental impact, and data-driven discovery. UTA was recently cited by U.S. News & World Report as having the second lowest average student debt among U.S. universities. U.S. News & World Report also ranks UTA fifth in the nation for undergraduate diversity. The University is a Hispanic-Serving Institution and is ranked as the top four-year college in Texas for veterans on Military Times' 2017 Best for Vets list.