UTA graduates largest class in University history
The University of Texas at Arlington will confer 5,600 degrees in commencement ceremonies on May 11-13 at College Park Center on the UTA campus. The newest graduates will join the ranks of more than 214,000 UTA alumni around the globe.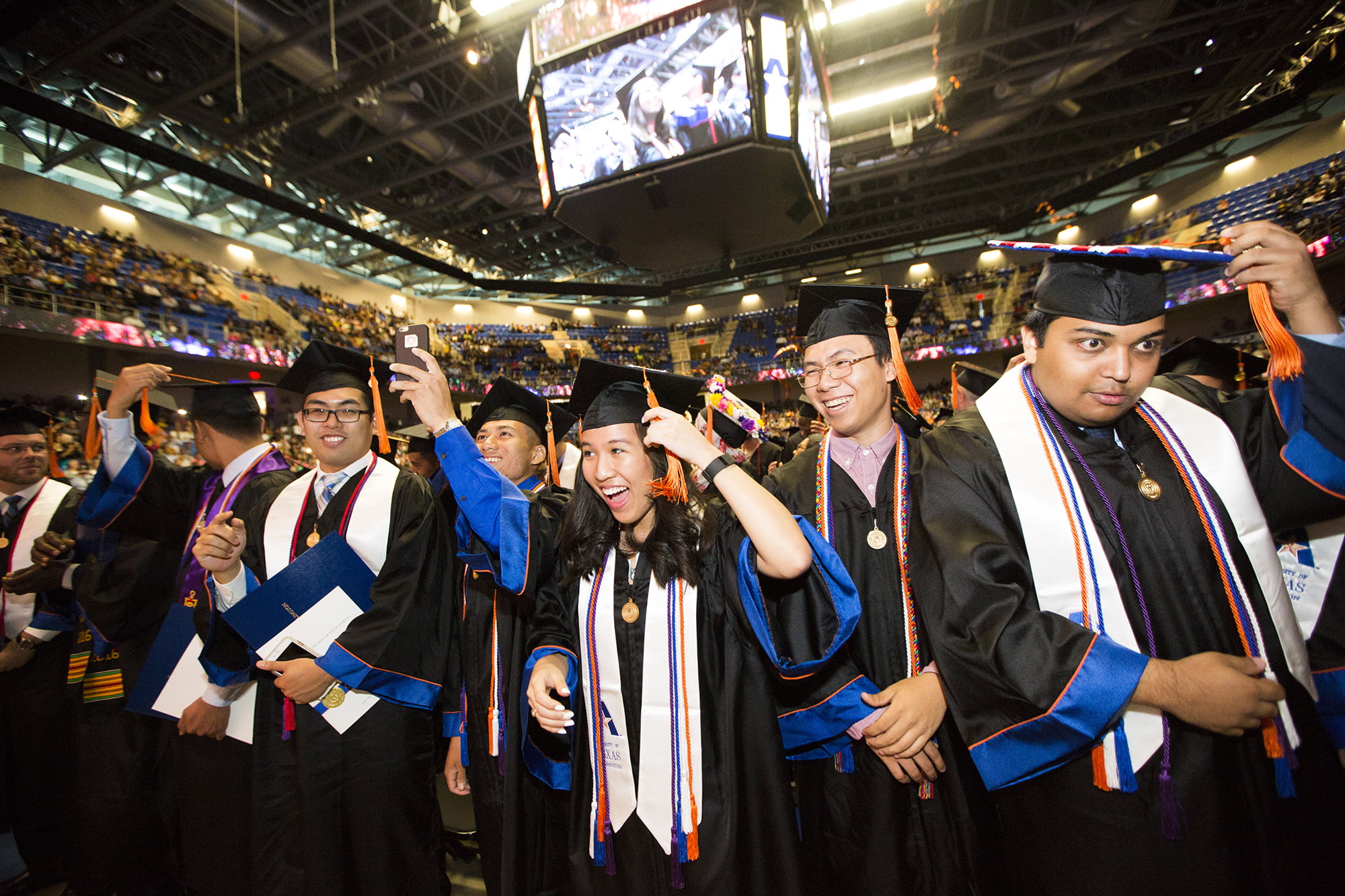 This represents the largest graduating class in the University's history, a projected 8 percent increase in degree conferrals over the 5,168 graduates in Spring 2016. Conferrals increased significantly in the College of Nursing and Health Innovation and the College of Engineering.
"UTA graduation figures continue to fuel the North Texas workforce," said state Sen. Jane Nelson, R-Flower Mound, a UTA alumna and Senate Finance Chair. "These highly educated graduates will quickly find jobs across North Texas and our state – making significant economic contributions to our region and beyond."
The increase in graduation numbers is largely attributed to the University's strong commitment to high quality education and maintaining low student debt.
Ceremonies begin Thursday, May 11, and continue through Saturday, May 13. Ceremony details are on UTA's Commencement Page.
While the overall numbers continue to set records, the stories behind the graduates are equally compelling. They include:
Priscilla Glenn will graduate with a bachelor's degree in Biology summa cum laude and pursue graduate studies to genetically improve food to save lives worldwide. While at UTA, Glenn was a pole vaulter and resident assistant, she also interned with the Donald Danforth Plant Science Center in St. Louis, where she was chosen to present her research to the National Science Foundation and at Cornell University. She was recently named a recipient of NSF's prestigious Graduate Research Fellowship Program. See Glenn's video here.
Elisenia Centeno will receive a bachelor's degree in public relations. Through an internship she had while a UTA student, she has earned a full-time job as publicity and promotions coordinator for Allied Integrated Marketing in Las Colinas. Centeno is a first-generation college graduate and said that her family's travel back to Mexico to visit relatives and friends demonstrates vividly how much her parents have sacrificed for her. Centeno cherishes the great diversity UTA has in its student body.
Javier Giribet-Vargas will earn a bachelor's degree in broadcasting from the College of Liberal Arts. Among his multiple internships as an undergraduate, Giribet-Vargas was a KERA Public Radio intern the night of the Dallas Police shootings on July 7, 2016, and reported from the scene for the station's listeners. He also interned for Telemundo and, after graduation, will move to Washington, D.C. to intern with National Public Radio. See Giribet-Vargas' video here.
Laura Nedderman comes from a family of engineers including her father, mother, brother, two uncles and grandfather, Dr. Wendell Nedderman - founding dean of the then School of Engineering and a former UTA president. She will graduate with a bachelor's degree in civil engineering. Laura credits listening to her mother's experience working for NASA and other family engineering stories with sparking her interest in the field. She will work for Fort Worth-based Dunaway Associates while pursuing her MBA at UTA Fort Worth.
Jason Simmons will receive his master's degree in social work. A Marine who completed three deployments in the Middle East and two in the western Pacific, Simmons was a first responder after the bombing of the USS Cole and fought in Operation Enduring Freedom. Simmons has battled his own Post Traumatic Stress Disorder and hopes, with his degree, to provide mental health services to military veterans and others suffering from combat-related or general PTSD. See Simmons' video here.
May 2017 commencement speakers are:
College of Nursing and Health Innovation: Liz Johnson, chief information officer, Acute Care Hospitals & Applied Clinical Informatics, Tenet Healthcare Corp. ('89 M.S.N.)
College of Architecture, Planning and Public Affairs/School of Social Work/University College: Randall Gideon, retired principal/chairman, Gideon Toal ('75 B.S., FAIA)
College of Liberal Arts: Mark Baum, founder and chief executive officer, Imprimis Pharmaceuticals Inc. ('95 B.A.)
College of Education/College of Science: Dr. Ignacio Nunez, partner and physician, Family Healthcare Associates; chairman, Texas Health Arlington Memorial Hospital Board of Trustees ('75 B.S., M.D.)
College of Business: Thomas Fruge, managing director, Goldman-Sachs ('81 B.B.A)
College of Engineering: Jeffrey O. Smith, managing partner QuantumIOT, ('88 M.S., '04 Ph.D.)
About The University of Texas at Arlington
The University of Texas at Arlington is a Carnegie Research-1 "highest research activity" institution. With a global enrollment of over 57,000 for Academic Year 2016-17, UTA is one of the largest institutions in the state of Texas. Guided by its Strategic Plan 2020 Bold Solutions|Global Impact, UTA fosters interdisciplinary research and education within four broad themes: health and the human condition, sustainable urban communities, global environmental impact, and data-driven discovery. UTA was recently cited by U.S. News & World Report as having the second lowest average student debt among national universities. U.S. News & World Report cites UTA as having the fifth highest undergraduate diversity index among national universities. The University is a Hispanic-Serving Institution and is ranked as the top four-year college in Texas for veterans in Military Times' 2017 Best for Vets list.