UTA students named to several sports national teams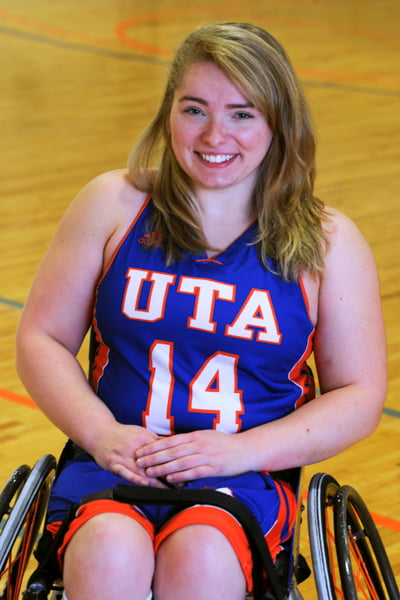 Six University of Texas at Arlington students have been selected for four national sports teams: women's wheelchair basketball, men's under-23 wheelchair basketball, rugby and the U.S. Military Invictus Games.
Fabian Romo, a sophomore exercise science major from Houston, was picked for the USA's Men's Under-23 wheelchair basketball team.
Three students were chosen for the USA Women's Wheelchair Basketball team: Morgan Wood, a senior majoring in psychology from Gordonsville, Tenn.; Josie Aslakson, a junior and film major from Jordan, Minn.; and Abigail Dunkin, a junior kinesiology major from New Braunfels, Texas. Dunkin, who is in her third consecutive year on the national team, was part of the 2016 Paralympics gold medal-winning team in Rio. She was also a member of UTA's 2016 national collegiate championship team.
Alejandro Pabon, a junior majoring in business management from San Antonio who also plays on UTA's Men's Wheelchair Basketball Team, landed a spot on the USA National Rugby Team.
Matt Grashen, a freshman and retired Marine who hails from Chicago, was picked for the U.S. Military USA Invictus Games team.
The Invictus Games is an international Paralympic-style event for wounded veterans. It features several sports, including wheelchair basketball, rifle shooting, archery, track and field and indoor rowing. In addition to the United States, participating countries include the United Kingdom and Australia.
Doug Garner, coach of the Movin' Mavs Men's Basketball team and assistant director of campus recreation for adapted sports and recreation in the division of student affairs, said this is the largest representation UTA has had on national sports teams.
Garner, who has coached the men's team since 2008 and who introduced women's wheelchair basketball to UTA four years ago, attributes the success of the athletes to a combination of high expectations set by the coaches and easy access to a large and supportive adaptive sports community in the DFW area.
"There are over 100 adapted athletes in area," he said. "It provides lots of support and opportunities. They have the opportunity to practice against more experienced athletes. So it puts them in a position of upping their level of competition."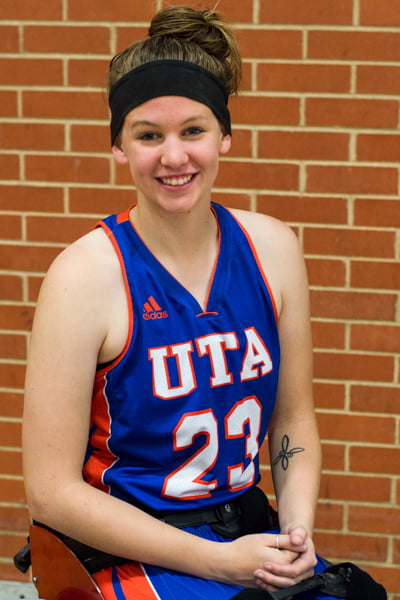 Dunkin said she is looking forward to being part of a team that poised to grow.
"The first team I made was filled with a lot of veterans and they were fine tuning," she said. "I was the only new player on the team at the time. I was definitely the rookie. I am excited to grow with this team and develop over the next few years."
Aslakson said she's excited about the growth prospects that will come with being on the national team.
"I'm excited to play with a bunch of girls that I play against on college teams but normally don't see all the time," she said. "This will help me grow as an athlete and fit a different role than on the UTA team. Different things the UTA coach wants me to do that I usually don't do here. He wants to put me in a point guard role. I'm also really pleased that I get to be on this team with two of my UTA team mates. That's really exciting."
The University of Texas at Arlington is a Carnegie Research-1 "highest research activity" institution. With a projected global enrollment of close to 57,000 in AY 2016-17, UTA is the largest institution in The University of Texas System.