Magazine rates UTA College of Business' EMBA as tops in state
CEO Magazine ranked UTA's College of Business Executive MBA program No. 1 in Texas, No. 16 in the United States and No. 21 among Global MBA programs.
This is the second consecutive year The University of Texas at Arlington's College of Business has earned the ranking.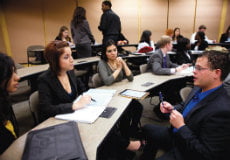 CEO Magazine's rankings are based on examination of learning environment, class sizes, tuition, fees, faculty, delivery methods, international diversity, gender make-up, work experience and professional development. The publication launched its annual Global MBA Rankings, profiling MBA, Executive MBA and Online MBA programs in 2012.
"We are extremely honored to achieve this recognition. We are very proud of our EMBA program and even more so of our outstanding graduates," said Dave Mack, associate dean of Communications & Executive Education. "I would like to thank the great faculty and staff that have helped to make this happen. Developing a successful program such as ours is definitely a team effort."
Rebecca Neilson, director of the college's Graduate Business Services, said it is nice that students, faculty and staff are recognized for hard work
"It takes all of us together to create the kind of educational environment that enhances student learning," Neilson said. "This leads to successful and effective business leaders for our communities."
The complete CEO Magazine Global MBA Rankings 2017 can be viewed in the latest edition of CEO Magazine or online on the magazine's website. 
Visit the Executive MBA website for more information on the degree.
The CEO Magazine ranking is but one of several accolades the College of Business has recently accumulated.
In the fall, The Princeton Review named UTA's College of Business an outstanding business school. The education services company profiled the school in the new 2017 edition of its annual book, "The Best 294 Business Schools" and on its website.
In addition, other accolades the College of Business has received include:
The part-time MBA program is ranked No. 122 on U.S. News & World Report's 2018 "Best Graduate Schools" list.
Ranking among the top 50 best business schools for veterans in the United States according to 2016 rankings by Military Times.
Military Times ranked the College among the top 50 business schools for veterans in 2016.
The 2016 U.S. News & World Report Best Colleges list ranks the College of Business 131st among 472 undergraduate business programs accredited by the Association to Advance Collegiate Schools of Business.
Accounting Degree Review ranked UTA's residential bachelor's degree in accounting as the nation's 22nd most affordable in 2016.
The Master of Science in Taxation program ranked No. 10 in the nation by TaxTalent.com for 2016.
The College of Business' dual MBA-Health Management degree ranks No. 25 on ValueColleges.com's "Top 50 Best Value" 2016 list.