UTA engineer's research will lead to longer-lasting aircraft structures
The University of Texas at Arlington has received a $600,000 grant from Boeing to test composite components that officials believe will lead to longer-lasting aircraft and identify when those components might fail.
The title of the project is "Advanced Inspection and Analysis of Common Feature Test Component for Composite Airframe Life Extension Program."
Andrew Makeev, UTA professor of mechanical and aerospace engineering and director of the Advanced Materials and Structures Lab, will lead the project. Endel Iarve, a professor of mechanical and aerospace engineering who works in the UTA Research Institute's Institute for Predictive Performance Methodologies, is the co-principal investigator.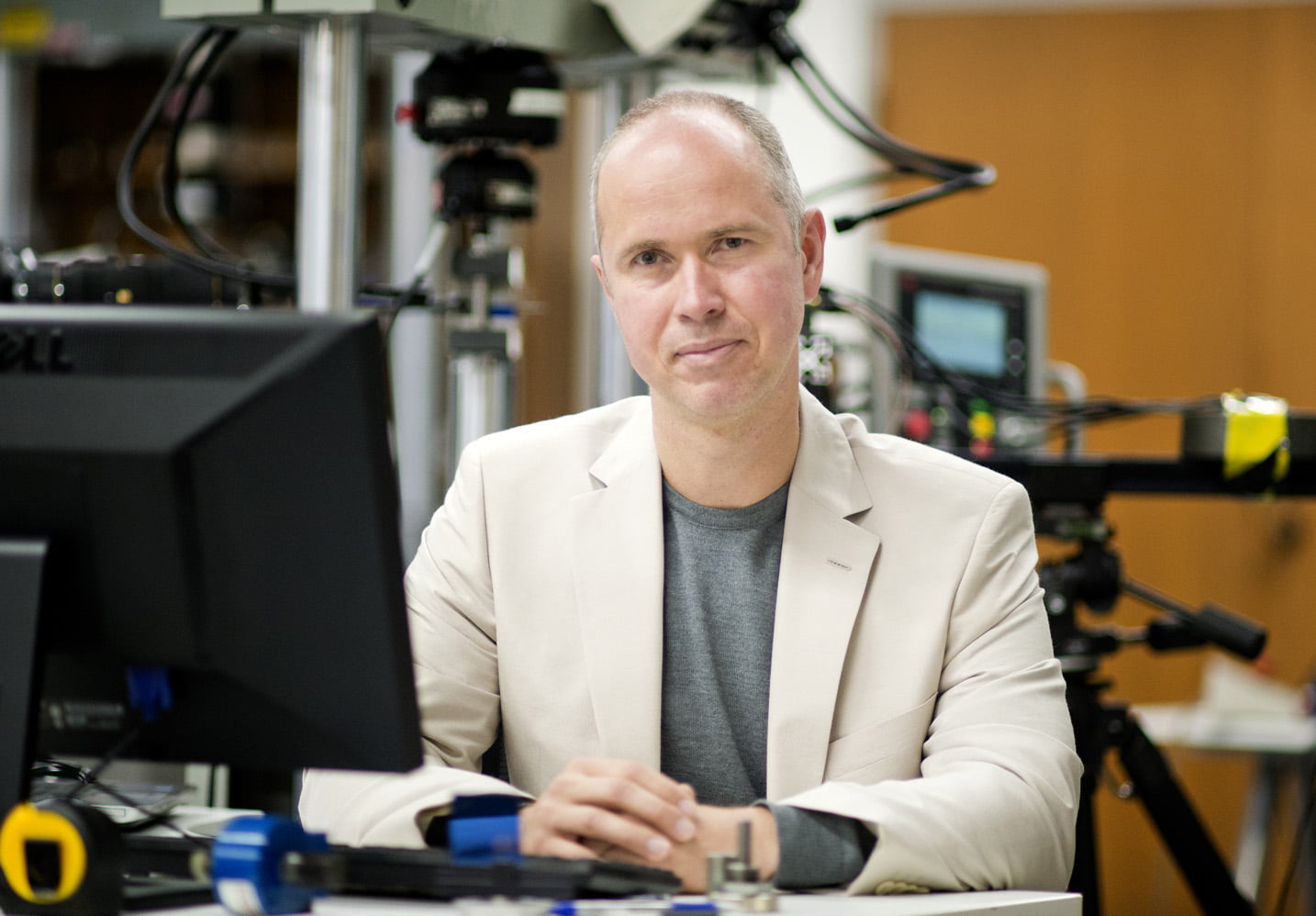 "At the end of the research, Boeing and the Air Force want to understand and have confidence that our analysis can be used to predict the remaining useful life of composite airframe structures," Makeev said. 
This work consists of experimental testing and advanced structural analysis using Progressive Damage Analysis or PDA tools.
The goal is to develop a set of the most accurate experimental data to be used in concert with a PDA method to predict the onset and growth of damage to a composite component utilizing the Continuum Damage Mechanics method developed by UTA researchers Yuri Nikishkov, Guillaume Seon and Makeev at the UTA AMSL and the B-Spline Analysis Method developed by UTA's Endel Iarve, and validate these techniques.
Makeev said that composite aircraft began dominating the commercial aircraft market with the production of Boeing 787 and Airbus 350 and expected upgrades of legacy aircraft platforms.
On the Department of Defense application side, Lockheed Martin has been ordered to produce more than 3,000 F-35 aircraft. 
Similarly, the U.S. Army and helicopter industry are facing the challenge to replace more than 6,300 military vertical lift aircraft.
Advanced polymeric composites are playing a major role in designing high-performance and lightweight aircraft structures. 
However, uncertain remaining useful life of the composite aircraft structures due to complexity of failure mechanisms and susceptibility to manufacturing irregularities, which may be precursors to structural damage, impose risks that cannot be lessened exclusively by time-consuming field testing. 
Validated analysis techniques improving the understanding of durability and damage tolerance of composite airframe structures leading to longer-lasting aircraft are needed. 
Boeing is a prime contractor for the Air Force.
Erian Armanios, chair of the Department of Mechanical and Aerospace Engineering, said Makeev's work helps the aircraft industry by improving sustainability, maintenance and life cycle management  
"What Dr. Makeev is doing could have significant implications on aircraft design and certification," Armanios said. "Developing a capability to predict composite airframe strength and durability, is bound to have industry-wide implications."
Peter Crouch, UTA College of Engineering dean, said, "It's important for university researchers like Dr. Makeev to work hand-in-hand with companies to ensure that their work has impact beyond classroom walls, including helping our students land important jobs in those industry sectors."
Makeev has shouldered many research projects with companies that are especially focused on composite materials.  In addition to this project with Boeing, he has current or past grants with Boeing, Lockheed Martin Aeronautics, Sikorsky Aircraft and Bell Helicopter Textron.
During his six-year tenure at UTA, Makeev has been conducting pioneering theoretical and experimental work sponsored by the U.S. Army, U.S. Navy, U.S. Air Force and aerospace industry at an average rate of $1 million per year in external funding. His work includes integration of design and manufacturing processes to improve performance of composites, advanced material technologies, material characterization, structural diagnostics and prognostics.
His recent research accomplishments are documented in more than 20 articles in the top refereed journals in materials and structures including six articles in Composites Science and Technology, the highest-ranked journal in composites. He also has been recognized for many best paper awards at national and international conferences. He received the Cheeseman Award for the best paper at the 36th European Rotorcraft Forum, and that was the first time such an award was given to authors based in the United States. 
Makeev also received the best paper awards in Structures and Materials at the American Helicopter Society Forums in 2013, 2014, 2016, 2017 and the best American Society for Composites paper award in 2013. His innovations and impact of some of his work are highlighted in "Composite Structures, A View from the Inside," Office of Naval Research Innovation Newsletter and Breakthrough Technologies, Volume 10, 2013, pp. 32-35. In 2017, Makeev received the UTA COE Excellence in Research Award
Makeev represents UTA in the Vertical Lift Consortium, a national organization comprised of the U.S. rotorcraft industry and academic institutions involved in vertical lift aircraft research.
He also represents UTA in the Vertical Lift Research Center of Excellence, a multi-university organization funded by the U.S. Army to conduct fundamental research in the rotorcraft areas.