UTA researcher receives NIH grant to develop technology for cardiovascular health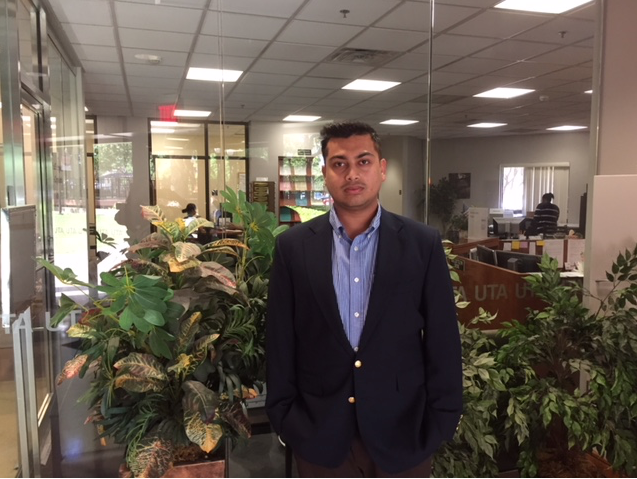 A UTA researcher will use a National Institutes of Health grant to build new imaging technology that will study blood vessel function in patients with heart failure that could lead to quicker diagnosis and life-saving treatment. 
Michael Nelson, an assistant professor of kinesiology and principal investigator of this new project, will work on the $441,000 NIH grant with two other faculty members - Mark Haykowsky, the college's Moritz Chair in Geriatrics, and Fenghua Tian, a faculty research associate in the Department of Bioengineering - to develop a device to study how oxygen is delivered to skeletal muscles and how those muscles utilize that oxygen. 
"There's no technology like this available," said Nelson, who has helped bring in more than $1 million in grants since joining UTA two years ago. "I think one of the reasons why this application was successful is because no one else is doing anything like this. The scientific community has been studying oxygen delivery or oxygen utilization in isolation for some time, but no one has been able to simultaneously study both of these endpoints in the same patient, especially not non-invasively. This will be the first study to assess both sides of the equation at the same time in a clinical setting."
He said the technology will use laser light to track the movement of red blood cells in muscles as well as the oxygen content of the muscle itself. The team plans to develop both the hardware and software in the first year of the grant so that they can begin doing patient studies quickly thereafter.
Once developed, the technology will be applicable to a wide range of diseases and health conditions. The researchers will focus on patients with heart failure in this project because, despite the name of the diagnosis, these patients also have severe limitations in their peripheral blood vessels and skeletal muscles.
"If the muscles are not utilizing oxygen or getting enough oxygen it could contribute to exercise intolerance," Nelson said. "By using this technology we will be able to pinpoint specific problems in the periphery and identify new therapeutic targets."
Anne Bavier, dean of UTA's College of Nursing and Health Innovation, said the outcome of this study could be transformative for cardiovascular care.
"For too long people have focused on the heart when it comes to these ailments. But Mike's research so far shows that some of the problems must lie in the muscles. This could strike a big blow for improving health care nationally and globally," said Bavier, who noted that improving health care and the human condition is one of the four themes of UTA's strategic plan. "There are plenty of drugs to help treat patients with heart failure, but which one is the best option? I believe this technology has the potential to address this problem by giving clinicians the tools and insight to define therapeutic targets."
In recent years, the college has been steadily transforming into an important destination for health care research, attracting many leading health care scholars. With the influx of these scholars has come a significant increase in research grants. The college now has nearly $8 million in active research grants, up 45 percent from the previous year.