Public policy, transportation PhD student receives national award
Somayeh Moazzeni, a UTA doctoral student in public policy and transportation, has been recognized by the U.S. Department of Transportation as the 2017 outstanding student of the year for C-TEDD.
C-TEDD is the Center for Transportation, Equity, Decisions and Dollars based at The University of Texas at Arlington.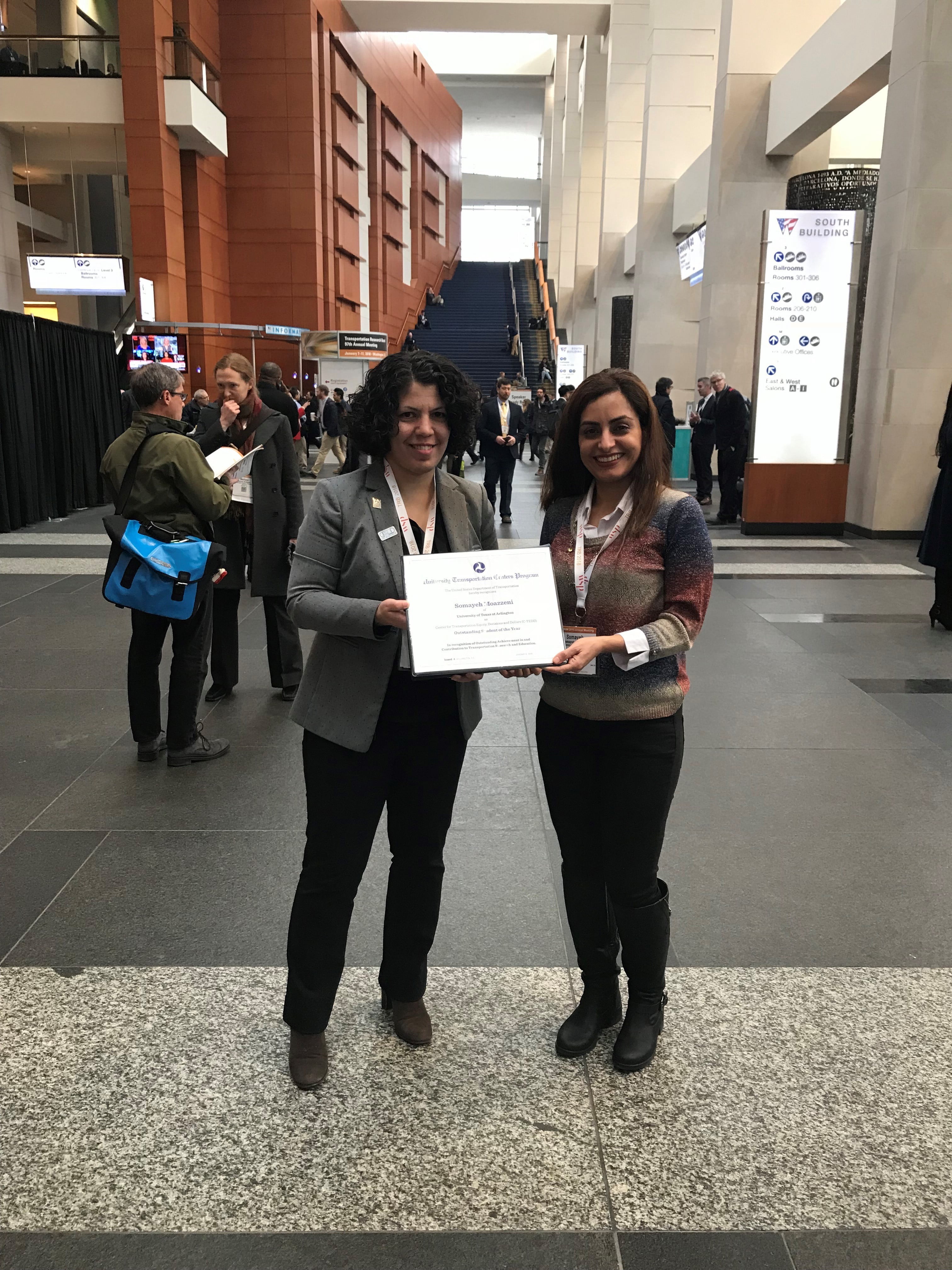 Moazzeni was selected from students at universities contributing to C-TEDD, which includes UTA, Georgia Tech University, California Polytechnic State University, University of Wisconsin-Madison and University of South Florida.
C-TEDD is one of three DOT-funded centers that faculty and students at UTA are participating in. U.S. DOT grants could be worth about $12 million in funding for those three centers. C-TEDD and the other centers UTA is involved in speak to the University's growing expertise across several academic and research disciplines that intersect the nation's current and future focus on transportation infrastructure.
Every DOT-created center in the United States nominates an outstanding student of the year. As the winner, Moazzeni will receive a $1,500 cash prize.
Moazzeni is pursuing her PhD in the University of Texas at Arlington's College of Architecture, Planning and Public Affairs.
Moazzeni is honored by the award.
"I work on access to opportunities, which means how much access people have to move in and out of each neighborhood," said Moazzeni, who works in CAPPA's Institute of Urban Studies, which helps cities, counties and other entities plan for the future. "It also means how much access a person has to public transit and decent roads."
A year ago, UTA vied in a national competition for $300 million in DOT funding allocated to 32 University Transportation Centers across the country. UTA was one of only a few universities to land three projects.
Shima Hamidi, an assistant professor in CAPPA and director of the Institute of Urban Studies, leads C-TEDD.
"Somayeh understands how critical access to transportation is to everyone," Hamidi said. "She knows that if through planning, we can make that access easier and more fluid, she can really impact lives."
Moazzeni and several other students were recognized at the Transportation Research Board 97th Annual Meeting in Washington D.C. last month. More than 14,000 practitioners, engineers, researchers and academicians attended the meeting.
The TRB provides innovative, research-based solutions to improve transportation. It is a program unit of the National Academy of Sciences, Engineering and Medicine.
Moazzeni said that when people are adversely affected by transportation, it hurts personal relationships, the ability to work and a household's economic bottom line.
"If a family has to buy a car because mass transit is nowhere to be found, many times keeping, maintaining and operating that car can exceed the cost of public transit," Moazzeni said. "Households could spend most of their money on cars, insurance and upkeep."
Moazzeni helped present two sessions. One was titled Planning Process and Environmental Justice. It investigated whether location matters in relationship to federal affordable housing programs and residents' transportation affordability in North Texas.
The second session was titled Pedestrian Planning, Modeling and Simulation. This study examined the impacts of street-level built environment and urban design qualities on walkability in downtown Dallas.
Both studies presented are only a portion of the vast research being conducted by UTA in the fields of urban planning and transportation equity. CAPPA's Institute of Urban Studies is currently working with several cities across North Texas complex growth issues as the region moves closer to megacity status.
Moazzeni became interested in transportation equity when she moved to North Texas for her doctorate.
She said growing up in Isfahan, Iran, mass transit was available, but she found little coordinated mass transit in North Texas.
"Isfahan is a very compact city," said Moazzeni of the central Iranian city of 1.7 million. "I started thinking how can I make this area a better place. That's how I became interested in transportation and how it affects people."