School of Social Work ranked among top 35 in U.S.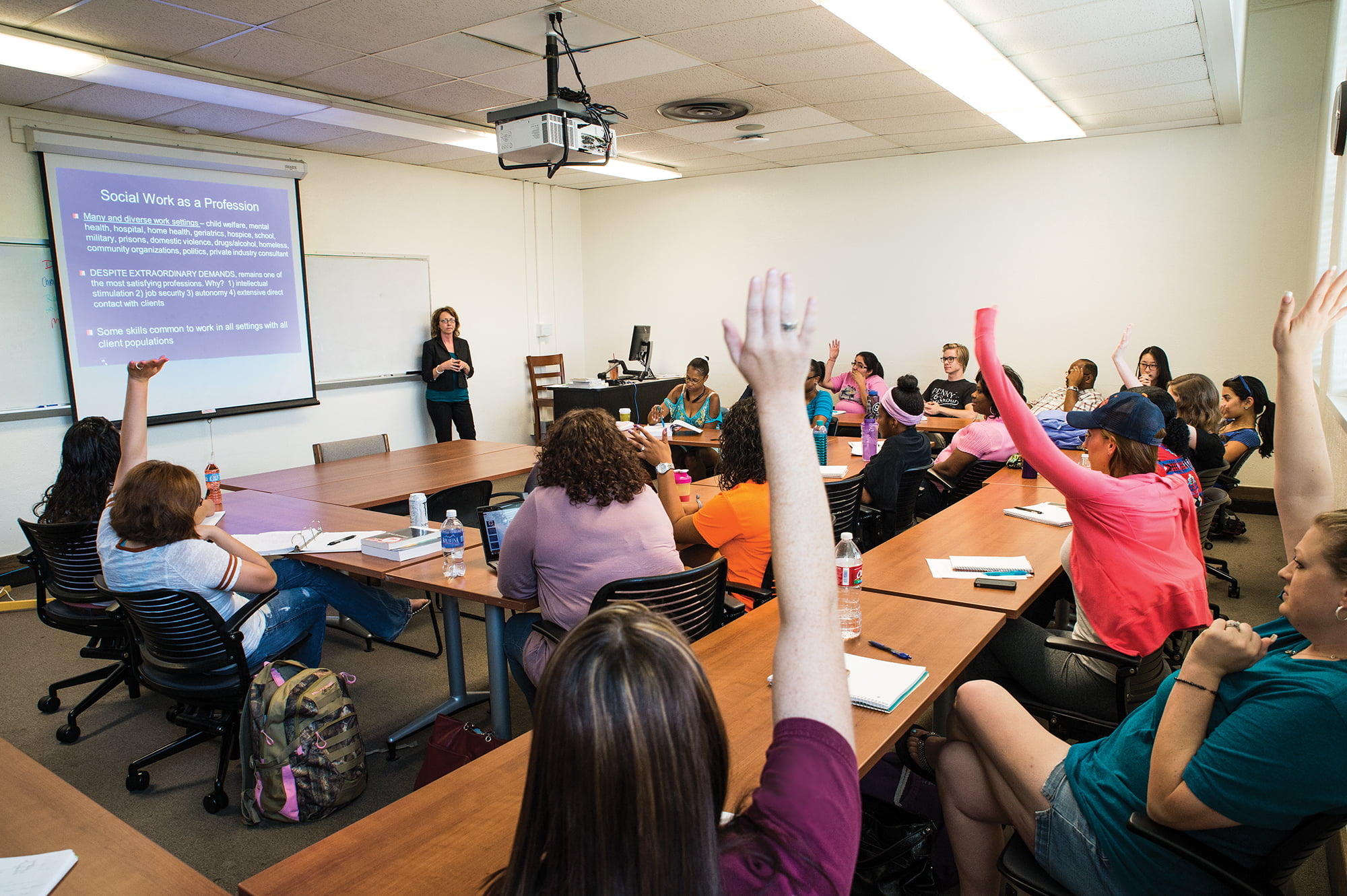 U.S. News and World Report ranks the graduate programs of The School of Social Work at The University of Texas at Arlington at No. 34 in the nation in 2019, up four positions from the year before. U.S. News & World Report is a recognized leader in higher education rankings.
"UTA's School of Social Work is steadily gaining recognition as one of the best social work programs in the country," said UTA President Vistasp Karbhari. "We have become a recognized destination university for social work students not only in North Texas or our state, but the nation and even the world."
School of Social Work Dean Scott Ryan attributed part of the program's success on UTA's commitment to enabling students to gain real experience through research carried with faculty in the community, which results in a strong placement record for students immediately upon graduation.
"Our students get the chance to not only learn from the great minds represented through our faculty but also participate in community projects that professors are undertaking. That research gives students an extra opportunity to impress future employers with their practical experience, which is vital in our field," Ryan said.
UTA estimates that more than 90 percent of the 115 masters and doctoral students graduating this spring will have positions in the workforce upon leaving the University.
Funding for School of Social Work research projects is also steadily increasing, with grants awarded growing from $1.9 million to $3.06 million between 2014 and 2017. Research expenditures, a measure of funds directly spent on projects, also increased from $2.3 million to $3.6 million over the last four years, a 36 percent increase.
"This increased funding means we are also better prepared to carry out more projects with students, and also results in greater recognition for our faculty as a leading research institution," Ryan said. "Having that validation from your peers is especially gratifying."
Another indicator of the success of UTA's numerous joint student-faculty collaborations was reflected in the large number of presentations made by the School at the 2018 Society for Social Work and Research Conference in Washington in January, including:
Diane Mitschke, director of the graduate programs, and graduate student Nabiba Hasan, presented their work on religion as a source of strength for recently resettled refugees from Syria
Social work doctoral student, Marcus Crawford, and assistant dean for research and faculty affairs, Holli Slater, gave a presentation on outcomes for youth aging out of foster care
Cecilia Mengo and Youn Kyoung (Lily) Kim, who both graduated from the UTA doctoral program in social work in 2016 and are now teaching at other universities, gave a presentation on research they conducted with UTA social work associate professor, Eusebius Small, on peer affiliation, school bullying victimization and substance misuse among adolescents
State Rep. Toni Rose, D-Dallas, added that the work of UTA's School of Social Work is reflected in the community it serves.
"Some of the UTA projects help non-profits and charitable organizations that serve people in our communities who are hurt or need help," said Rep. Rose.
U.S. News & World Report considers factors such as evidence of excellence in faculty and students as well as reputation including surveys of peers in compiling its annual rankings.
In addition to the School of Social Work in the U.S. News & World Report rankings, the College of Engineering is now ranked in the Top 100 of all engineering schools being evaluated.
Recently, UTA also placed No. 10 in the nation among online schools for education majors according to BestCollegeReviews.org. UTA was recognized for offering multiple start dates for students' convenience, including a nine-month superintendent certificate available entirely online. OnlineDegrees.com also ranked UTA No. 6 in a new study of all Texas colleges offering online degrees, crediting the University for affordability, flexibility and student services.