Record number of students earn degrees
The University of Texas at Arlington will confer nearly 6,400 degrees in commencement ceremonies May 10-12 at College Park Center on the UTA campus.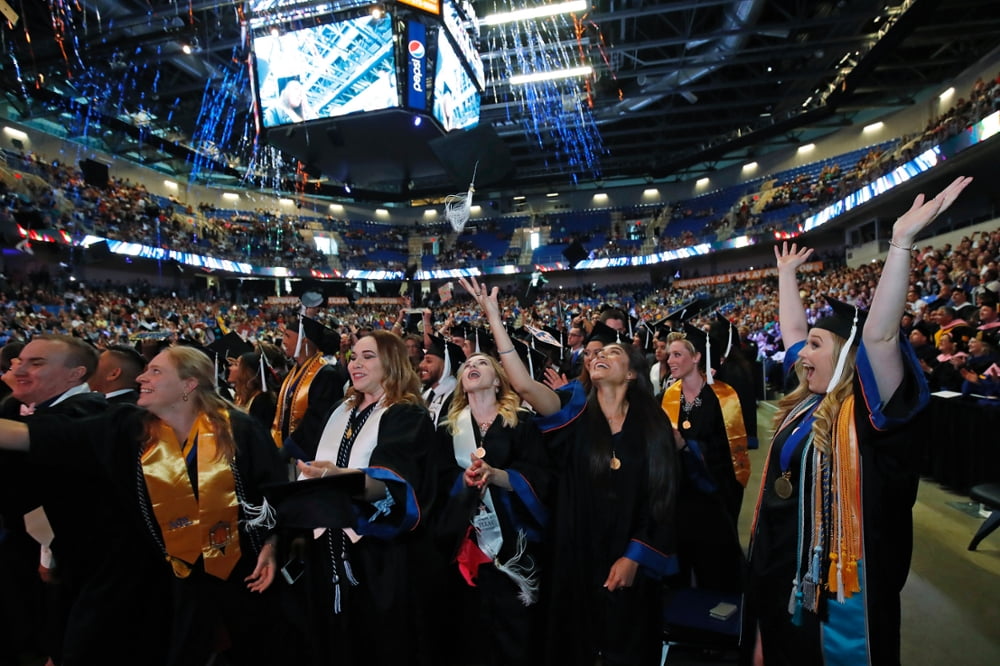 This graduating class represents the largest number of graduating class in the University's history, an approximate 11 percent increase in degree conferrals over the 5,773 degrees awarded in Spring 2017. The newest commencement candidates will join the ranks of more than 220,000 UTA alumni around the globe.
The College Business realized a 54 percent increase in graduates for all degrees this semester compared to a year ago. The College of Liberal Arts saw a 23 percent increase in all degrees. The College of Nursing and Health Innovation and the College of Architecture, Planning and Public Affairs each realized a 14 percent increase in the number of graduates for all degrees this semester compared to Spring 2017.
"UTA graduation figures continue to keep pace with the state's need for a skilled workforce, especially the North Texas region," said Teik C. Lim, UTA provost and vice president for academic affairs. "With all the corporations that continue to relocate to Texas, we will continue to need more and better educated workers to meet that demand. UTA stands ready to provide the steady stream of needed talent."
Ceremonies begin Thursday, May 10, and continue through Saturday, May 12. Ceremony details are on UTA's Commencement Page.
While the overall numbers continue to set records, the stories behind the graduates are equally compelling. They include:
Misty Martin, who is a chemistry graduate, was a mom at 15. She has maintained a 4.0 GPA while in the UTA Honors College and participated in an undergraduate research fellowship. She placed first in a Chemistry and Biochemistry Society's poster session, in which she got to travel to a spring national meeting. She hopes to pursue a medical degree with a specialization in pediatric oncology.
Orlando Carrillo Maffei, who is graduating with a master's of construction management degree. Orlando is an athlete, coach, trainer and public speaker. He is one of the stars in The Rebound, a documentary about the Miami Heat Wheels and its quest to a National Wheelchair Basketball Association championship.
Johanna Escoe, Lydia Fragano, Robert Gomez and Patrick Raferty are graduating with degrees in music, engineering, liberal arts and nursing, respectively. The quartet are the first four Terry Scholars to graduate from UTA. Last year Patrick received an award from CONHI for his work in one of his courses. Lydia is graduating a year early. Bobby is graduating a year early and is immediately working on his master's degree in political science at UTA. Johanna balanced her studies with getting married and a baby due this month.
Daniela Garcia, who is graduating with a degree in management and marketing. She earned the 2017-18 Outstanding Student Leadership Award. A first-generation student and graduate, Daniela was active in the Business Club and the Songwriters Club, works for Disability Support Services, volunteers for the United Way VITA Program, and serves in the Student Government Association as senator for the Division of Behavioral and Social Sciences.
May 2018 commencement speakers are:
College of Nursing and Health Innovation: State Rep. John Zerwas, R-Richmond, who also is a Houston anesthesiologist.
College of Architecture, Planning and Public Affairs/School of Social Work/Division of Student Success: Robert C. Albritton Jr., president of the Mary I. Gourley Foundation.
College of Liberal Arts: The Honorable James Blacklock, associate justice of the Texas Supreme Court.
College of Education/College of Science: State Rep. Rafael Anchia, D-Dallas, who also is an attorney for Haynes & Boone LLP.
College of Business: Bruce Tanner, executive vice president and chief financial officer of Lockheed Martin Corp., MBA 1990.
College of Engineering: Walter Chiang, PE, board member and founder of CP&Y Inc.