College of Business graduate finishes degree in two years
Wahib Muhammad finished his bachelor's degree of business administration-finance from start to finish in two years while working full time.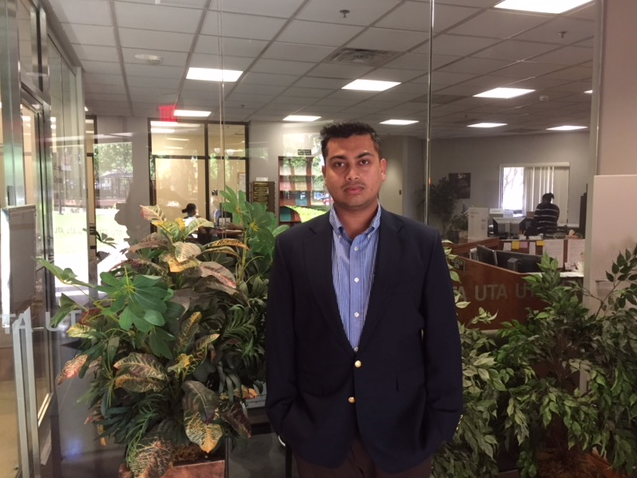 He's also already received acceptance to several doctoral finance programs at top schools in the country, atypical for an undergraduate applicant.
This was no easy task and he did it while performing at the top of his peer group. Muhammad has the highest grade-point average for the spring graduating class of 2018 in the College of Business. 
When asked what makes him a business maverick, the finance senior recognized his exemplary diligence and the support of professors.
"I got to stretch and explore my own potential. I felt the sky was the limit … all of this was made possible because my UTA family supported me each step of the way. I never had to shy away from an opportunity. I was always enabled to seize those opportunities," Muhammad said.
Muhammad took six classes or 18 credit hours each semester at UTA, plus two to four classes at Tarrant County College for a total of 24 credits. During this time, he also was studying for the Chartered Financial Analyst or CFA exams, working on research papers and teaching as a supplemental instructor for third-year business statistics.
"Wahib was one of the best students I have ever had. He made an 'A' in my statistics 3321 class last year and has already been admitted into the doctoral program in finance at Drexel University," said R.C. Baker, professor of information systems and operations management. "He met students every Tuesday and Thursday all semester and came to my class every day to help out."
After graduation, Muhammad plans to complete his CFA L2 exam in June and has accepted Drexel's offer and will be moving to Pennsylvania to pursue his doctorate in finance. Though he will remember his roots and stand-out memories at UTA.
"While I have tons of cherished memories associated with the College of Business, one of the best would be in August of 2017. I got a standing ovation from peers and professors when I presented my undergraduate research paper on financial markets. A more recent memory that comes to mind is when my group won the capstone class project by achieving the highest stock price in the industry up until now." Muhammad said.
See Muhammad and other exemplary students walk the stage at the College of Business commencement ceremony 11 a.m. Saturday, May 12, at College Park Center, 600 S. Center St.
-- written by Jillian Jordan McFarland