Fall 2018 enrollment sets new records at UTA
Preliminary numbers show that The University of Texas at Arlington hit another milestone this year, as the University welcomed 42,496 students for Fall 2018 classes, up nearly 2 percent over Fall 2017 numbers.
This fall's freshman class is the largest in UTA history. The nearly 3,400 freshmen represent a 4.4 percent increase over last year's total.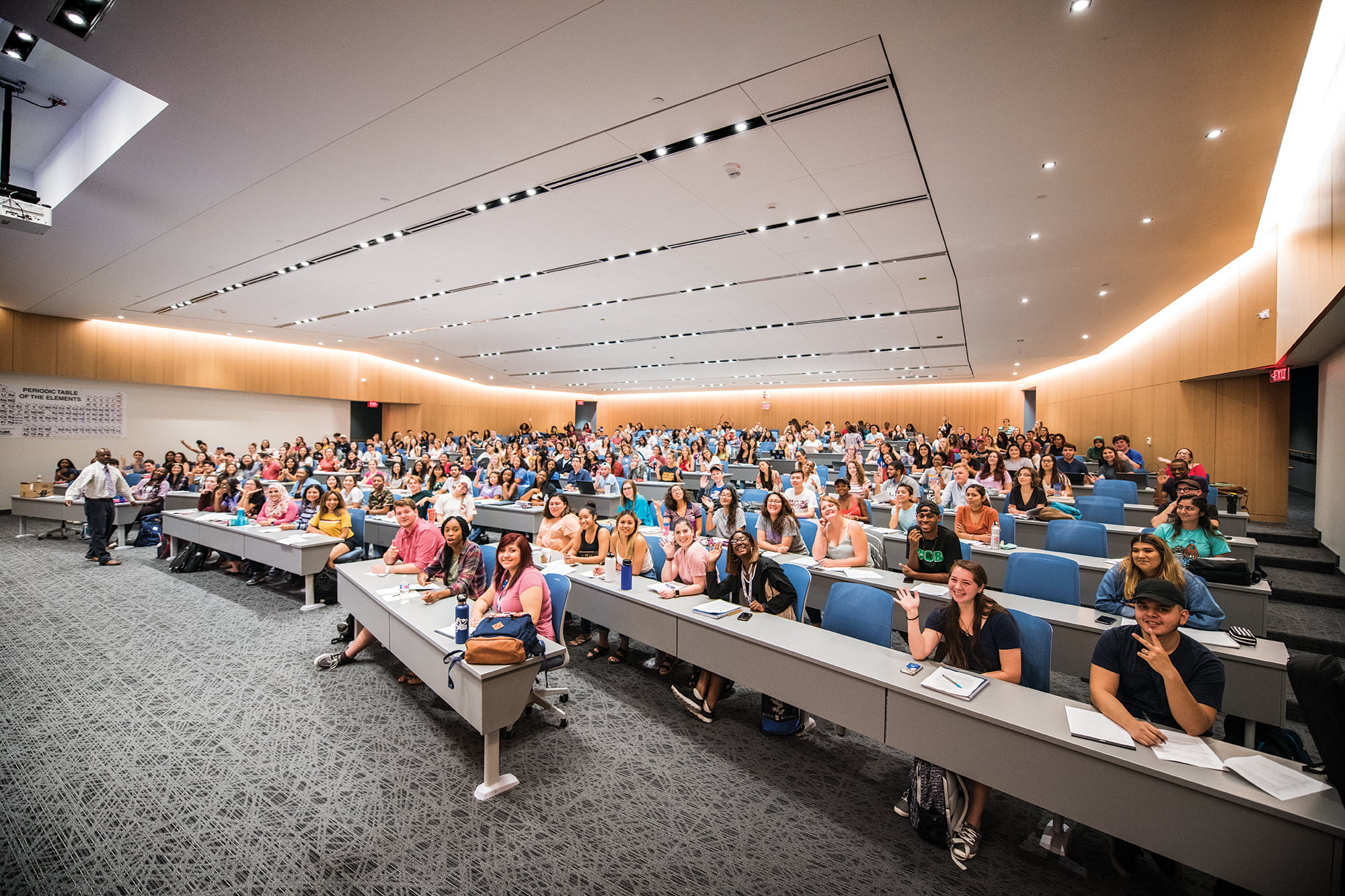 Last year UTA served nearly 60,000 students through its wide range of on-campus and online offerings. UTA was recently recognized by The Chronicle of Higher Education as the fifth fastest-growing doctoral public university in the United States during the 2006 to 2016 timeframe.
UTA's growth has been enhanced by student success through higher levels of degree attainment, persistence and graduations rates. Preliminary figures show that freshman retention rates are up 2.7 percent compared to last fall, degrees awarded have increased 7.7 percent and four-year graduation rates have increased 1.4 percent.
UTA President Vistasp Karbhari said the growth reflects the University's value in the state and around the world.
"Our continued growth is directly attributable to the excellence and dedication of our faculty.  Their growing international reputation for research and scholarship and tremendous focus on student success are the reasons behind UTA becoming the go-to institution and thought-leader for higher education," Karbhari said. "We ensure that our students, the future workforce and intellectual leadership in the metroplex and across the state have the knowledge and skills to be productive in today's society, across a diverse spectrum of career fields and disciplines."
Academic Excellence
Academic excellence within the freshman class is strong.
The number of new students scoring in the top 5 percent nationally on college entrance exams increased by 15.4 percent this fall compared to last fall. These students have SAT scores of 1350 or higher or ACT scores of 30 or higher.
Troy Johnson, UTA vice president for enrollment management, said the University has partnered with many of the region's leading companies to boost the knowledge gained in the classroom with internships and off-campus learning opportunities.
"We have agreements with Lockheed Martin, AT&T and many other firms to augment that classroom experience," Johnson said. "These partnerships, combined with UTA's internationally renowned faculty, enable the University to meet the state's needs for highly skilled intellectual capital and a career-ready workforce."
UTA also is one of an elite group of 115 institutions including Harvard, MIT and Johns Hopkins to achieve the Carnegie R-1: Doctoral University Highest Research Activity designation. More than 20 UTA graduate programs are ranked among the nation's best by U.S. News & World Report.
Other accolades UTA has garnered recently include:
No. 126 among top public universities in U.S. News & World Report's Best Colleges for 2019
No. 1 in DFW metroplex in Washington Monthly's 2018 rankings for national universities
No. 5 fastest-growing doctoral public institution in the country in The Chronicle of Higher Education Almanac 2018-2019
No. 5 in the U.S. News & World Report's Best Colleges for 2019 diversity index
No. 44 in Washington Monthly's "America's Best Bang for the Buck Colleges 2018" -  Southern Region